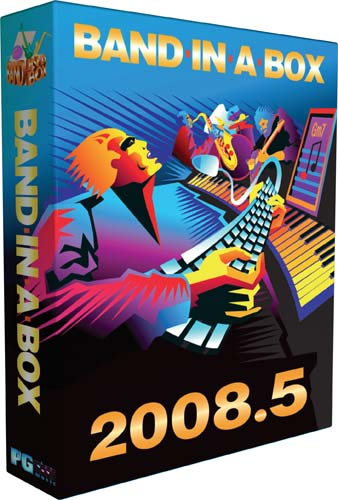 Composition & Automatic Accompaniment Software
Product Code 11559
Retail Price
$129.00
Sale Price!
$89.99
Buy Today and Save $39.01 (30% from Retail)

We're sorry, this product is no longer available.
---
Band-in-a-Box is so easy to use! Just type in the chords to any song (like C or Fm7b5), pick a musical style from the hundreds available, and click the [Play] button. Band-in-a-Box then automatically generates a full backing arrangement of piano, bass, drums, guitar, and strings plus optional live audio tracks with RealDrums and RealTracks.

Band-in-a-Box is a powerful and creative music composition tool for exploring and developing musical ideas with near-instantaneous feedback. Over the years many features have been added to Band-in-a-Box – Notation and Lyrics, Piano Roll, 16-channel Multitracks, Harmonization, the StyleMaker and StylePicker, a live performance Conductor window, Medley Maker, and 24 –substyle Multistyles. The Soloist and the Melodist are popular "intelligent" features that generate professional solos or even create whole new songs from scratch. RealDrums adds the human element of a live drummer while RealTracks add even more live session musicians, bringing the entire Band-in-a-Box arrangement to life. The Audio Chord Wizard has the amazing ability to analyze, extract, and write the chords from audio recordings to the Band-in-a-Box chord sheet.

The inclusion of digital audio features makes Band-in-a-Box the perfect tool for creating, playing, and recording your music with MIDI, vocals, and acoustic instruments. Band-in-a-Box for Windows® can also record an acoustic instrument or voice to add to the composition, with processing through its own DirectX audio effects. Its built-in audio harmonies will turn your audio track into multiple harmony parts or adjust its pitch, with vibrato and scooping effects for realistic vocal styles and up to sixteen choral parts.

You'll have even more fun making automatic medleys, playing your favorite song lists in the Band-in-a-Box Jukebox, and singing along to your Karaoke files with CDG graphics.

You can print out your finished creation with lyrics, chords, repeats and endings, DC markings and codas, or save it as a graphics file for web publication or to e-mail to a friend. And when you're ready to let others hear your composition, you can burn it directly to an audio CD. Or save your composition as a Windows Media File or in other compressed formats for a file that's "Internet ready."
0
0
Intelligent automatic accompaniment program computer
You can hear and play along to many song ideas and go from "nothing" to "something" in a very short period of time with Band-in-a-Box as your "on demand" backup band.

Composition tool
Band-in-a-Box is a powerful and creative music composition tool for exploring and developing musical ideas with near-instantaneous feedback.

Band-in-a-box offers odd-time signature support (7/8, 11/8 etc.), the maximum number of soloists is increased to 1024, and count-in types now include your choice of drum pattern or regular count-in, "low root harmony" setting to Harmony Edit dialogue, "Strauss-in-a-Box" to automatically transform any 4/4 song to a Waltz 3/4 feel, "De-Strauss" to transform any song with a 3/4 time signature to a 4/4 feel, StylePicker Dialog enhancements, bass player plays better "5ths" over some Jazz chords, support for audio and video memos for songs, options to set the note density in the Soloist and much more.

Features:
Band-in-a-Box gives you an amazing amount of features, including Notation, Lyrics, Melody Tracks, Harmonization, and a programmable StyleMaker. The Soloist and the Melodist are two major "intelligent" features; the Soloist generates professional quality solos over any chord progression, the Melodist can create songs from scratch with chords, melodies, intros, solos, and even a title!

System Requirements
• Windows® 98 / ME / NT / 2000 / XP / Vista
• Memory (RAM): Minimum 128MB
• Hard Disk space: Minimum 400 MB. More space is required for RealTracks and RealDrums, about 1 GB per set.
• PC Sound Card or MIDI module.
---
PG Music
Band-in-a-Box 2008.5 (Windows)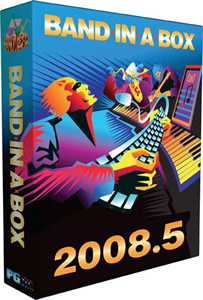 Composition & Automatic Accompaniment Software
MPN #:
UPC #:
Regular price: $129.00 $89.9900 Available from: 8th Street Music Condition: New Out of Stock