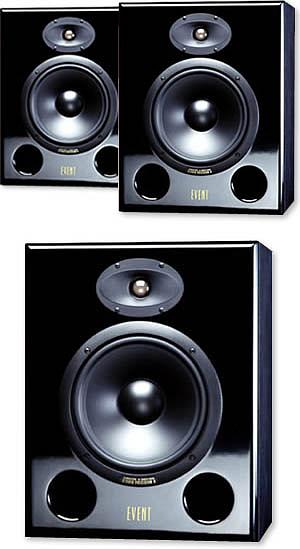 ---
After six years of leading the professional studio monitor market with their 20/20, Project Studio™, and Tuned Reference™ biamplified monitors, Event Electronics today announced the Studio Precision™ 6 series, professional high-end loudspeakers that are part of the company's new flagship line. The speakers, which were two-and-a-half years in the making, were designed by Frank Kelly and Walter Dick-the engineering team behind all of Event's award-winning monitors-and feature all-new, next-generation technology, including the woofer, tweeter, amplifier, bass ports, and even the look-a striking piano-black mirror finish with gold trim.

"The Studio Precision monitors are undoubtedly the finest direct-field designs I've ever been involved with," noted Walter Dick, who was responsible for the overall system design, including the new transducers. "The new soft dome high-frequency radiator [tweeter] creates a significantly expanded stereo soundstage as compared to our previous designs, and it delivers incredibly precise imaging, with even subtle panning movements easily discernable."

"Our new low frequency driver offers a whole new level of performance, in part through the use of a neodymium magnet," added Frank Kelly, Event's VP of engineering, and the architect of the Studio Precision's amplifier. "Neodymium-a rare earth material at the forefront of loudspeaker technology-gives the driver exceptionally low distortion characteristics. It also makes it far stronger, despite its lower weight, and gives it a greater level of output efficiency-i.e., more output per watt-than a traditional woofer. And since the neodymium driver take up less space in the cabinet than a standard woofer, we have effectively increased the cabinet volume, so the overall system bass response is extended as well."

The Studio Precision 6 is available in biamplified and passive versions. Both models use the soft dome high frequency radiator. The high frequency driver's soft dome design helps prevent the ear fatigue associated with metal-domed tweeters. It also features a neodymium magnet, and produces a broad, flat radiation pattern that doesn't require corrective equalization (which adds tonal coloration and robs an amplifier of headroom). The end result is a large sweet spot, so the mix position can be very personal or shared with a larger group.

Low frequency response in the Studio Precision line is deeper and more accurate than in any of Event's previous models, providing bass that can truly be felt as well as heard. This sonic "impact"-i.e., the low frequency transient response-is delivered by the dual large-diameter linear-flow bass ports, an Event exclusive. The port design allows for exceptional low frequency coupling into the room, low distortion, and superior low frequency transient response. In practical terms, this means that the Studio Precision monitors will reproduce percussive and bass instruments without introducing new overtones or artificially-hyped frequencies-in short, true, accurate, low end. The ports are front-mounted, allowing the speakers to be placed near walls without restricting the ports' air flow.


0
0
MPN: PSP6-N
UPC: 653780081358

Low Frequency Driver:
Magnetically shielded 6" mineral-filled polypropylene cone with neodymium
magnet, high-temperature voice coil, and damped rubber surround
High Frequency Driver:
Magnetically shielded ferrofluid-cooled soft dome neodymium radiator
Inputs: Five-way binding posts

---
Event
Studio Precision 6 Monitors (passive) Pair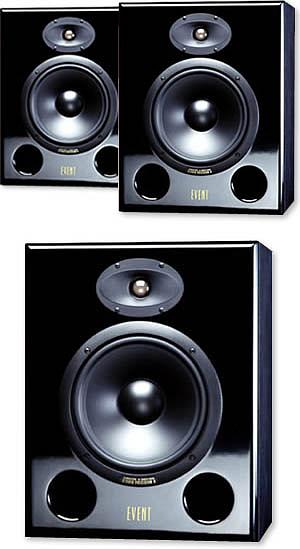 Precision direct-field passive monitors (Pair)
MPN #: PSP6-N
UPC #: 653780081358
Regular price: $599.00 $399.0000 Available from: 8th Street Music Condition: New Available to Order