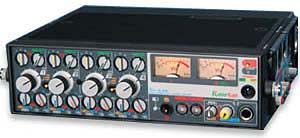 KS-342 Four Channel Stereo Remote Mixer
Product Code 21232
Retail Price
$3850
Sale Price!
$3,370.00
Buy Today and Save $480.00 (12% from Retail)

We're sorry, this product is no longer available.
---
No two location projects are ever the same, and often, they make demands beyond traditional sound mixing techniques.
So in the first place, the KS-342 offers uncompromising operation and performance. Then additionally, its unique expansion modules ensure you have specialised tools at your fingertips to deal with the most challenging productions. This is a mixing solution as versatile as you are.
Just as much attention has been paid to the mechanical and powering design as to the electronic circuitry. Smaller and lighter than any comparably featured mixer, the front and side panels are uncluttered and easy to use. The all important channel faders feature latex knobs for all temperature comfort and are easily gripped, even in gloves. Kamesan's trademark bar-grip knobs are used for all presets and never obstruct easy operation. Internal powering is by 8 'AA' cells in a 'quick change' pack; or by way of an optional clip-on housing (BP-1) which accepts the industry standard NP-1 camcorder battery. Low power consumption typically provides up to 8 hours of operation. In fact, any raw DC up to 16V can be applied to the mixer power circuit which also provides an auxiliary regulated output, useful for powering receivers etc.
To accommodate any signal source, a front panel switch selects between line or microphone inputs, providing 12 or 48 volt phantom powering as required. Level trim at both sensitivities means the main channel faders can be set at optimum rotation for normal working. Massive 30dB pre-fader headroom plus continuously variable hi-pass filtering ensure signals never get out of hand. Channels can be ganged for true stereo operation and switched to the left or right mix busses.

The nature of location recording is that there will always be situations which require more channels or more processing. In the first place the KS-342 features a multiway link socket which can be used to cascade a stereo input from another mixer without sacrificing channels. Secondly, a discrete connector and sturdy locks, attach and integrate a range of specialised modules which expand capabilities instantly. Currently two variations are available; the KS-6001, a four channel sub mixer with identical input features and the KS-6002, a block of four parametric equalisers and compressors. The inclusive all-weather case, crafted from 'wet-suit material, expands to accommodate up to two optional modules and comes complete with shoulder strap, waist belt and rain covers.

No other location mixer offers this capacity to adapt to the changing and expanding future of the location recording business.

0
0
Multiple, multi-level outputs

Thumb-knob master level controls prevent accidental adjustment and the signal passes through switchable compressors before the final output stages. Fast attack, compound release circuitry provides a comfortable safety margin for distortion free operation. Independent as well as ganged settings ensure maximum flexibility for stereo and dual mono setups. This design philosophy is carried through to the isolated outputs which are not a luxury but a necessity in many situations. With a choice of levels (left right independent), symmetry and connectors, four isolated two channel feeds are provided. Furthermore, an internal, 96kHz sampled, AES/EBU compliant digital converter delivers the highest quality output when required.

.


Comprehensive monitoring


This degree of flexibility has to go hand in hand with the capability to monitor signals accurately. Backlit, jam-proof, level meters offer clear visual indication of the main output signal. The headphone circuit can be switched to monitor any combination of the outputs in mono or stereo and MS decoding. Additionally, an indispensable PFL function which appears on the right meter as well as at the headphone output is included. Where are the individual channel switches located? Simply 'press' the corresponding HPF control knob to activate!. A built-in slate microphone is also featured.

Specification KS-342 (4 Channel, Stereo Remote Mixer)

INPUT
Input Level
(MIC)
-70 ~-30dBs (Continuously Variable/Balanced) x 4

(LINE)
-20 ~ +4dBm (Continuously Variable/Balanced) x 4

(AUX) -20 ~ +4dBm (Continuously Variable/Balanced) x 2
Input Impedance
(MIC)
3k§Ù ¡¾10%

(LINE)
600§Ù ¡¾10%

(AUX) 10k§Ù ¡¾10%
Headroom
Better than 32dB (Pre-fader input)


OUTPUT
Output Level
(MAIN L/R)
+4/0/-20/-60dBm switchable (600§Ù Load)

3P XLR type connector, transformer balanced output
(SUB L/R)
-20/-60dBm switchable (600§Ù Load)

5P XLR type connector, electronically balanced output
(Unbalanced Output)
-60dBs (>10k§Ù at full load impedance)

3.5mm dia stereo mini jack
(MONI)
0dBs/50§Ù(Maximum Load,8§Ù, Stereo)

Maximum Output
(MAIN)
+24dBm (600§Ù Load [+4] Selected at 12V)

+20dBm (600§Ù Load [+4] Selected at 8V)
(SUB L/R)
+8dBm (600§Ù Load [-20] Selected at 12V)

(MONI)
+6dBs (50§Ù Load at +12V)

Digital Output Format AES/EBU Sampling rate 44.1kHz/48kHz/96kHz selectable
3P XLR type connector, 20bit A/D convertor

OTHER Microphone power P-48V (max power 10mA)
A-B12V (max power 30mA)

Low Cut filter 20 ~ 200Hz continuously variable (-12dB/octave)
Oscillator 1.0kHz(¡¾10%)
Compressor Threshold level +3/+6/+9/+12dB
Attack time approx 2mS.
Release time approx 300mS.
Ratio approx 2:1

AUDIO
Frequency Response
30Hz~40kHz within ¡¾1.0dB (Main Out and Sub Out)

Signal to Noise Ratio
(MIC-70)
better than -54dB (22kHz L.P.F/RMS)

(LINE+4)
better than -70dB (22kHz L.P.F/RMS)

(MONI)
better than -65dB (22kHz L.P.F/RMS)

Distortion (T.H.D)

<0.1% (at +4dBm output 50Hz~15kHz)


POWER
Internal Battery
8 x type 3 (AA) cells (using supplied standard battery holder)

NP-1 NiCd Battery (using optional Sigma BH-1 case )

External Power Input
+10V ~ +15V
Max Consumption approx 0.5A

Current 160mA (nominal)/240mA(digital out on)
Operating Time
(Continuous) More than 4 Hours (Manganese Batteries)

More than 8 Hours (Alkaline Batteries)

More than 12 Hours (NP-1 NiCd)

(At normal temperature, no extra modules, digital out off)




PHYSICAL
Dimensions
W8.46 x D6.99 x H2.64 inches

(W215 x D170 x H60 mm) excluding protrusions

Weight
Approx 4.4lbs. (2.0kg.) No case or batteries

Approx 5.3lbs. (2.4kg.) With case and batteries
---
Kamesan
KS342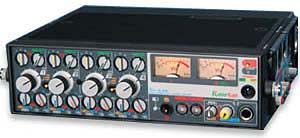 KS-342 Four Channel Stereo Remote Mixer
MPN #:
UPC #:
Regular price: $3850 $3370.0000 Available from: 8th Street Music Condition: New Out of Stock