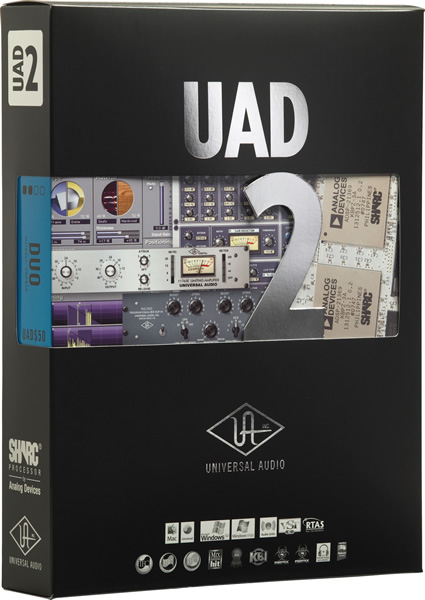 ---
The UAD-2 Duo PCIe card from Universal Audio revolutionizes their already award-winning UAD-1 DSP card system. By employing two state-of-the-art, floating-point DSP chips, the UAD-2 Duo delivers as much as five times the processing power of the UAD-1. You can now run even more plug-in instances on more tracks, allowing for a greatly enhanced in-the-box mixing experience. And, to spearhead the most demanding professional applications, you can mix and match Universal Audio UAD-2 Duo with other UAD-2 cards.


Features:
• Includes $50 Plug-in voucher
• Short PCIe card
• 2 SHARC floating-point DSP chips
• As much as five times the power of UAD-1
• Up to 4 UAD-2 cards can work together
• Compatible with UAD-1 cards
• A 4-card UAD-2 system can work with a 4-card UAD-1 system for 8 cards total
• SessionMap feature allows for bi-directional UAD-1/UAD-2 compatibility
• LiveTrack low-latency mode
• LoadLock DSP managing feature
• Supports sample rates from 44.1-192kHz
• Includes Mix Essentials II Plug-in Package
• Compatible with VST and AU DAWs - RTAS coming soon and will be a free update
• Mac and PC compatible
2
2
MPN: U2CD
UPC: 819937005015

Cutting-edge SHARC chip technology by Analog Devices
The new UAD-2 cards from Universal Audio take advantage of state-of-the-art chip technology. These SHARC chips boast 32-bit, floating-point architecture, for the ultimate in precision and performance. When combined in multi-chip configurations on PCIe cards, such as the 2-chip UAD-2 Duo, the power potential is truly phenomenal.

Up to Five Times the Processing Power of the UAD-1
Featuring two of the premium SHARC chips, the UAD-2 Duo is a powerful and professional PCIe card. It offers an incredible five times the processing power of the original UAD-1 card. What's more, Universal Audio has updated their plug-ins to take advantage of all this power, giving you premium plug-in sound and enough plug-in instances to experience unprecedented in-the-box mixing.

Can Use up to Four Cards Together
While the power of each individual UAD-2 card, such as the UAD-2 Duo, is incredible on its own, you can use cards in tandem with one another to meet the needs of even the most demanding sessions. In all, you can mix and match UAD-2 cards to create a maximum of a 4-card UAD-2 card system. Yet, you can also add up to four UAD-1 cards to the mix, for a complete 8-card powerhouse system.

Compatible with UAD-1 Card Systems
If you already own a UAD-1 Card, you can enjoy even more processing power with the UAD-2 Duo and other UAD-2 cards. The original UAD-1 cards work seamlessly with UAD-2 systems. Use up to four UAD-1 cards with up to four UAD-2 cards to get the most processing power possible.

SessionMap for UAD-1/UAD-2 Session Compatibility
The UAD-2 Duo features SessionMap for bi-directional compatibility between UAD-1 and UAD-2 plug-in systems. You can share a session created on a UAD-2 card with a user on a UAD-1 card, and vice versa. The software will automatically determine which version of the plug-ins are available on the system and load them into the session, so you don't have to spend time doing any re-mapping.

LiveTrack Low-latency Mode for Tracking
Using UAD-2 Duo's LiveTrack mode, you can reduce latency on active UAD-2 plug-ins to the lowest amount possible - ideal for monitoring rich, processed audio during the tracking stages.

LoadLock Feature to Ensure Adequate DSP
By default, UAD-2 Duo's new LoadLock feature is turned on. This useful tool automatically reserves the maximum DSP load that each UAD-2 plug-in could ever demand - even if you're not using all of its features. This way, you can be positive you have enough DSP to engage all the features, such as writing automation, later in your mix, without making sonic compromises and pulling plug-ins down the line. If you prefer to manage your DSP resources manually, you can easily disable LoadLock.

Includes Mix Essentials II Plug-in Package
With the UAD-2 Duo system, you get Universal Audio's Mix Essentials II plug-in package, so you can get to work with studio staple tools straight out of the box. The package offers seven titles, including the UA 1176SE Compressor/Limiter, the Pultec EQP-1A Program Equalizer, the RealVerb Pro Room Modeler, and the CS-1 Channel Strip.

$50 Plug-in Voucher
In addition to the tremendous plug-in package included with the UAD-2 Duo, you get a $50 plug-in voucher that you can use toward any of Universal Audio's world-class plug-ins. Recognized as an industry leader in creating dead-on models of the most sought-after vintage gear, Universal Audio offers affordably-priced plug-in versions of everything from a Neve channel strip to a Fairchild compressor to the Roland Space Echo - and far, far beyond.

Even More Plug-in Options Than Before
Universal Audio exploited every drop of power technologically possible in designing the UAD-2 Duo and their other state-of-the-art UAD-2 cards. Complementing the achievement, they've expanded their power on the sonic front as well. Already in partnership with top names, such as Neve, Roland, and Moog, Universal Audio is working on greatly expanding their plug-in line. Models in the works include the famous Empirical Labs Fatso, the acclaimed EQ from the Harrison 4032C, the Little Labs IBP, and various EQs, compressors, and gates from Valley People. And, with the potency packed in these new cards, Universal Audio has positioned themselves to develop new kinds of plug-ins entirely, including instruments and impulse-based reverb effects.
---
Universal Audio
UAD-2 Duo Core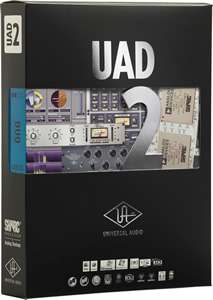 2-Chip DSP Card with Plug-In Bundle (PC & Mac)
MPN #: U2CD
UPC #: 819937005015
Regular price: $1149.00 $599.0000 Available from: 8th Street Music Condition: New Available to Order