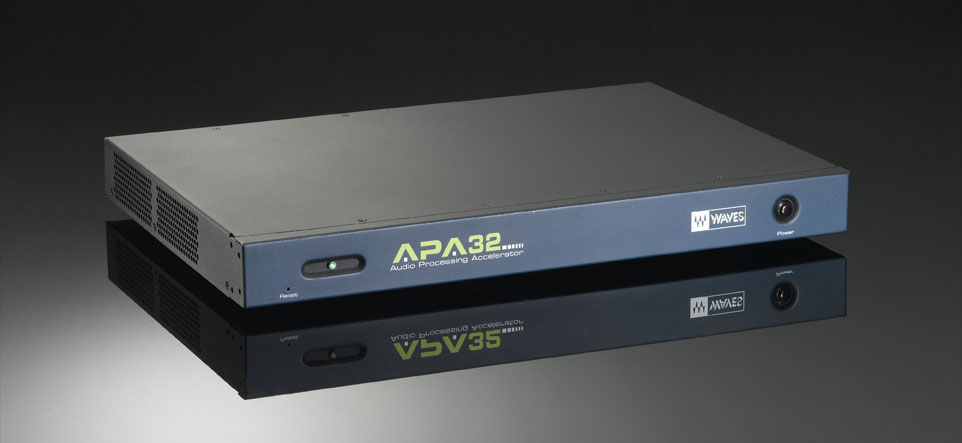 ---
*For a limited time, Waves will include a copy of IR1-L and Q-Clone absolutely FREE!!

The APA is a hardware solution that lets you easily run multiples of Waves' most CPU-intensive plug-ins. For example, the APA32 lets you run 6 IR-1 Reverbs, or 9 Linear Phase Equalizers, or 12 C4 Multiband Parametric Processors at 44.1KHz. What's more, the unit doesn't require a PCI card or a Firewire or USB connection. You simply connect it to a standard Ethernet port, install the new NetShell software, and cut loose.

What if you need even more power? Easy: add another APA. You can connect up to 8 APA units to a single host computer using a standard Ethernet switch. Mix and match the APA32 and APA44-M units if you like. Because APA units use standard Ethernet hardware, you can expand your Waves power easily, without the need for proprietary gear.

If you have more than one workstation, you can also distribute your Waves power among them. With each machine authorized and using NetShell, all you need is a V-LAN switching system to assign any combination of APA units to whoever needs the most power—up to 8 APA units per workstation. For example, with 16 APA units and 4 workstations, you could allot 4 APAs to each computer. But if the next job requires two machines each running 8 APAs, you can make the change in minutes without even unplugging a single cable.
1
1
MPN: apa32
UPC: 008474930465

- System Requirements

Mac:
G4 1Ghz
512MB RAM
OS-X 10.3.8 and 10.4
Minimal Screen resolution 800x600

PC:
P4 2Ghz or AMD equivalent
512MB RAM
Windows XP SP1
Minimal Screen resolution 800x600


- Supported Hosts and Versions

Mac:
ProTools 6.7 and 6.9
Cubase SX 3.0.2
Nuendo 3.0.2
Logic Pro 7.1
Digital Performer 4.52 and 4.6

PC:
ProTools 6.9
Cubase SX 3.0.1
Nuendo 3.0.1


- Number Of Plug-In Instances

C4: 12
LinEQ BroadBand: 9
LinMB: 6
Morphoder: 8
Renaissance Channel (no ext. side-chain): 17
Renaissance Reverb: 9
TransX (Multi): 11
SoundShifter Pitch: 2
L3 MultiMaximizer: 5
IR-1: 6
Q-Clone: 16

- For direct connection from 1 computer to 1 APA32 unit: Dedicated 100 Mbps Ethernet port

- For direct connection from 1 computer to multiple APA units: Dedicated 1000 Mbps Ethernet port, Ethernet switch

- For direct connection from multiple computers to multiple APA units: Dedicated 1000 Mbps Ethernet port, managed Ethernet switch supporting V-LAN

LXYS
---
Related Products
Product Code
g25

Description
Gift Certificate (may be purchased in multiple amounts)

$25.00 Add to cart
Waves
APA32

Audio Processing Accelerator
MPN #: apa32
UPC #: 008474930465
Regular price: $800.00 $299.0000 Available from: 8th Street Music Condition: New Available to Order