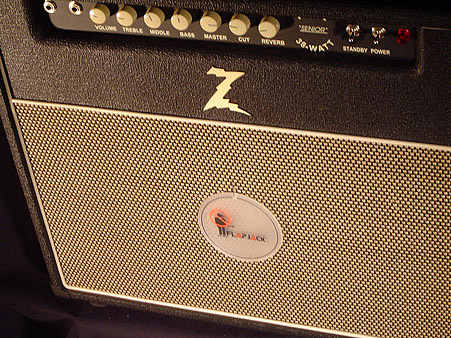 Absorbs and diffuses harsh frequencies that beam from center of speaker
Product Code 42586
Retail Price
$14.95
Sale Price!
$9.95
Buy Today and Save $5.00 (33% from Retail)

In Stock
Ships free on most orders over 99.95
Click for Details
Click Here For Shipping Options
---
Are any of the following scenarios familiar to you?

You are playing your guitar at home or on the gig, everything sounds great, and then you crouch down in front of your amp so that your head is right in front of the speaker and you hear.....nastiness....ice-picky-ness....a "blizzard of nails" (as the great Greg Koch calls it). What gives??

You see the person in the front row of your club gig look like they smell something really bad, and they are looking at your amp (which is pointed right at their head - but wait, your amp sounds great from where you are standing) What gives??

You get a great guitar sound, then you put a mic on your amp, go out to hear your guitar sound in the front-of-house mix, and it sounds like marbles dropping on a tile floor. What gives??

The bass player, singer, or soundman is all over your back, asking you to turn down, or turn your amp in another direction because (you guessed it), they say it's like an "ice-pick in their ear."

Okay - enough, you get the idea. What the Flapjack does is "shave" the harshness off of the sometimes annoying beam that shoots from the center of guitar amp speakers. The nice thing is that it doesn't mess with the "nice" sound that you are used to hearing. Standing in front of your amp actually produces the same effect, but who wants to stand RIGHT in front of your amp without moving all night? The Flapjack can help in live situations as well as when recording. Although sound is subjective, most producers and sound engineers will tell you that the best mic'd guitar sound comes from mic'ing a speaker "off-axis," (when the mic is NOT pointed directly at the center of the speaker).

The concept that the Flapjack employs is not a new one - many players have used many different means of blocking the harshness, but the Flapjack makes it extremely easy AND adjustable. You can pop it on, pop it off, move it around, etc. Simple, and effective.

The dense but flexible PVC disk provides just the right amount of diffusion and absorption, and won't vibrate on metal speaker grills.
1
1
UPC: 094922596840

- Absorbs and diffuses harsh frequencies that beam from center of speaker
- Made of flexible, translucent PVC
- Measures approx. 4" in diameter
- Hangs on speaker grill of guitar amp
- Installs in seconds; no tools needed
- Extremely light; won't damage grill cloth
- Won't vibrate on metal grills
- Helps improve mic placement
- Stores easily in guitar cases, pedal bags, & backs of most amps
- Great for harsh or "lively" rooms; a must for every gig bag!
---
Sound Eflect
Flapjack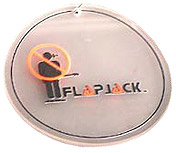 Absorbs and diffuses harsh frequencies that beam from center of speaker
MPN #:
UPC #: 094922596840
Regular price: $14.95 $9.9500 Available from: 8th Street Music Condition: New Available to Order