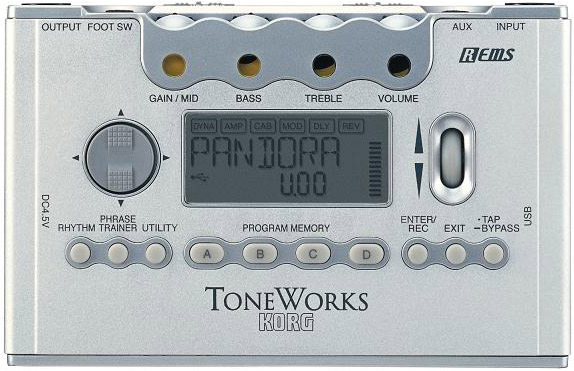 Pandora Personal Multi-Effect Processor with USB
Product Code 43671
Retail Price
$330
Sale Price!
$199.99
Buy Today and Save $130.01 (39% from Retail)

We're sorry, this product is no longer available.
---
The Korg PANDORA series is famous for packing dozens of realistic modeling effects and a multitude of live, practice and recording functions into a pocket-sized unit. Now they're proud to introduce the new PANDORA PX5D, the latest and greatest in the Pandora evolution. In addition to a ton of other new features, the PX5D for guitar and bass is the first PANDORA to provide a USB audio interface so you can plug directly into your computer.

The PX5D provides a total of 180 realistic and wide-ranging effects created using Korg's world-acclaimed, proprietary "REMS" modeling technology. Included are simulations that recreate classic vintage and modern, high-gain amps, as well as effects ranging from the familiar to the unique.

Realistically reproduced models of many different cabinets and speakers are also provided, offering differences in speaker size and cabinet structure for superb presence and depth. You can even combine cabinets and speakers freely with any amp models, letting you experience combinations not possible on the original units themselves.

Numerous effects designed specifically for bass are also included, making the PX5D a great choice not only for the guitarist but for the bassist as well.

There are also synth effects that let you create unique and fresh new sounds, with three choices each for guitar and bass.

The PX5D goes beyond the expected with pickup modeling, an intelligent pitch shifter, a talk effect, a slow attack effect to simulate a violin or cello, a feedback effect, a velocity controlled rotary speaker effect that speeds up the harder you play, a fretless bass effect and many others.

The PX5D's effects are organized in 200 multi-effect programs with 100 user and 100 preset locations. Favorite programs can be assigned to four program memory buttons for one-touch access, letting you smoothly change programs in an instant.

A USB-MIDI/USB audio interface is included, so you can use the PX5D with your computer to transfer audio data or record into your DAW software.

The PX5D comes with "Ableton Live Lite 6 Korg Edition" recording software, so you can start recording as soon as you open the box. There's also dedicated editor/librarian software that lets you edit and manage programs from your computer.

The PXD5 allows you to record up to eighty seconds of sound from an external audio source such as a CD, MD, or MP3, and then play it back as a loop at a different speed, without affecting the pitch.

You can also record your own accompaniment, along with the built-in rhythm and bass patterns, then play it back while you practice playing a lead.

A Key Transpose function lets you change the pitch of the incoming audio source by as much as one octave upward or downward, and a Bass Canceller function cancels the bass sound so that you can enjoy "minus-one" playing.

A foot switch jack lets you control the PX5D's rich array of functionality without interrupting your performance. Connect the included foot switch jack cable to the PX5D, and you'll be able to connect two foot switches (not included) and use them to change programs or start/stop Phrase Trainer recording or playback.

The PX5D features built-in tuner which includes a mute function, so you can tune silently on stage. Power can be supplied by an AC adaptor, by batteries, or via the USB connection.
0
0
MPN: PX5D
UPC: 4959112047396

180 Effects types (Max. simultaneous effects: 7):

DYNAMICS & PICKUP MODELING:
- COMP, DYNAEXC, VOX WAH, WAHUP1, WAHUP2, WAHDWN1, WAHDWN2, SLOWATK, AC SIM, RESO, OCTAVE, RING, RINGUP, RINGDWN, CRUSHER, HUM>SGL, SGL>HUM, HF TONE, PHASOUT, B COMP, LIMITER, B OD, B DIST, B FUZZ, PREAMP1, PREAMP2, BALANCE, LOWCUT, FRETLESS

AMP MODELING:
- BTQ CLN, BTQ OD, TWD1x12, TWD4x10, BLK2x12, AC15, AC15TB,
- AC30, AC30TB, UKBLUES, UK'70S, UK'80S, UK'90S, UK MDN, US HI-G, US MDN, FUZZ, OCTFUZZ, VALVE1, VALVE2, CLASSIC, SCOOPED, LA STUD, GOLDPNL, JAZZ, STUDIO, AC100, UKMAJOR, GSYNTH1, GSYNTH2, GSYNTH3, BSYNTH1, BSYNTH2, BSYNTH3

CABINET MODELING:
- 1x8TWD, 2x10BLK, 4x10TWD, 1x12TWD, 1x12VOX, 2x12BLK, 2x12VOX, 4x12VOX, 4x12CLS, 4x12MDN, 4x12VIN, LA4x10, MDN4x10, MTL4x10, CLS8x10, UK4x12, STU1x15, JAZ1x15, AC2x15, US2x15, UK4x15, LA1x18, COMBI

MODULATION & FILTER EFFECT MODELING:
- CHORUS1, CHORUS2, FLANGE1, FLANGE2, FLANGE3, FLANGE4, PHASER1, PHASER2, PHASER3, 12STR, U-VIBE1, U-VIBE2, TREM1, TREM2, TREM3, AT PAN1, AT PAN2, ROTARY1, ROTARY2, ROTARY3, PITCH1, PITCH2, PITCH3, PITCH4, MAJ3UP, MAJ3DWN, MIN3UP, MIN3DWN, PER4TH, PER5TH, MAJ6TH, FEEDBK1, FEEDBK2, FEEDBK3, FEEDBK4, FILTER, FILTUP1, FILTUP2, FILTDN1, FILTDN2, TALK1, TALK2, TALK3, TALK4, RANDOM1, RANDOM2, RANDOM3, RANDOM4, DRONE1, DRONE2, ENV PIT, ENV CHO, INFFLN1, INFFLN2, INFPIT1, I NFPIT2

DELAY MODELING:
- SLAP1, SLAP2, SLAP3, SLAP4, SLAP5, ECHO1, ECHO2, ECHO3, ECHO4, ECHO5, CLR DLY1, CLR DLY2, CLR DLY3, CLR DLY4, CLR DLY5, PPDLY1, PPDLY2, PPDLY3, PPDLY4, PPDLY5, MULTI1, MULTI2, MULTI3, MULTI4, MULTI5,
- RVS DLY

REVERB MODELING:
- DRYAIR, WETAIR, ROOM1, ROOM2, PLATE1, PLATE2, HALL1, HALL2, SPRING1, SPRING2, BRIGHT

NOISE REDUCTION

- Number of Programs: User: 100, Preset: 100

Inputs:
- Guitar input (1/4" jack)
- AUX (mini stereo jack)

- Output: Line/headphone dual-purpose output (stereo phone jack)

Control:
- Footswitch jack
- USB connector

Tuner Section:
- Detection range: 27.5 Hz-2,093 Hz (A0-C7)
- Calibration: A = 438 Hz-445 Hz

Rhythm Section:

128 patterns, 40-208 bpm:
- MTRONM0, MTRONM2, MTRONM3, MTRONM4, MTRONM5, MTRONM6, MTRONM7, MTRONM9, 8BEAT1, 8BEAT2, 8BEAT3, 16BEAT1, 16BEAT2, 16BEAT3, 16BEAT4, 16BEAT5, 16BTSW1, 16BTSW2, 16BTSW3, 16BTSW4, 16BTSW5, 2/4 1, 2/4 2, 2/4 3, 2/4 4, 2/4 5, 2/4 6, 2/4 7, 3/4 1, 3/4 2, 3/4 3, 3/4SWG1, 3/4SWG2, 5/4, 3/8 1, 3/8 2, 5/8, 6/8 1, 6/8 2, 6/8 3, 6/8 4, 7/8 1, 7/8 2, 9/8, POP1, POP2, ROCK1, ROCK2, ROCK3, ROCK4, ROCK5, R'N'R, METAL1, METAL2, METAL3, METAL4, R'N'B1, R'N'B2, R'N'B3, R'N'B4, BLUES1, BLUES2, 8BLUES, BLUESFL, COUNTRY, CNTRYS1, CNTRYS2, JAZZ1, JAZZ2, JAZZ3, JAZZ4, FNKRCK1, FNKRCK2, HVYFUNK, JB 1, JB 2, NJCKSWG, MOTOWN1, MOTOWN2, MOTOWN3, MOTOWN4, SURF, REGGAE1, REGGAE2, REGGAE3, BOLERO, DISCO1, DISCO2, DISCO3, GOGO1, GOGO2, GOGO3, HOUSE1, HOUSE2, HOUSE3, D'N'B 1, D'N'B 2, SKA1, SKA2, SKA3, 2NDLINE, FILLS01, FILLS02, FILLS03, FILLS04, FILLS05, FILLS06, FILLS07, FILLS08, FILLS09, FILLS10, FILLS11, FILLS12, 3/4FILS, LATIN1, LATIN2, BOSSA1, BOSSA2, SAMBA1, SAMBA2, RUMBA, AFRO1, AFRO2, CLYPSO1, CLYPSO2, SONGO, LP II, LP III

Included Accessories:
- Two AA alkaline batteries for checking operation
- CD-ROM
- Cable for FOOTSW jack
- Rubber Feet
- Strap holder

Weight & Dimensions:
- Weight (not including batteries): 154g /0.34lbs.
- Dimensions: 4.65" x 2.95" x 0.79" (W x D x H)
---
Korg
PX5D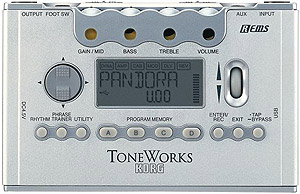 Pandora Personal Multi-Effect Processor with USB
MPN #: PX5D
UPC #: 4959112047396
Regular price: $330 $199.9900 Available from: 8th Street Music Condition: New Out of Stock