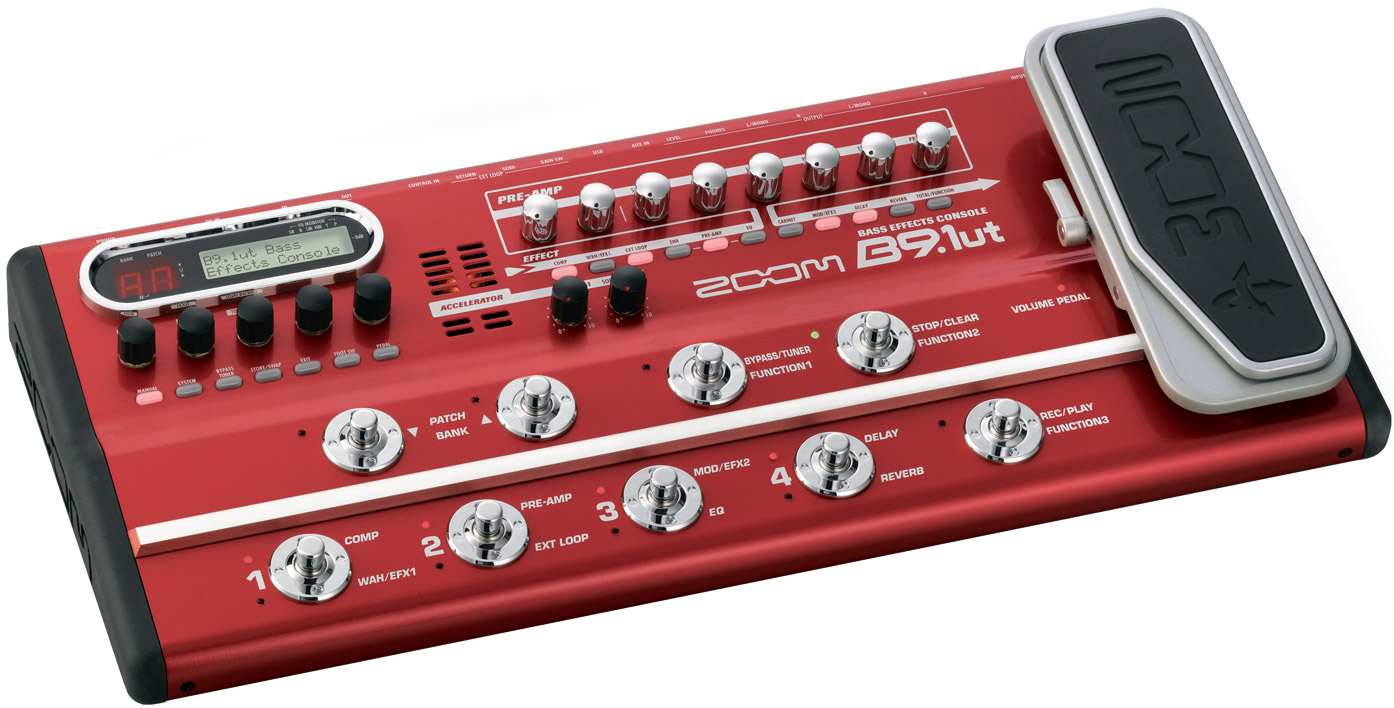 Bass Multi-Effects Console with Tube Expresssion Pedal & USB
Product Code 44288
Retail Price
$514.99
Sale Price!
$349.00
Buy Today and Save $165.99 (32% from Retail)

We're sorry, this product is no longer available.
---
The Zoom B9.1ut bass effects console combines the most technically advanced audio engine with the warmth of a classic 12AU7 tube to produce the richest tones imaginable. Its ultra-fast ZFX-3 processor means all the world's most famous amplifiers, cabinets and effects are modeled with stunning accuracy. For the discerning bassist, the B9.1ut represents an impressive and powerful solution for creating rich, detailed bass tone.

Delivering high-resolution, 96kHz sampling processing with 24-bit A-to-D and D-to-A conversion, the B9.1ut rivals the processing equipment found in the finest studios. This means that the wide pitch, timbre and dynamic ranges created by modern bass styles are handled without degradation, ensuring clear, transparent sound.

The outstanding performance of the B9.1ut is made possible by its ultra-fast, 32-bit, ZFX-3 engine. This highly sophisticated processor means that every nuance of your performance is delivered as you imagine it, because the power of this processor reproduces every possible amp model and effect with true clarity.

Combining the raw processing power of the ZFX-3 with the 12AU7 tube accelerator produces richer harmonics and organic tone. By adjusting the mix balance, the thick characteristics of the 12AU7 tube and the striking clarity of the ZXF-3 can be adjusted so that saturation is natural and focused.

With the world's most famous bass amplifiers and stomp boxes at your disposal, you have all the low end drive and sonic transparency of timeless classics. From Ampeg, Fender, and Marshall as well as more recent models such as Hartke, SWR, and Aguilar, a whole world of bass tone comes complete on the B9.1ut.

The B9.1ut's cabinet simulator emulates the low frequency characteristics and sonic behavior of vintage and modern bass speaker cabinets. This gives you the full dynamic range of bass you get from large speaker cabinets even when playing through a flat-response system such as headphones, studio monitors and even when using a small practice amp. Turn the cabinet simulator off to return to a direct amp sound. For live or studio performance, the B9.1ut gives you the right tone when and where you need it.

A built-in 6-band semi-parametric equalizer provides tone flexibility and control on a level that rivals gear found in studios around the world. Center frequencies can be adjusted for each band, and the EQ curve can be set to peaking (narrow/wide), shelving, low-pass, or high-pass. Dedicated knobs in the preamp section make it easy to adjust the boost or cut amount for each band.

The B9.1ut offers a versatile collection of 112 effect types arranged in 10 modules. They are optimized for the dynamic and wide-range signal created by the modern bass. The effect selection includes limiter/compressor for controlling peak levels and ensuring uniformity, auto wah and resonance filter, octaver to produce ultra low notes, defret to simulate a fretless bass, detune for a chorus effect and other eminently usable choices. There are high-quality studio type effects such as delay with hold function up to 5000 milliseconds, vintage tape echo, stereo chorus with exceptional sonic clarity, flanger, phaser, pitch shifter and more. The module insert position can be specified for the preamp section and wah/filter effects to accommodate even more advanced creativity.

With its full bass synthesizer on-board, the B9.1ut provides modern, fully editable synth sounds. Its mono synthesizer offers a choice of three waveform settings: sawtooth, square and PWM. The 4-voice synthesizer creates rich and deep harmonic voicings. You can also use the foot switches to play the pedal synthesizer. Two types of filtering with excellent tracking are also available.

The built-in Z-type expression pedal developed by Zoom captures up/down and sideways movement for controlling more effect parameters with subtle changes. In addition to conventional expression pedal parameters such as volume, wah, or pitch shift, you can control the mixing balance between direct and synthesizer/drive sound, adjust the rate of modulation effects or control the delay/reverb mixing level. The Z-pedal lets you build highly complex sounds by assigning up to four parameters each in the vertical and horizontal direction. Of course, there are also effects specially designed for use with the Z-pedal for a completely new realm of bass pedal performance.

In addition to its vintage amp and stomp box models, the B9.1ut comes preprogrammed with artist-created bass sound settings for major genres such as rock, jazz, and funk. Dave Wembish, JD DeServio and Eric Struthers have each provided customized preset patches. Enjoy professional-quality bass tone thanks to 80 preprogrammed patches. And for additional creativity, storage capacity for another 80 patches is also provided.

With its looping feature, the B9.1ut lets you record a bass line while creating additional layers over the loop. You can overdub several phrases in real time, or play a solo with looped phrases in the background for a great live performance.

Designed with all the functionality and ease of a traditional amplifier, the preamp section on the B9.1ut lets you make gain, level, and 6-band EQ adjustments on the fly. In every aspect, the advanced user interface of the B9.1ut is designed for stress-free, efficient operation, letting you achieve the tone you want so you can focus on your performance. The footswitches are highly flexible and can be assigned to patch changes, bank changes, module on/off switching, hold delay on/off switching, bypass/mute control, tap tempo input and more.

With the fastest patch change available, the B9.1ut eliminates dropout when switching patches. Its record-setting speed of 0.007 seconds means the B9.1ut literally never misses a beat. Change the patch in the beginning, middle or end of a solo, or any other time during your performance, without dropout.

The auto-chromatic tuner can be called up instantly. Bright LED indicators make the note readout easy to see on a dark stage. Its calibration range is 435 to 445 Hz and mute tuning is also possible for enhanced onstage flexibility.

The built-in ZNR circuit developed by Zoom provides optimized performance for bass. While minimizing any alteration of the original sound, ZNR removes unwanted noise in the playing pauses. Even the tails of long sustain notes come out beautifully with natural release that is ultra-quiet.

Specifications such as a signal-to-noise ratio of 120 dB and noise floor of -100 dB demonstrate a level of performance that is unsurpassed. Background noise is a thing of the past, leaving you free to produce only superbly transparent bass performances.

The solid metal chassis ensures that the unit can stand up to the rigors of use on stage. On the road or in the studio, the B9.1ut will not let you down. The sleek rounded shape of the sturdy enclosure and its chrome-plated switches and knobs are as elegant as they are durable, proving there is no sacrificing beauty for brawn.

The B9.1ut has a built-in set of stereo XLR outputs that lets you establish a balanced signal path for clean sound. Go directly to a mixing console or PA system without additional gear. A convenient pre/post switch makes it possible to use the effects from the main outputs without passing through the A/D converter when using the XLR outputs.

The USB port on the B9.1ut provides audio interface capability for recording to digital audio software. To utilize the sounds of the B9.1ut in a computer-based recording environment, simply connect the unit via USB to your computer. The B9.1ut comes bundled with Cubase LE 4 so you can start creating music right away. And because playback from the software application can be monitored on the B9.1ut itself, you can record and monitor with no latency.

The ability to exchange MIDI messages with other devices opens up a wealth of performance and data management possibilities. Switch patches in conjunction with a MIDI enabled preamp, or use the unit as a real-time controller for external MIDI equipment. Connecting the B9.1ut via its MIDI interface to a computer allows the use of dedicated editor/librarian software to edit and store patch data.

External sources such as a CD or MP3 player can be connected to the AUX input for use as backing in a jam session. Or use the connectors as a stereo line input for the USB audio interface.

A compact or rackmount effect or other device can be connected in an external loop and used as part of a patch. Send/return levels as well as on/off status are stored as part of the patch. With the B9.1ut, you'll find new ways to use your favorite effects and enhance your creativity in many ways.
0
0
MPN: ZB91UT
UPC: 884354007843

- Ultra-fast 32-bit DSP ZFX-3 processor on-board
- 96kHz sampling rate / 24-bit A/D/D/A converters for accurate bass models
- USB interface for connecting directly to a computer
- 3D Z-Pedal allows for multi-dimensional parameter control
- 6-band semi-parametric EQ for complete tone control
- World's fastest patch change speed: 7 ms
- One 12AU7 tube for natural overdrive/compression and drive/volume
- 112 effects specially tuned for bass
- 80 preset artist patches + 80 user patches
- Built-in Zoom Noise Reduction
- Versatile bass synthesizer on-board with filtering and waveform control
- Stereo XLR output for stage or studio
- Built-in MIDI interface
- External send/return loop on-board
- Sturdy metal chassis for roadworthy durability
- Intuitive interface great for live or studio use
- Steinberg Cubase® LE 4 software included
- Specs: signal-to-noise ratio of 120 dB and noise floor of -100 dB
- All-tube bass amplifier incorporating original Super Valve Technology. Thanks to its gutsy drive sound, this has remained one of the most popular bass amps ever.
---
Zoom
B9.1ut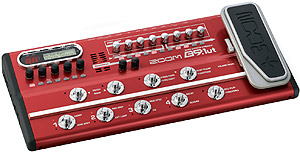 Bass Multi-Effects Console with Tube Expresssion Pedal & USB
MPN #: ZB91UT
UPC #: 884354007843
Regular price: $514.99 $349.0000 Available from: 8th Street Music Condition: New Out of Stock