---
The 560 Special 20 Harmonica Pro Pack contains three of Hohner's professional-level Special 20 harmonicas in a package that saves you some cash while offering you harmonicas in the most popular keys of G, C, and A.

The 560 Special 20 harmonica's airtight design makes it the most recommended go-to harp for harmonica players of any style, including blues, country, folk, or rock. It has the coveted Marine Band sound plus the added benefits of its plastic comb, which doesn't absorb moisture. Plastic combs are more stable and do not swell, shrink, or crack. Plus they last longer and are more airtight than wood combs that can become swollen, twisted, and warped. Increased airtightness means increased responsiveness. Plastic also provides comfort and it's smoother on the lips, preventing chafing. Another plus of the Hohner 560 Special 20 harmonica's design is that its smooth mouthpiece features reed plates that are recessed into the comb. This keeps the two (rather sharp) edges of the brass reed plates from harming the player's lips. It's the harp-of-choice of harmonica virtuoso John Popper of the band Blues Traveler and was played by Bob Dylan on his 2007-2008 tour. Chances are your favorite player has several of these harmonica in his case.

In addition, this 560 Special 20 Harmonica Pro Pack comes in sealed, "blister packaging" which has several advantages. As the Hohner harmonicas are sealed, they are guaranteed to have never been played or tampered with. Additionally, there is useful product information on the package card, for example, a key chart telling players which key of harmonica to use for certain songs if they wish to play in crossharp or 2nd position, which is the default position for blues and rock 'n' roll. Lastly, blister packaging can include added items, such as small booklets on the history of the harmonica, or a mini catalog showing other Hohner harmonicas, accessories, and merchandise.
1
1
MPN: 3P560
UPC: 048667326286

10-hole diatonic

3-pack in G, C, and A

Professional quality

Richter tuning

Genuine brass plates

Plastic comb

Bolted-on covers

Reeds: 20

Reedplates: brass; 0.9 mm

Plastic comb

Length: 10 cm

Improved reed profiles to increase reed life by over 200%

Precision die punches to ensure reed plates with unparalleled air tightness

Improved tuning accuracy (through investment in innovative new tools)

Extremely stable stainless steel covers that won't tarnish and are easy to clean

Dynamic range and highest volume of most any commercially made harmonica

Super-fast response at all volume levels

Easily adjustability for overblows

A unique Hohner sound that is a tone benchmark for blues, folk, and rock
---
Hohner
Special 20 Harmonica Pro Pack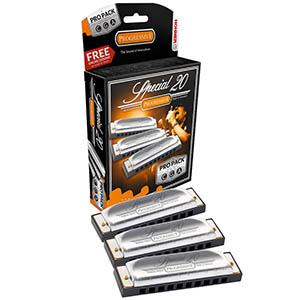 3-Pack Harmonicas in Key of G, A and C
MPN #: 3P560
UPC #: 048667326286
Regular price: $159.99 $129.9900 Available from: 8th Street Music Condition: New Available to Order