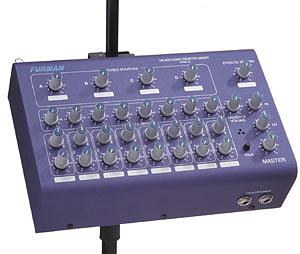 HRM-16 Headphone/Audio Remote Mixer
Product Code 6307
Retail Price
$899
Sale Price!
$749.00
Buy Today and Save $150.00 (17% from Retail)

We're sorry, this product is no longer available.
---
The HDS-16 Headphone/Audio Distribution System and HRM-16 Headphone/Audio Remote Mixer are the logical extension to Furman's very popular headphone amp/audio distribution lineup. These models are designed to function equally well for both live (in-ear or stage monitors) and studio applications, allowing greater flexibility and ease for both the user and the engineer.

The HDS-16/HRM-16 Headphone/Audio Distribution System cleanly routes 8 mono and 4 stereo signals to remote mixing locations via Centronics 50 pin cables. Up to eight HRM-16's can be connected directly or daisy chained to a single HDS-16, allowing as many as sixteen users (two per each HRM-16) to customize eight different mixes. A unique talkback system allows each user to communicate with other users and the main mixing location. Additionally, a SOLO system allows the engineer to mute all but one stereo send from the mix location -- very handy for reviewing recent takes or rough mixes. Additional HRM-16 features include local effects send/return, line out, overall bass/treble controls, talkback level, and a master level control.
The double rack-space HDS-16 provides full patching functions on its front panel via 1/4" and TT input jacks, and is intended to be installed at the mixing console location. The HDS-16 provides power and signal conditioning to drive the HRM-16 Remote Mixers. There is no power cord or wall wart required for the HRM-16's. In addition, it includes two 1/4" jacks for the two-way talkback functions, and a SOLO REMOTE switch with an indicator that allows muting of all but one stereo feed at all HRM-16's. This comes in handy for isolating tracks for critical listening without having each HRM-16 user turn down all but one channel. The SOLO function also includes a 1/4" jack so actuation can be done with a footswitch. Front panel indicators include POWER ON and SOLO ON. The rear panel includes six Centronics 50 pin connectors to link up to six HRM-16's (more if daisy chaining is used), and the standard Furman ON/OFF and GROUND LIFT switches.


0
0
The unique talkback system is extremely versatile. It can be configured two different ways by moving a jumper on the circuit board in the HDS-16. One way allows the talkback mic on each HRM-16 to be fed to all of the other HRM-16 units as well as the HDS-16. The other configuration allows communication to the HDS-16 only. This is particularly useful for stage use where the user's talkback mic should not feed into all of the monitors (including the user's own monitor).

The HRM-16 Remote Mixer may either attach to a mic stand with the included mic stand clip and hardware, or be placed on a table or shelf. The unit requires no external power, and allows full volume/low distortion headphone mixes to be created on the fly.

The eight mono and four stereo signals each have level controls. Each mono channel also has a pan control and an effects send control which feeds its own rear panel 1/4" send/return jacks; the affected signal is returned into the mix and controlled via a stereo effects return knob. Also on the rear panel of the HRM-16 is a mono line out 1/4" jack to drive stage or in-ear monitors, a jack for a talk-back footswitch, and two 50 pin Centronics connectors to allow daisy chaining of up to four HRM-16's.

Connecting HDS-16 and HRM-16's is easy, as each mixer is supplied with a 25-foot super-flexible interconnect cable which can easily be extended or routed through walls and daisy chained to other HRM-16s. Cable extenders and thru-wall installation kits are available as well.
Call 1-800-878-8882 toll free for kit information.

The HDS-16 and HRM-16 are sold separately.

---
Furman
HRM-16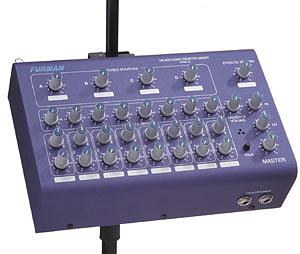 HRM-16 Headphone/Audio Remote Mixer
MPN #:
UPC #:
Regular price: $899 $749.0000 Available from: 8th Street Music Condition: New Out of Stock