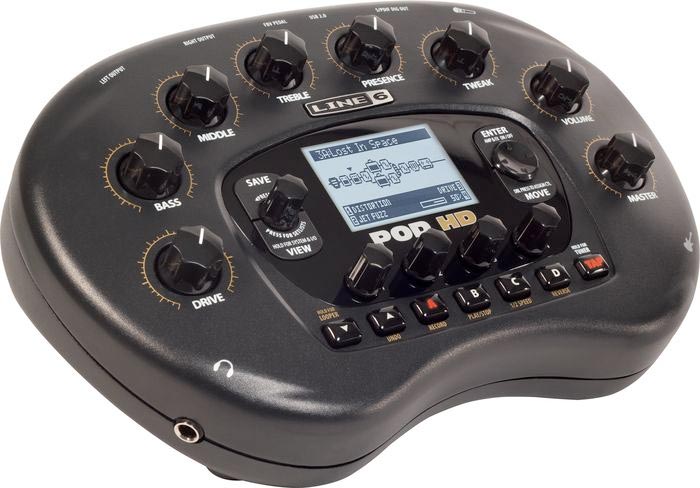 Bean Desktop Guitar Multi-Effects Processor
Product Code 63524
Retail Price
$559.99
Sale Price!
$399.00
Buy Today and Save $160.99 (29% from Retail)

We're sorry, this product is no longer available.
---
The first desktop POD featuring revolutionary HD modeling
POD® HD represents a giant leap forward for amp modeling. It is the only desktop multi-effect to boast 16 state-of-the-art Line 6 HD amp models, 100+ modern and vintage-styled M-class effects, and a collection of essential digital and analog ins and outs. POD HD is the most up to date version of the original, time-tested lineage of Line 6 desktop direct-recording devices.

HD amp modeling: sound and feel like never before
HD amp models defy the accepted standard. They allow you to record with previously unachievable realism. Creating these new HD amp models was no small feat. Line 6 mixed 15 years of amp modeling experience with 2 years of new research and development to build an entirely new amp modeling technology from the ground up. During that time, they hunted down 16 incredible amplifiers and — with the help of some of LA's top tube amp experts — restored each one back to peak condition. The new modeling technology uses 10 times more amplifier information than before, including single-ended class A tube stages, class AB push/pull interactions, power supply behavior, and more. The result is exceptional warmth, feel, sustain, and articulation for your recordings.

Tube amp fanatics have long enthused that their favorite stacks and combos aren't merely "amps" but instruments themselves, with playability equal to that of the guitar plugged into them. New HD modeling takes the POD HD experience to that same exalted level, capturing the genuine playability that great guitarists demand – with nothing to mic up or isolate. POD HD includes 16 HD amp models based on*:

Fender® Twin Reverb®

Hiwatt® Custom 100 (DR103)

Supro® S6616

Gibson® EH-185

Fender® Bassman®

Fender® Blackface Deluxe Reverb®

Divided by 13 JRT 9/15

Dr. Z® Route 66

Vox® AC-15

Vox® AC-30 (Top Boost)

Marshall® JTM-45 MkII

Park 75

Marshall® JCM-800 (2204)

Bogner® Uberschall

Mesa/Boogie® Dual Rectifier®

ENGL® Fireball 100
100+ M-class FX
Made famous by Line 6 M13™ and M9™ Stompbox Modelers, M-class FX have found their way into the hearts of many musicians. POD HD features a whopping 100+ M-class effects to craft your sound. With this wide tonal palette to play with, you can sound like anyone under the sun, or no one but you. Route up to 8 FX at once in any order and combination.
19 delays (including cool tube and solid-state tape echoes)

23 modulations (including both blackface-style opto and brownface bias-modulating tremolo, phasers, choruses and pitch effects)

17 distortions (classic stompbox distortion, to vintage fuzz, to thick metal chunk)

26 filters (including wahs and several exclusive custom filters)

12 compressors and EQs (including stomp comps and studio tube compression)

12 reverbs (from surfy springs, to studio plates, to cutting-edge digital room sounds)
Unprecedented flexibility—stunning simplicity
Beyond the mere depth of the amp and FX models, POD HD offers flexibility to mix and match amps, effects, cabs, mics and more in multiple pre-set rigs, attainable at the touch of a button.
The engineers behind POD HD made it easy to access its deep programmability. POD HD was designed by guitarists for guitarists. Plug in and record on the fly – spend time playing rather than programming. Edit and organize all your sounds via computer with the included editor/librarian software. (Mac®/PC)
POD HD connects to just about anything and everything in your studio with its stereo balanced outs, USB 2.0, S/PDIF out, 1/4-inch input and XLR input.
What you need – where you need it
POD HD goes on your left, on your right, or sits in your lap. The desktop design allows you to integrate it into your studio your way. Also, POD HD easily fits in your gig bag or back pack, making your studio as mobile as you are. The easy-to-read display and real knobs assure you of complete control in the fastest possible time. No pointing and clicking, no stopping what you're doing to walk to a rack of gear.
Version 1.3 Firmware update now available!
Power-boost your POD® HD multi-effect with an additional six HD amp models and five amp parameters – all for free in firmware update v1.3.
To get v1.3 just connect your POD HD via USB to your computer, run Line 6 Monkey™ Intelligent Updater and follow the instructions.
Firmware update v1.3 includes six HD amp models based on* channels from three classic American combos (the "Vibrato" channel of a Fender® Deluxe Reverb®, the "Vibrato" channel of a Fender® Twin Reverb® and the "Bright" channel of a Fender® Bassman®), two British half stacks (the "Normal" channel of a Park 75 and the "Normal" channel of a Marshall® JTM-45 MkII) and a high-gain Line 6 original.
Five additional, fully adjustable amp parameters don each new HD amp model (and will be added to the HD amp models you already have). Further customize essential aspects of tube amp feel and behavior with Sag, Hum, Bias, Bias Excursion and Master Volume.
Meet the new HD amp models:
Blackface 'Lux VIB
The "Vibrato" channel rounds out the HD model based on* the classic combo that's considered by many to be the ultimate studio amp: Fender® Deluxe Reverb®.


Blackface Double VIB
Fender® Twin Reverb® is an all-time classic of biting twang and shimmering clean tones. This model is based on* a Fender® Twin Reverb® "Vibrato" channel, which is a separate preamp circuit with clipping characteristics that are different than the "Normal" channel due to an additional 12AX7 tube stage.


Tweed B-Man BRT
Based on* a Fender® Bassman®, the amp that started it all – instant rock and roll tone. This model is based on the amp's "Bright" channel, which provides a different voicing from the "Normal" channel by utilizing the second half of the first preamp tube. (The "Normal" channel uses the first half only). High frequencies are increased due to the addition of a bright cap across the volume knob.


Brit J-45 NRM
This model is based on* a Marshall® JTM-45 MkII, which marked the beginning of the distinctively bright and crunchy sound that Marshall amps are known for. The "Normal" channel is adept at big, bold clean tones.


Brit P-75 NRM
Based on* the "Normal" channel of a Park 75, a Jim Marshall-designed amp that enjoys cult status for its powerful Plexi-style tones. The "Normal" channel delivers a slightly darker tone than the "Bright" channel, a model of which already appears in POD HD.


Line 6 Elektrik
A face-melting, soul-weeping Line 6 original with high-gain capacity, interactive presence and mid-range controls. Careful, this might hurt a little

0 0
MPN: 99-060-1705

HD amp models are the new standard in amp modeling: they feel, behave, and interact with previously unachievable realism for an entirely new playing experience

16 HD amp models based on the most sought-after guitar tones: California cleans, classic crunch, vibey boutique warmth, modern high-gain, and more

100+ effects including delays, modulations, distortions, compressors, EQs, filters, and reverbs; Up to 8 simultaneous FX; Tap tempo

512 user-writable preset locations and built-in tuner with signal mute

Essential Project Studio ins and outs: 1/4-inch input, XLR input, stereo balanced outs, phones, USB 2.0, S/PDIF out and FBV expression pedal control
---
Line 6
POD HD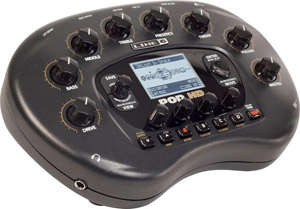 Bean Desktop Guitar Multi-Effects Processor
MPN #: 99-060-1705
UPC #:
Regular price: $559.99 $399.0000 Available from: 8th Street Music Condition: New Out of Stock