4-String Electric Bass w/ Gig Bag
Product Code 64732
Retail Price
$3580
Sale Price!
$2,870.00
Buy Today and Save $710.00 (20% from Retail)

We're sorry, this product is no longer available.
---
The Omni Bass breaks through conventional barriers by integrating phenomenal acoustic and electric bass tones with the familiar 34 inch bass guitar scale. Four and five string fretless and fretted models use identical fingering to that of the conventional bass guitar, yet deliver dynamic new plucked and bowed sounds for the serious bass guitarist who wants to expand his expressive range. Tuned to E or down to low B, this radical new electric bass combines the tonal purity of the acoustic upright with the awesome power of the full-blown electric, resulting in the most versatile bass on the market today.

From punchy, percussive attack to smooth, singing sustain, the Omni Bass's exclusive Polar™ piezo pickup is the only system that allows the bassist to control the attack and decay of the plucked string. EMG magnetic pickups add classic electric sounds. The on-board pre-amp, EQ, and mixer allow the player full control of this wide tonal palette right from the instrument.

The Omni Bass responds to the bow with a natural and expressive voice, combining powerful bass resonance with brilliant harmonics. The strings are easily driven on both fretted and fretless models, making it possible for bassists with little bowing experience to add this beautiful dimension to their music.

34" Scale: The 34" scale length of the Omni Bass is the same as standard electric bass, and is available in 4 and 5 string versions, fretted or fretless. Tuned in fourths (EADGC or BEADG), the fingering positions and spacing are identical to the bass guitar, and therefore immediately familiar to any bass player. The Omni Bass can also be tuned in fifths, for fingerings that are more natural for the cellist seeking enhanced bass range.

Fingerboard: Fretless Omni Bass models now employ the TransRadius™ fingerboard. The TransRadius feature provides the comfort and ease of a nearly-flat profile as the fingerboard approaches the nut, while transitioning to a curvature optimized for either plucked or bowed performance at the bridge. The fretted Omni Bass features a highly arched fingerboard, similar to a cello, to optimize bow articulation.

Cascading Position Markers: Dots for each semi-tone cascade across the fingerboard, a unique configuration that provides a clear visual fingering reference. The logical dot pattern is of critical value to the novice player, and an invaluable reference guide for the seasoned pro. Fretted models have conventional bass guitar dot pattern.

The multiple sensor NS Polar bridge pickup system has two modes of operation: "arco" and "pizzicato". This allows the player to optimize bowed response, and to control attack and decay characteristics for plucking. The deep bass and brilliant highs possible with piezo crystal technology give the instrument a beautiful, dynamic, and versatile sound.

EMG™ Magnetic Pickups: Custom designed EMG low impedance magnetic pickups have a smooth response with lots of sweet midrange for the quintessential "electric" tone. Their relatively flat frequency response allows the natural sound of the instrument to project through. Each pickup is individually adjustable and internally shielded an internal preamp system for hum free performance.

Active Controls: Two balance controls allow unlimited mixing options for the magnetic and the dual mode Polar Pickup systems. On-board pre-amplification provides master volume, bass and treble controls. The 18 volt power supply insures plenty of headroom for full dynamics. Polar Pickup systems. On-board pre-amplification provides master volume, bass and treble controls. The 18 volt power supply insures plenty of headroom for full dynamics.

TransRadius Details: The TransRadius, now standard on the fretless Omni Bass, involves a unique compound curve. For a left-hand feel which is familiar to the experienced bass guitarist, the radius at the nut is ten inches. At the end of the fingerboard near the bridge, however, the radius is just 2.5 inches, large enough to maintain good string-to-string articulation with the bow, yet still comfortable for pizzicato (plucked/picked) style. The transition from nut to bridge features a carefully calibrated asymmetric convex curvature, providing optimal fingerboard relief at each position. For even greater control, players can adjust the truss rod to tailor the neck relief to their particular needs.

The result is a remarkably comfortable, even feel for every style of performance, and bass guitarists will find the Omni Bass even more inviting than ever as their "cross-over" instrument. Traditional upright players will also find the TransRadius design quite comfortable since many upright basses are designed with some degree of compound fingerboard curvature.

Interchangeable Support Systems: The Boomerang™ Strap System is standard with the CR Omni Bass. Two articulated arms and a pivoting hub allow full mobility on stage or in studio. The comfortable Boomerang strap fits over the shoulder just like a guitar, but the adjustable arms allow the instrument to be placed in virtually any position in relation to the hands and body. The Boomerang Strap System allows full mobility for either bowing or plucking.

Deep, resonant bass response is the essence of this remarkable new instrument. Whether plucked or bowed, the Omni Bass delivers pure, exciting acoustic and electric bass sounds that can be tailored to compliment virtually any musical style or gig.
0
0
MPN: CR4OMNIBASS

LENGTH: 44.5"

WEIGHT: 7.2 lbs.

SCALE LENGTH: 34"

STRINGS: 5 (E- C)

CONSTRUCTION: Solid rock maple neck and body, flame maple face.

FINISH: Traditional amber stain with clear semi-gloss polymer coating.

FINGERBOARD: Ebony, 27.5" long, radius 2".

BRIDGE: Phenolic, overall string spacing: 2.75 ", radius 2.2"

NUT: Ebony, overall string spacing: 1.31" , radius 2 inches

BRIDGE PICKUP: The Polar™ directional piezo pick-up system responds selectively to either vertical vibration (for the sustained plucked sound, like an electric bass guitar), or lateral vibration (for dynamic bowing, and a percussive plucked sound).

MAGNETIC PICKUP: Low impedance EMG™ magnetic pick-up system, with individually adjustable coils, and low-noise, hum-canceling pre-amp.

ELECTRONICS: 18 volt active circuit by HAZ Laboratories. Mono output.

CONTROLS: (top to bottom)

Volume: Blend

counterclockwise - magnetic pickups

clockwise - clockwise for bridge pickup

center - both

Balance

counterclockwise - pizzicato (vertical vibration)

clockwise - arco (bowed and percussive plucked) sound

center - both

Treble - boost & cut

Bass - boost & cut

Note: For bowing, it is best to use the bridge pickup only in arco mode.

TRUSS ROD: Double rod design. Accessible at nut.

TUNING MACHINES: Schaller 20:1 ratio, fully encased worm gear tuners; black finish.

STRINGS: CR Series Omni Bass strings by D'Addario. The CR Series Omni Bass also accommodates most long scale bass guitar strings.

BOOMERANG STRAP SYSTEM (standard): Two support arms and a pivoting friction hub that holds the instrument firmly in place, yet allows the instrument to be moved into virtually any position in relation to the hands and body as it is played.
---
NS Design
CR4 Omni Bass Fretless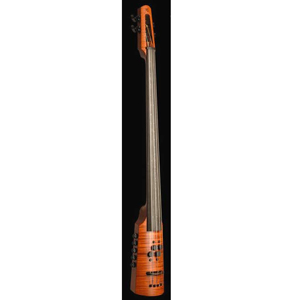 4-String Electric Bass w/ Gig Bag
MPN #: CR4OMNIBASS
UPC #:
Regular price: $3580 $2870.0000 Available from: 8th Street Music Condition: New Out of Stock