Complete Vocal and Guitar Processing Pedal
Product Code 65171
Retail Price
$499.99
Sale Price!
$349.99
Buy Today and Save $150.00 (30% from Retail)

We're sorry, this product is no longer available.
---
The first ever combination of complete vocal and guitar processing, VoiceLive Play GTX takes everything that VoiceLive Play gives to singers and adds award-winning TC Electronic guitar effects and AmpTones. Artist presets offer signature vocal and guitar sounds while full editing ability allows you to define your unique style. Pro or Practicing, acoustic or electric, VoiceLive Play GTX is the singing guitarist's dream machine.

Producers spend more time on perfecting vocals than any other instrument, and the number of layered vocal tracks on a studio recording often run well into the double-digits. Now the same care for creating vocals live or at home is available to everyone.

VoiceLive Play GTX gives singers the opportunity to experience the sound they know and love from their favorite songs with ease. Featuring automatic backing harmonies, vocal double tracking, pristine EQ and compression, lush reverbs, hard-tuned robo-voice – all the the goose-bumps-on-your-arm effects that make today's Billboard hit vocals "pop".

Instant Guitar Tone – No Amp Required
Plug your electric or acoustic guitar into simple-to-use guitar effects including Distortions, Flange, Chorus, Delay, Reverb, EQ and more. The guitar effects in VoiceLive Play GTX are ported from TC Electronic's Hall of Fame Reverb and FlashBack Delay as well as new algorithms from TC Electronic and TC-Helicon.

Additionally, VoiceLive Play GTX features 10 AmpTones* plus a special acoustic guitar setting. The amps are inspired by famous tones from Fender®, Mesa and Marshall®. They range from Clean to Insane distortion characteristics with user variable Drive amount. All feature editable 3 band tone, compression and speaker emulation controls.

Acoustic – direct and clean to be sent to the PA

Clean – Fender Twin

Comp – Fender Twin with compression

Comp Atk – Fender Twin with Bright switch on and compression

BF Combo – Overdriven Fender '65 Deluxe

Bright – Overdriven Modern Fender

Crunch 1 – Marshall Plexi

Crunch 2 – Hiwatt®

Crunch 3 – Marshall Plexi

BF Combo – Overdriven Fender '65 Deluxe

Honk – Vintage combo

Insane – Mesa Rectifier

Pick a Genre, any Genre
Operating and navigating VoiceLive Play GTX is a breeze. The GENRE button allows you to easily browse hundreds of presets. Choose a style that suits you and VoiceLive Play GTX will list the presets that fit your preference. If you've never used effects before, you'll quickly learn how to find the sound you're looking for with GENRES.
Download More & Make Your Favorites
If hundreds of vocal and guitar presets wasn't enough, you'll be able to download new and exciting artist presets each month for free via VoiceSupport.
Should you want to create your own presets, VoiceLive Play GTX offers the simple and intuitive onboard controls to do so. In addition, you can mark any preset as a FAVORITE, creating a personal genre of choice effects for super-fast access.
Make It a Hit
HIT is a performance-inspired feature for building intensity into any vocal performance. Every preset has an effect that you can build upon by pressing the HIT button, which adds additional effects on top. For example, you could start with a simple reverb and then "HIT it" to add dazzling harmonies or a raw megaphone effect for emphasis – excellent for making choruses stand out instantly!
Perfect Harmonies & Correction
Don't worry about key, VoiceLive Play GTX listens to the Guitar input to set key automatically. You get the perfect sounding Harmonies and Pitch Correction.
Loop Around
The VLOOP™ performance looper allows you to create a complete performance while turning effects on and off. You can loop your vocals, guitar or both at the same time.
Sing Along with Vocal Cancel
Singing along is a great way of practicing and performing. Plug in your MP3 player via the AUX In connector and use the Vocal Cancel feature to make your voice stand out over the vocals on the original track. You can also record and play back your singing using the USB connection to your computer.
Practice Makes Perfect
Dedicated PRACTICE mode that analyzes your performance in real-time, helping you spot your strengths as well as focus on the areas that might need attention.
A Good Set of Ears
Embedded stereo RoomSense mics can control your harmonies from instruments nearby, replace the cabled mic for headphone practice or add ambience to your headphone mix.
Adaptive Tone
TC-Helicon's adaptive tone technology intelligently controls Shape EQ and Dynamics (Compression & De-ess) to provide the perfect tonal balance and add smooth dynamic control to fit in any mix. Best of all it's easy – just set and forget. An adaptive gate can also be added to help suppress feedback and reduce bleed.
More Control
Add MP-75 or Switch-3 for additional control of performance, effects and looping.
0
0
MPN: 996357005
UPC: 5706622012067

200+ song & artist inspired presets for vocals & guitar

Dedicated guitar effects processing from TC Electronic. No amp required

Key for harmonies and pitch correction set automatically from guitar input

Plug in your MP3 player to the AUX input and sing along using Vocal Cancel feature

Complete vocal path including Tone, Harmony, HardTune, Reverb, Double and more.

Get perfect harmonies using Auto Key Detection from guitar.

Complete TC and TC-Helicon guitar effects including Distortions, Amps, Flange, Chorus, Delay, Reverb, EQ and more.

Plug in and practice with your MP3 player, or stream tracks and record over USB including a vocal cancel function.

Compatible with the MP-75 Modern Performance Vocal Microphone with Mic Control.

Global adaptive EQ, Compression, De-ess, Gate & pitch correction.

2 Voices of NaturalPlay Harmonies, and 2 voices of humanized Doubling.

VLOOP performance looper with undo/redo for vocal and guitar path.

RoomSense microphones for Auto Key, monitoring and practicing.

Override the key manually using the footswitches or the Effects menu.

Navigate over 200 presets by Genre and mark Favorites.

Practice function with intelligent pitch display tracks and singing stats.

Simple effects customizing with styles and icons.

Low-noise Mic-preamp with Mic Control.

Stereo XLR outputs or Dual mono for separate guitar and vocal outputs.

Aux input for connecting an MP3 player.

Headphone output.

USB for audio streaming and connection to VoiceSupport.

MIDI in for keyboard controlled harmonies.

Optional Switch-3 and MP-75 for more performance control.

Analog Inputs

Connectors, balanced: Mic.: XLR, Guitar: 1/4″ phone jack, Aux: 1/8″ stereo mini jack

Impedance: Balanced/Unbalanced: Mic.: 2.14/1.07 kOhm

Mic Input Level @ 0 dBFS: -42dBu to +13dBu

EIN @ Max Mic Gain Rg = 150 Ohm : -127 dBu

Mic SNR: > 104 dB

Guitar Input impedance: 1 MOhm

Guitar Input Level @ 0 dBFS: 12 dBu

Guitar Input SNR: > 115dB

Aux Input Level @ 0dBu: +2dBu

A to D Conversion: 24 bit, 128 x oversampling bitstream, 110dB SNR A-weighted

Analog Outputs

D to A Conversion: 24 bit, 128 x oversampling bitstream, 115dB SNR A-weighted

Connectors, balanced: XLR; Guitar thru 1/4″ TRS

Output Impedance Balanced/ Unbalanced: 80/40 Ohm

XLR Output 0dBFS: +2 dBu

Dynamic Range: > 109 dB, 20 Hz to 20 kHz

Frequency Response: +0.30/-0 dB, 20 Hz to 20 kHz

Headphone Out: 1/8″ Mini stereo jack

Guitar Thru: Buffered: 1/4″ TRS pseudo balanced, 270 Ohm/540 Ohm unbalanced/Balanced

Control

USB: USB-B (Preset Management, Firmware Updates, MIDI and audio I/O)

Pedal: 1/4″ TRS phone jack

MIDI In: 5 pin DIN

Includes

Region specific power supply

USB cable

User guide

TC-Helicon sticker

1 year warranty parts and labor
---
TC Helicon
VoiceLive Play GTX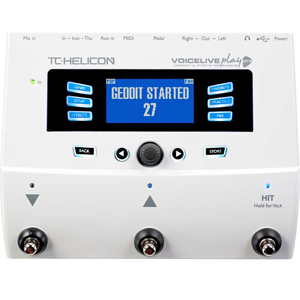 Complete Vocal and Guitar Processing Pedal
MPN #: 996357005
UPC #: 5706622012067
Regular price: $499.99 $349.9900 Available from: 8th Street Music Condition: New Out of Stock