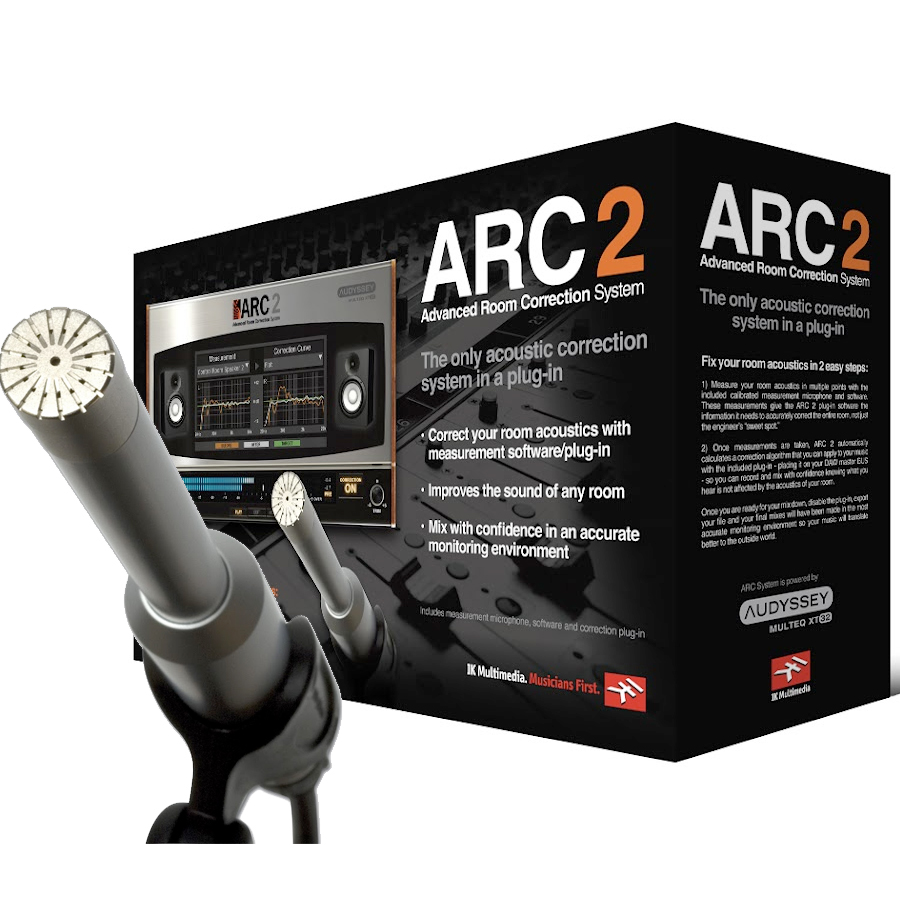 Advanced Room Correction System Software
Product Code 66138
Retail Price
$399.99
Sale Price!
$299.99
Buy Today and Save $100.00 (25% from Retail)

We're sorry, this product is no longer available.
---
ARC System 2 (Advanced Room Correction) is the sequel of the first and only acoustic correction system that combines a measurement microphone, measurement software AND a correction plug-in to improve the sound reliability and acoustics of your studio in an elegant, low-cost portable solution.
Trust your ears

ARC takes your room out of the mix...
ARC uses Audyssey MultEQ® XT32 patented technology to improve your monitoring system so what you hear is not affected by distortions caused by room acoustics. Near field monitor systems used in studio applications are designed to deliver sound without distortion or coloration. However when they are placed in a room, surrounding walls, ceiling, furniture, and other objects reflect and absorb sounds, creating complex distortions specific to that room. This ultimately causes them to lose the accuracy they have been designed for, and you end up hearing more of the sound of the room, than the music actually being produced.

A break-through affordable solution for acoustic room correction
Traditionally studio acoustics can be improved using acoustic treatments – but these are generally very expensive and require professional installations – which is often not practical in many of today's home and project studio. Other types of electronic correction systems use some form of equalization that works only on the frequency response of the room but worsen the phase response of what you are hearing. ARC System 2 solves all these problems elegantly, with a unique, innovative DAW-based solution that works both in the frequency/time domain and is not affected by any of the drawbacks of other type of correction systems.

Do you need ARC 2 if your room is already treated?
ARC 2 can improve the acoustics of ANY room. An untreated room will experience a dramatic improvement – but also treated rooms will sound better depending on the quality of the existing treatment. Many of ARC 2 improvements make it more effective in a wide spectrum of applications — from amateur bedroom studios to the most high-end professionally treated studios.
0
0
MPN: 113179

The first DAW-based acoustic room correction plug-in

Includes a measurement microphone, software and correction plug-in

Based on Audyssey MultEQ® XT32 patented technology that corrects frequency and phase distortions in multiple room points

Improves clarity, stereo imaging and frequency response for faster, more reliable mixing

Improves the sound of any room - from bedroom studio to high-end control rooms

Step by step measurement set-up can be made by anyone

Perfect for the traveling engineer and on-the-spot corrections

64-bit native plug-in compatibility

New in Version 2

Completely redesigned interface for improved usability

Four times greater resolution improves critical low-end response

Smoother, more natural sound in the midrange and high frequencies

New combined L/R correction option maintains perfect focus with symmetrical control rooms

New customizable target curves allows to match engineers' personal taste

New "Virtual Monitoring" feature mimics the sound of various listening devices like popular studio monitors, car systems, boom boxes, etc. allowing to the test of how mixes translate on different systems

New Monitor Control panel interface streamlines workflow

Fewer measurements now get higher quality results and shortens set-up time

Measurements can be saved and used for multiple correction set-ups

ARC System includes

Easy to use, step-by-step, room measurement software for Mac/PC

VST, RTAS, AU correction plug-in for Mac/PC most popular DAWs (such as Pro Tools®, Cubase™, Logic™, Sonar™, Live™, etc.)

Professional measurement microphone

Native compatibility with 64-bit applications and operating systems

Measurement Software features

Automatic multi-point room measurement system, wizard based, based on Audyssey MultEQ® XT32 technology

Measurement precision when used with ARC System microphone: +/- 1.5 dB

Requires 48 kHz operation (only for measurements)

Requires ASIO Audio Hardware on Windows 7, Vista or XP, CoreAudio on Mac OS X

Saves Measurements sets to be opened on the ARC System Correction Plug-In

Correction Plug-In features

Multi platform high quality Frequency AND Time correction processor based on Audyssey MultEQ® XT32 technology

Correction precision when used with ARC System microphone: +/- 1.5 dB

Correction processor resolution: 32 bits floating point

Correction processor supported sampling rates: 44.1 kHz to 192 kHz

Four target curves

Graphic Frequency response display

Professional measurement microphone features

Type: 1/4" precision measurement condenser microphone

Polar pattern: omnidirectional, free field

Capsule frequency response: 20-16,000 Hz

Calibrated frequency response when used with ARC: 16-20,000 Hz, +/- 1.5 dB

Output: transformerless, electronically balanced, 200 ohms output impedance

Sensitivity: 50 mV/Pa

Noise Equivalent Level: 22 dB

Max SPL: 130 dB for 3% THD

Audyssey MultEQ® XT32 Details

MultEQ® XT32 captures acoustical information at multiple locations throughout a listening area in both the time and frequency domains. It uses a sophisticated clustering algorithm to combine this information so that acoustical problems are accurately analyzed. Based on these measurements, MultEQ® XT32 calculates an equalization solution that corrects for both time and frequency response problems in the listening area and also performs a fully automated system setup. The result is clear, well-balanced sound for your studio. Click here for more information about Audyssey.

System Requirements
Mac® (32 and 64 bit)

Minimal: 1.5 GHz Intel® processor, 1 GB of RAM, Mac OS X 10.6 or later.

Supported Plug-in formats: Audio Units, VST, RTAS.

Requires CoreAudio.

Requires 48kHz operation (only for measurements).

Note: PPC CPU is no longer supported.

Windows® (32 and 64 bit)

Minimal: Intel® Pentium 4® 2.4 GHz or Intel® Core™ Duo or AMD Athlon™ 64, 1 GB of RAM, Windows XP, Windows Vista or Windows 7.

Supported Plug-in formats: VST, RTAS.

Requires ASIO Audio Hardware.

Requires 48kHz operation (only for measurements).
---
Ik Multimedia
ARC 2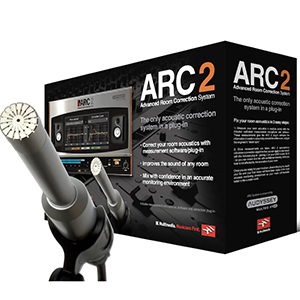 Advanced Room Correction System Software
MPN #: 113179
UPC #:
Regular price: $399.99 $299.9900 Available from: 8th Street Music Condition: New Out of Stock