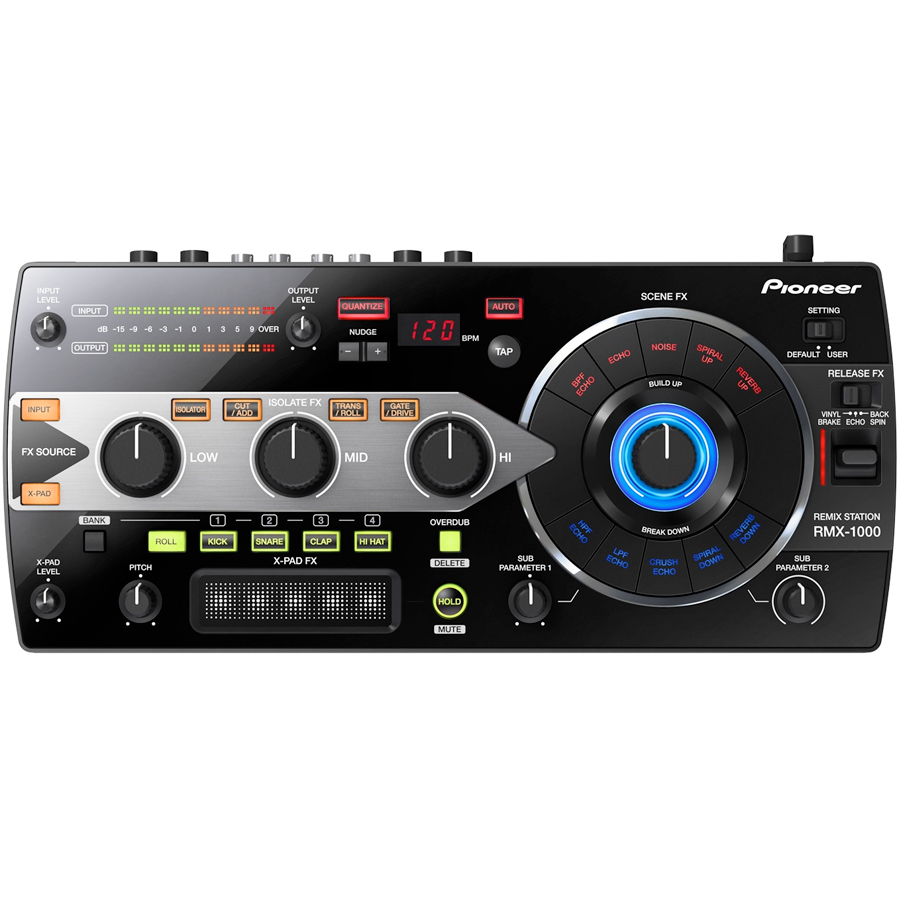 Standalone Remix Effects Processor
Product Code 66209
Retail Price
$999
Sale Price!
$799.00
Buy Today and Save $200.00 (20% from Retail)

We're sorry, this product is no longer available.
---
Live onstage or working in your studio, Pioneer Pro DJ's RMX-1000 remix station gives you the tools you need to create fun, original, and exciting remixes. This fully loaded effects workstation and sample manipulation system makes creating solid buildups, breakdowns, rolls, and transitions both simple and intuitive. Live, you can automatically sync your RMX-1000 to the beat, creating flawlessly quantized effects that stay locked to the tempo. In the studio, you'll love the RMX-1000's advanced plug-in software integration, which lets you easily add it to your DAW workflow. Anyway you use it, you'll have a blast creating new sounds with your Pioneer Pro DJ RMX-1000 remix station.

SCENE FX section makes creating perfect buildups and breakdowns effortless
Good remixes live and die by their buildups and breakdowns, so it's no wonder that Pioneer Pro DJ built their RMX-1000 with a major emphasis on perfectly executing these techniques. In fact, its SCENE FX section is broken down into five additive buildup effects and five subtractive breakdown effects - each with its own dedication selection button. A single large knob gives you easy access to the wet/dry mix, and a pair of smaller parameter knobs let you tweak your effects on the fly. This makes it easy to dial in your RMX-1000's effects, without stumbling through confusing submenus or digging into unnecessarily complex details.

ISOLATE FX section lets you add cool rhythmical elements to your remixes
Of course, transition effects such as buildups and breakdowns are only part of what makes an original remix cool. You'll also need to be able to add interesting rhythmic elements to your music as well. That's why Pioneer Pro DJ outfitted the RMX-1000 a highly flexible ISOLATE FX section. This processor combines the 3-band EQ you'd expect to find on any decent DJ mixer and adds cool effects such as a variable beat roll, a hard gate, or gritty overdrive. What's more, you can choose to run either the RMX-1000's input or its X-PAD FX section through the ISOLATE FX engine, giving you access to a world of fun rhythmic effects and on-the-fly sound manipulation.

X-PAD FX provides you with the perfect way to add original samples into the mix
Speaking of the RMX-1000's X-PAD FX section, here's one of ways Pioneer Pro DJ makes adding original touches to your remixes easy. The X-PAD FX processor is actually a remarkably sophisticated yet easy-to-use sample player. In addition to built in kick, snare, clap, and hi-hat sounds, you can load your own samples into the X-PAD FX engine via SD card media and trigger them whenever you like. With controls such as a multi-purpose touch strip and a dedicated pitch knob, grabbing hold of your samples and manipulating them on the fly with the RMX-1000 is a piece of cake.

Customize your effects via the included remixbox software
Even just on the surface, the Pioneer Pro DJ RMX-1000 remix station gives you a ton of flexibility and control over your sound. But under the surface, there's a world of additional tweaking you can do to get the kind of effects and sounds your remixes demand. That's where Pioneer Pro DJ's remixbox software comes into play. This free software lets you dive under the hood of your RMX-1000, allowing you to tweak your effects and create custom parameter settings. Once you dive into the creative possibilities remixbox opens up to you, there's no telling what kind of cool and crazy effects you'll come up with.

VST and AU plug-in software lets you easily integrate your effects into your DAW
Naturally, Pioneer Pro DJ built the RMX-1000 remix station to fit comfortably into your live rig, making it a killer on-the-fly effects engine, but advanced USB connectivity gives this powerhouse processor even greater flexibility when you take it into the studio. That's because Pioneer Pro DJ developed a special VST/AU plug-in, which lets you integrate it easily into your favorite DAW. In addition to providing a sample-accurate lock to the beat, this also lets you automate parameters, making it easier than ever to create complex and dynamic effects.
0
0
MPN: RMX1000

SCENE FX section makes creating perfect buildups and breakdowns effortless

ISOLATE FX section lets you add cool rhythmical elements to your remixes

X-PAD FX provides you with the perfect way to add original samples into the mix

Customize your effects via the included remixbox software

VST and AU plug-in software lets you easily integrate your effects into your DAW

A complete standalone effects workstation that makes creating unique remixes easy

Perfect for use both live and in the studio

Automatic beat detection locks your effects to the tempo

SCENE FX section makes creating transitions easy with 5 x buildup effects (BPF ECHO, ECHO, NOISE, SPIRAL UP, REVERB UP) and 5 x breakdown effects (HPF ECHO, LPF ECHO, CRUSH ECHO, SPIRAL DOWN, REVERB DOWN)

ISOLATE FX section combines the flexibility of a mixer 3-band EQ with four exciting operation modes (ISOLATOR, CUT/ADD, TRANS/ROLL, GATE/DRIVE)

X-PAD FX section provides you with creative ways to add original samples and rhythmical elements to your music

Included remixbox editor software lets you create custom settings for your effects and other parameters

SD card media lets you save and recall your custom settings and load up original samples (SD card not included)

VST/AU plug-in software provides advanced integration with your favorite DAW, including settings recall and parameter automation

24-bit/48kHz resolution digital audio ensures professional-studio-standard sound quality

Highly portable, compact design provides pick-up-and-go convenience

MIDI over USB allows you to manipulate other software parameters with your available hands-on controls
---
Pioneer
RMX-1000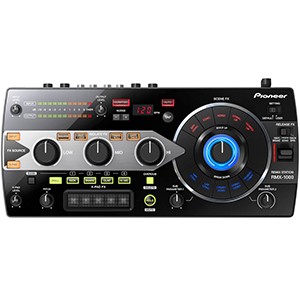 Standalone Remix Effects Processor
MPN #: RMX1000
UPC #:
Regular price: $999 $799.0000 Available from: 8th Street Music Condition: New Out of Stock