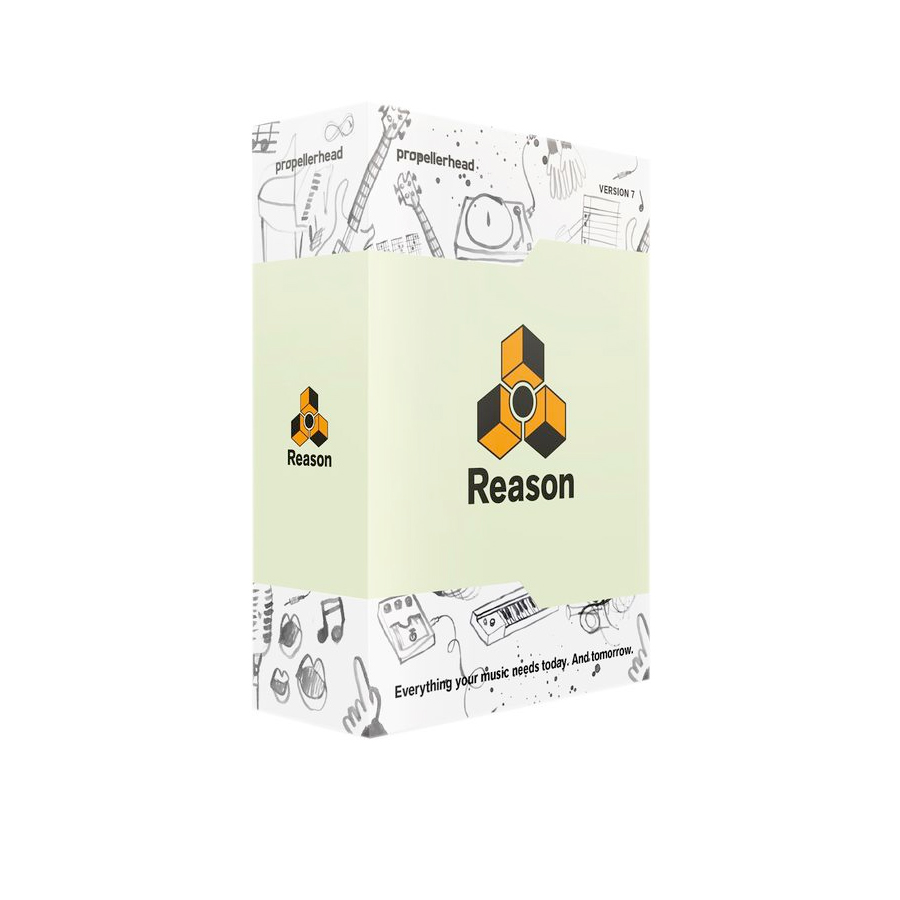 ---
Reason 7 Upgrade — Whatever your music needs, Reason has a rack for that Integrate your hardware MIDI gear with Reason's rack. Record guitar, drums and vocals. Slice, quantize and tweak the timing of your recordings to perfection, and turn them into REX files for further creative possibilities. Reason has a rack for instruments.

Mix your music while you are making it. With the most frequently used parts of Reason's million-dollar mixing console accessible directly from the rack, a new spectrum analyzer with visual EQ controls and new parallel and group mix channels, Reason has a rack for mixing.

Users have always praised Reason for unlocking their creative flow. With new hard-hitting loops and drum kits expanding its rich collection of sounds, and the new Audiomatic Retro Transformer effect adding instant vintage flavor to your tracks, Reason has a rack to inspire.

Buy this upgrade if you own any of the following products:
• Reason Adapted
• Reason Limited
• Reason Essentials (without Balance).
Note: Reason (version 1–6.x), Reason Student/Teacher and Balance with Reason Essentials owners should get the "Reason 7 Upgrade".

Reason 7
Propellerhead Software has at last released Reason 7. The latest incarnation of one of the world's favorite music software packages brings a wide variety of enhancements to help you create more and better music.

Reason – the legendary music production software studio. From start to finish, its ever-expandable, freely routable rack of instruments, effects and sounds has everything you need to write, record, remix and produce great-sounding tracks.

Build your songs in Reason's sequencer with the included synths, samplers, loop players and drum machines. Add guitar, vocals, MIDI synths, or record your entire band. Finish your tracks in the built-in million-dollar mixing console.

With an inspiring sound bank and intuitive flow, Reason catalyzes your creative process. Easy to get started with and as deep as you want it to be, Reason is the software that keeps you focused on what matters most—your music.

About Reason
Reason is an integrated software music recording and production studio with audio recording, million-dollar mixing, and a massive collection of instruments, sounds and effects included for writing, recording, remixing and producing great-sounding tracks.

At the heart of Reason is a virtual rack that builds itself as you create your song. Create instruments and effects and route them any way you want. Add, delete, replace and tweak. Your rack is what you want it to be. Need more gear? No problem. Choose a synth, a drum machine, a loop player or any device from the Create menu and it will instantly appear in your rack, logically patched into the signal chain. And because Reason is designed to go easy on your computer, you can keep adding to your song until you're more than happy.

A single keystroke will turn Reason's rack around, and you'll find yourself in patch cord heaven. All audio connections are made automatically. When a new device is created it's automatically patched in for you. If you ever want to go deep, repatch by dragging the patch cord plug to the desired connector—or open up and tweak one of the included presets.

All the sliders, knobs, buttons and functions are right in front of you, ready to be tweaked, turned and twisted in absolute real-time. And everything—filter adjustments, pitch bending, gain riding or panning—can be recorded and automated in the Reason sequencer.

Integrate your hardware MIDI gear with Reason's rack thanks to the new External Instrument device. Control your external synths and beat machines from Reason's sequencer, or sync your outboard sequencer with MIDI clock.

When you're looking for even more creative options, Rack Extensions come to the rescue. Expand your virtual rack with new, inspiring instruments and effects created by Propellerhead and other developers—from modern effects to vintage instruments. Rack Extensions are full Reason rack citizens, giving you the same fully integrated experience as when using any of the included synths, effects and utilities.

Below the rack you'll find the powerful sequencer. Keeping with Reason's famous ease of use, it still comes with all the editing features you need. Capture MIDI performances and automation, record and overdub audio, or draw in your notes with the mouse. Any mistakes can easily be corrected, adjusted or quickly spliced together from multiple takes. If your playing is too tight—use Reason's ReGroove Mixer to add more human feel. Always in sync with your flow, forever adapting to you and your working methods, Reason's sequencer simply gets you there faster.

With the renowned time stretch, you can record first and pick your tempo later. And thanks to audio transpose you can even record first and change the key later. Change the tempo of your song on the fly, and the audio follows right along, in real time. Non-destructively change the pitch, correct the timing of your audio recording, or use the automatic audio-slicing to turn your performance into something completely new. Resample your audio recording as REX files and continue working with your sounds and loops in the Reason rack.

When finalizing your song, Reason's mixer gives your tracks that big studio sound right out of your computer. The Mixer is faithfully modeled after the famous SSL® 9000k* analog mixing desk, with flexible routing, full dynamics, EQ, advanced effects handling, full automation, groups and parallel channels, and its famous master-bus compression. The spectrum analyzer window with visual EQ control—new in version 7 of Reason—makes it easy to fine-tune the sound of your tracks from anywhere in the program.

Finding that right sound is an important part of the musical process. With gigabytes of synths, samples, drum kits, loops and effects, Reason's built-in sound bank is packed with everything you'll need from the start. Want more? Expand your palette with a world of ReFill libraries—sound libraries custom-made for Reason.

Reason makes collaboration easy. Your song files are self-contained, keeping all audio recordings and sounds in a single file for easy sharing with your friends. If you need to move your music to a different program, Reason lets you quickly bounce all your channels to individual audio files with a couple clicks.

Reason's legendary flow lets you stay focused on the music and explore your options as you go along. With a completely integrated environment like Reason, you will face fewer dialog boxes, more inspiration and more music.
0
0
MPN: 99-103-0055

Included instruments

Kong Drum Designer

Thor polysonic synthesizer

NN19 sampler

NN-XT advanced sampler

Malström graintable synthesizer

Dr. Octo Rex loop player

Redrum pattern-based drum machine

Subtractor analog subtractive synthesizer

ID-8 songwriter's toolbox

Combinator, for building chains of instruments, effects, and pattern sequencers

Included effects

Alligator triple-channel pattern-based gate

Pulveriser distortion, compressor and envelope follower module

The Echo high quality stereo echo

Neptune pitch corrector and voice synthesizer

Audiomatic Retro Transformer

Line 6 POD® virtual guitar amplifier

Line 6 POD® virtual bass amplifier

RV-7 digital reverb

DDL-1 digital delay line

D-11 foldback distortion

ECF-42 envelope-controlled filter

DF-101 chorus/flanger

PH-90 phaser

COMP-01 compressor

PEQ2 2-band EQ

RV7000 advanced reverb

Scream 4 Sound Destruction Unit

BV512 vocoder with 4 to 512 bands and equalization

UN16 unison

4-band mastering EQ

Dual band stereo imager

Stereo compressor with sidechain input, soft-knee mode and CV out

Maximizer with look-ahead and soft clip

Modeled mixing console with complete channel strip for every instrument and audio channel

Gain

4-band EQ

8 Send effects slots

Insert effect slot

Dynamics section with compressor and gate

Lo-pass and hi-passfilter

Spectrum analyzer

Master compressor with sidechain input

Group channels

Parallel channels

Other features

Unlimited audio recording and instrument channels

Rack Extension technology lets you expand your collection of instruments and effects with the devices you want

Comes with a huge factory sound bank, with patches for all Reason's devices, samples, and loops

Fully featured high-precision multitrack sequencer with Blocks mode and audio comping tools

High-quality realtime time stretch and audio transpose

Audio slicing and audio quantize—correct the timing of your audio recordings

Convert recorded or imported audio in the sequencer into REX loops for further sound manipulation

MIDI instrument output—control synths, samplers and keyboards from Reason's sequencer

MIDI clock output—sync hardware to Reason

Advanced exporting—export your separate mixer channels as individual audio stems, including effects and tempo track

Live sampling on all Sampler devices

RPG-8 Monophonic Arpeggiator

ReGroove Mixer real-time groove console

Matrix pattern-based sequencer

14:2 mixer w/ EQ and effects send/return

6:2 channel stereo line mixer

Spider Audio Merger & Splitter

Spider Control Voltage Merger & Splitter

Remote mapping to external MIDI controllers and hardware control surfaces

ReWire support

Supports all major file formats—from wav and aiff to mp3 and more

Realtime sample rate and bit depth conversion allows for importing any audio into Reason without sues

Multicore support and 64-bit compatibility makes Reason fast and powerful on any computer

Mac OS X

Fast internet connection for installation and registration required!

Intel Mac with dual core processor

4 GB RAM or more

3 GB free hard disk space (program may use up to 20 GB scratch disk space)

Mac OS X 10.7 or later

Monitor with at least 1024×768 resolution

Core Audio compliant audio interface or built-in audio hardware

MIDI interface and a MIDI keyboard recommended
Windows

Fast internet connection for installation and registration required!

Intel or AMD processor with dual cores

4 GB RAM or more

3 GB free hard disk space (program may use up to 20 GB scratch disk space)

Windows 7 or later

Monitor with at least 1024×768 resolution

Audio Interface with ASIO driver

MIDI interface and a MIDI keyboard recommended
---
Propellerhead
Reason 7 Upgrade for Adapted/Limited/Essentials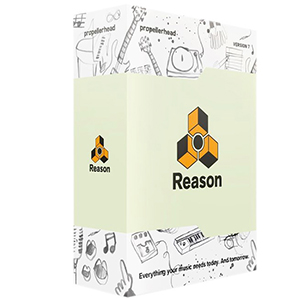 Music Software Recording and Production Package
MPN #: 99-103-0055
UPC #:
Regular price: $329 $299.9900 Available from: 8th Street Music Condition: New Available to Order