Electronic Drum Set
Product Code 68334
Retail Price
$5752.00
Sale Price!
$3,599.99
Buy Today and Save $2,152.01 (37% from Retail)

We're sorry, this product is no longer available.
---
Featuring our larger 3-zone DTX-PADs with control knobs for the snare and toms, real hi-hat trigger with professional stand, plus large 3-zone choke-able cymbals on boom stands, the DTX790K offers amazingly realistic performance. The advanced feel of the TCS heads feel so natural around the entire kit, you'll find it hard to stop playing. The DTX700 module is packed with renown Yamaha acoustic drum voices, as well the ability to import up to 64MB of custom user samples. With 2 USB ports for expansion and connectivity and a new easy-edit interface, the DTX790K is perfect for today's modern drummer.

DTX-PADs - For Quiet Practice that Improves Technique!
After years of designing and manufacturing some of the world's finest drums, Yamaha knows what it means for drums to feel good and play naturally. We designed the DTX-PAD to be the new standard in electronic drum pads, providing drummers with a pad that feels good, offers playability that is as close as possible to acoustic drums, and is exceptionally quiet. Teaming up with the world's top drummers to satisfy their demanding sense of perfection, we focused our knowledge and experience and created the DTX-PAD. This next generation drum pad allows for true development of acoustic drumming techniques. The DTX790K utilizes a 12" DTX-PAD for the snare, and 10" DTX-PADs for the toms. All the DTX-PADs have 3-zone capability and include a realtime control knob to easily adjust your sound.

Yamaha's Natural Sound Keeps It Real!
The DTX700 drum trigger module is packed with high quality acoustic drum, cymbal, and percussion voices (featuring our legendary Yamaha drums) as well as a collection of sounds from the MOTIF XF synthesizer. There is a wide variety of preset kits and you can easily customize the sounds yourself. These kits are extremely realistic down to the smallest details (including snare buzz and tom resonance) so that you will feel like you are listening to a set of acoustic drums. With 1,268 naturally sampled acoustic drum and percussion voices, the DTX700 module will bring out your best drum playing by allowing you to focus on your performance.

Easily Import Your Favorite Sample Sounds!
You can add up to 64MB of new sounds to the DTX790K by importing wave samples directly into the module via the USB device port.

Songs that Teach the Student and Inspire the Professional!
The songs of the DTX790K let you play along with or without the pre-recorded drum track, with just the bass player, or with the full ensemble to make playing and practicing seem more like a real band rehearsal.

Practical Tools that Improve your Groove!
Yamaha's popular groove tools have set the standard for educational functions that are not only easy and fun to use, but actually help you become a better drummer. The DTX790K has a collection of training functions including the popular Groove Check that displays whether you are playing early or late, so you can more easily correct undesirable habits. Rhythm Gate is like a drumming game that automatically mutes the sound if you playing is too far out of time, so you quickly learn to control your groove and play "in the pocket". Practice has never been this much fun!

Cymbals that Deliver Realistic Expression!
The DTX790K also features our professional 3-zone cymbal pads, which can express a different sound in each of the cup, bow and edge zones. These cymbals have a good stick feel and low acoustic noise, which is essential for electronic drums when used for private practice. In addition to a very natural swaying motion, they also have the "choke" and "mute" functions, providing a high degree of expression similar to that of an actual cymbal.

Real Hi-Hat System that Reproduces Your Every Nuance!
The hi-hat system of the DTX790K features a dual-zone trigger pad (for edge and bow sounds) that mounts to the included Yamaha hi-hat stand for realistic pedal action and versatile positioning.

AUX INPUT Connection to Play Along With Your Favorite Tunes!
The DTX790K includes an audio input for connecting an external CD or MP3 player into the module so you can play along with your favorite music. Listen through the main outputs or only in your headphones so you can quickly master the piece you want to learn note for note.

Programmable Click Tracks with the Hi-Performance Metronome!
The DTX790K is equipped with a high-performance, programmable metronome made for drummers that allows complicated rhythms and tones to be stored.

Expand Your Kit by adding more Pads!
The DTX790K gives you peace of mind, too. Even after purchasing the kit, you can expand by adding up to two additional pads if you need to have more toms, cymbals or a double-bass configuration.

Easy PC Connection and Storage with USB!
The USB "HOST" port allows connection to a PC* using a single USB cable (sold separately) for sending MIDI data to music software such as Steinberg's "Cubase AI" (included). Use the USB "DEVICE" port for importing MIDI and audio from the computer into the module and for backing up your user data.
* The USB-MIDI DRIVER must be installed in order to connect the DTX700 to your PC.

Play Your Bass Drum Sound with the Hi-Hat Pedal!
With one-touch you can quickly switch the hi-hat closed pedal sound to replicate a secondary bass drum. You can casually simulate the sound of a double-bass kit without purchasing twin pedals or extra kick pads!

Quiet Bass Pedal Option!
The optional HH65 can be used as a bass drum pedal, letting you practice more quietly, so you can play regardless of time or place.

Yamaha's Exclusive Original Trigger Functions!
With the DTX790K, up to four different sounds can be layered on any single pad. The "stack" function allows those sounds to be reproduced simultaneously, and the "alternate" function allows the four sounds to activate in sequence. The Pad Song function lets you trigger MIDI patterns from the pads to add spice to your playing or even control the digital effects. Using these functions together allows you to achieve a performance that's full of originality. This is something no acoustic drum kit can match.

Efficient Rack Systems with Real Drum Hardware!
The aluminum tube rack system for the DTX790K offers solid performance and positioning for your kit and has features of our drum hardware. The RS130 rack uses adjustable ball clamps for all the toms so you can easily position the pads to match your ideal setup.
0
0
MPN: DTX790K

Configuration

DTX-PAD: Snare,Toms

Snare diameter: 12"

3-zone pads: Snare,Toms

Realtime control knob: Snare,Toms

Real Hi-Hat System: Yes

Hi-Hat stand: HS740A

3-zone cymbals: Crash x2, Ride

Trigger Module: DTX700

Rack System: RS130

Pad Set: DTP900 (PAD SET) includes: KP125W, PCY155, PCY135 x 2, RHH135, CH750 x 2, SS662. DTP901 (PAD SET) includes: XP120SD, XP100T x 3, HS740A, CHH755

Specs

Size/Weight (Trigger Module)

Dimensions Width: 277 mm (10-29/32 inch)

Height: 213 mm (8-25/64 inch)

Depth: 95 mm (2-3/4 inch)

Weight: 1.5 kg (3.31 lbs)

Tone generator

Maximum Polyphony: 64 notes

Voices: Drum and percussion: 1,268, Melodies: 128

Effects: Reverb: 6, Chorus: 6, Variation: 42, Kit
EQ: 4 band, Master EQ: 3 bands

Drum kits: Preset: 50, User: 10 * all of which may be edited and overwritten

Sequencer

Note Capacity: Approx. 152,000 notes

Note Resolution: 480 ppq (parts per quarter note)

Song recording type: Real-time replace

Song tracks: 1 track

Songs: Demo: 2, Practice: 44, Pad: 17, User: 30 * all of which may be edited and overwritten

Sequence formats: Proprietary, SMF format 0

Click

Tempo: 30 to 300 BPM, Tap Tempo supported.

Beat: 1/4 to 16/4, 1/8 to 16/8, 1/16 to 16/16

Timing: Accents, Quarter note, Eighth note, Sixteenth note, Triplet

Training Functions Measure break, Groove check, Rhythm gate

Other

Connectors: USB TO DEVICE/TO HOST, OUTPUT [L/MONO] (Standard mono phone), OUTPUT [R] (Standard mono phone),
Trigger Input 1 to 8, 11 (Standard stereo phone, L: Trigger Input, R: Rim Switch), Trigger Input 9 and 10 (Standard stereo phone, L: Trigger Input, R: Trigger Input), HH-KICK (Standard stereo phone) , HI-HAT CONTROL (Standard stereo phone), AUX IN (Stereo Mini), PHONES (Standard stereo phone), MIDI IN/OUT

Accessories: Power Adaptor (PA-150, or an equivalent), Module holder, Module holder fastening screws x 4, Owner's Manual, Data List, DVD-ROM (Cubase AI)

Audio Import

Samples: 500

Sample Data Bits: 16 bits

Sampling Time * Mono/Stereo: 44.1kHz: 23 sec., 22.05kHz: 46 sec., 11.025kHz: 1 min. 32 sec., 5.5125kHz: 3 min. 4 sec.

Sample formats: WAV, AIFF
---
Yamaha
DTX790K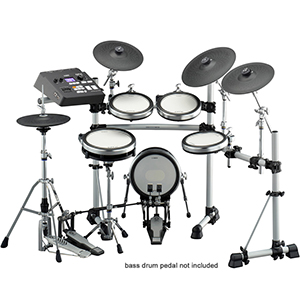 Electronic Drum Set
MPN #: DTX790K
UPC #:
Regular price: $5752.00 $3599.9900 Available from: 8th Street Music Condition: New Out of Stock