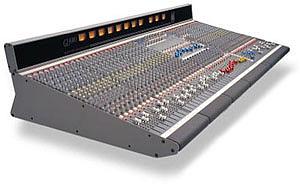 ---
VERSATILE FRONT OF HOUSE CONSOLE
As a FOH console, the GL4000 gives you 8 sub groups and
L, R, Centre Main outputs all with insert points. The centre
(mono) output can be routed directly from the channels
and groups and/or LR outputs to feed a centre cluster or
sub bass system. Unique to the GL4000, you can also fill
out the centre by mixing in just the right amount of LR
signal to supplement the centre mix itself. If you're
running a mono PA you could use L-R as an additional
pair of subgroups.
All 10 aux outputs include faders, buss meters, XLRs and
inserts, an important combination of features hard to find
on other consoles. A 4x11 matrix is available for delay
speaker feeds or broadcast and recording outputs. The
matrix sends can be switched pre or post the Source
Fader. Stereo recording from the main PA mix is seldom
adequate as the L-R mix is typically vocal heavy to
compensate for the high acoustic level of the backline
stage sound. Recording from the matrix lets you adjust
the balance to get closer to that 'studio quality' mix.
DEDICATED STAGE MONITOR CONSOLE
Set up as a monitor console, you have 12 mixes (10
independent monitors and LR sidefill or stereo monitor),
and an independent wedge output with fader for the
engineer. Insert points allow easy connection to graphic
equalisers on every send. In addition, the group and
matrix outputs can be used for extra sends if needed.
You can even record the show from the monitor console
rather than bringing in an additional recording console.
0
0
INPUT IMPEDANCE
MIC > 2K ohm BALANCED
LINE INPUT > 10K ohm BALANCED
STEREO LINE INPUT > 10K ohm BALANCED
INSERT RETURN > 10K ohm BALANCED
2-TRACK RETURN > 7K ohm UNBALANCED
INPUT GAIN
MIC +6dB TO +60dB VARIABLE
MIC/LINE + PAD -14dB TO +40dB VARIABLE
LINE INPUT -14dB TO +40dB VARIABLE
STEREO LINE INPUT OFF TO +10dB VARIABLE
INSERT RETURN 0dB
2-TRACK RETURN OFF TO +10dB VARIABLE
MAXIMUM INPUT LEVEL
MIC/LINE INPUT +15dBu
MIC/LINE + PAD +35dBu
LINE INPUT +35dBu
STEREO LINE INPUT +21dBu
2-TRACK RETURN +35dBu
OUTPUT IMPEDANCE
MAIN OUTPUTS < 75 ohm
DIRECT OUTPUTS < 50 ohm
HEADPHONE OUTPUT TO DRIVE > 8 ohm
INSERT SEND < 50 ohm
MAXIMUM OUTPUT LEVEL
MAIN OUTPUTS +27dBu INTO BALANCED LOAD OF >600 ohm
JACK OUTPUTS +21dBu INTO LOAD OF >2K ohm
OPERATING LEVELS
MAIN OUTPUTS +4dBu
JACK OUTPUTS 0dBu
INTERNAL OPERATING LEVEL -2dBu
INTERNAL HEADROOM +23dB
CHANNEL INSERTS 0dBu
OUTPUT INSERTS -2dBu
MIDI SPECIFICATION
MUTES
TRANSMIT AND RECEIVE MIDI NOTE ON MESSAGES
USES NOTE VELOCITY FOR MUTE STATUS
FROM NOTE C0 (18H) TO B5 (5FH)
PATCHES
TRANSMIT AND RECEIVE MIDI PROGRAM CHANGE MESSAGES
FROM 0 TO 127
CONSOLE DUMP IN AND OUT
USES A&H ERROR DETECTING SYSTEM EXCLUSIVE MESSAGES
FREQUENCY RESPONSE MEASURED 20Hz TO 20kHz REF
1kHz
MIC TO MIX (+40dB) +0/-0.5dB
LINE TO MIX (0dB) +0/-0.5dB
DISTORTION THD + NOISE MEASURED @ 1kHz +20dBu
MIC TO MIX (+40dB) 0.006%
LINE TO MIX (0dB) 0.006%
CROSSTALK REFFERED TO DRIVEN CHANNEL @ 1kHz
CHANNEL TO CHANNEL >100dB
MUTE SHUTOFF >85dB
FADER SHUTOFF >90dB
C.M.R.R. COMMON MODE REJECTION @ 1kHz
MIC (+40dB) >80dB
LINE (0dB) >55dB
NOISE PERFORMANCE MEASURED rms 22Hz TO 22kHz BANDWIDTH
MIC EIN -128dB 150ohm SOURCE
LINE PRE-AMP (0dB) <-91dBu
RESIDUAL OUTPUT NOISE <-98dBu (-102dB S/N)
MIX NOISE, NOTHING ROUTED <-87dBu (-91dB S/N)
MIX NOISE, 24 CHANNELS ROUTED <-81dBu (-85dB S/N)
METERING
INPUT METERS 4 SEGMENT LED (SIGNAL, 0, +6, PEAK)
MIX METERS 4 SEGMENT LED (SIGNAL, 0, +6, PEAK)
OUTPUT METERS 12 SEGMENT LED
LED METER RESPONSE PEAK READING
PEAK INDICATORS 0N 5dB BEFORE CLIPPING
SIGNAL INDICATORS ON -20dBu
OPTIONAL VU METERBRIDGE ILLUMINATED VU MOVING COIL METERS


---
Allen Heath
GL4000M-8-32A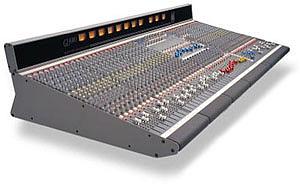 Pro 8 Buss 32 Channel Console
MPN #:
UPC #:
Regular price: $16299 $13499.0000 Available from: 8th Street Music Condition: New Available to Order