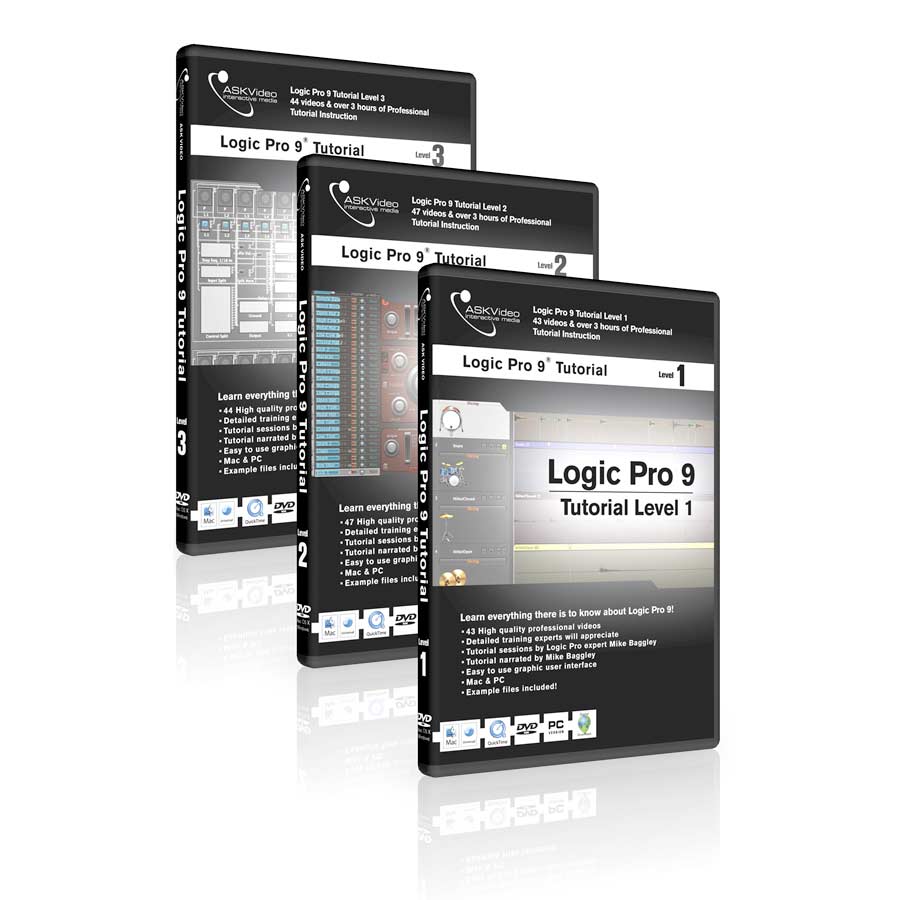 Tutorial DVD Level 1-3
Product Code B64339
Retail Price
$134.99
Sale Price!
$119.95
Buy Today and Save $15.04 (11% from Retail)

We're sorry, this product is no longer available.
---
Logic Pro is back with a vengeance, with all new instruments and effects and the incredibly impressive Flex tool. If you're feeling overwhelmed by Logic, this tutorial series is perfect for you!

In Level 1 of this 3 part series we're going to start from scratch and give you all the knowledge you need to start using Logic. You'll learn everything from basic setup to editing and looping regions. We're also going to delve into a lot of the new features like Flex Time, Audio to MIDI conversion, and the new Pedalboard and Amp Designer plug-ins. If you're new to Logic, then this is a great starting point. If you've been using Logic for a long time, this tutorial is perfect for bringing you up to speed on whats new in Logic Pro 9.

In Level 2 of this 3 part series we're going to continue working on some of the more basic concepts, but we'll quickly be delving into more advanced topics. We're going to cover items like MIDI Cycle Recording, the Sample Editor, creating Groups, and even Beat Mapping.

In Level 3 of this 3 part series we're going to finish our look at Logic by making sure you've seen all it has to offer. We're even going to take a look at something Apple doesn't want you to know about... the Environment! We're going to be jumping through advanced topics so make sure you've seen Levels 1 and 2 if you're not already up to speed on the basics. We're going to cover items like the Transform Window, External MIDI Instruments, Surround, and even working with video. Plus, we'll talk a look at some of Logic's best plug-ins.
0
0
MPN: SBPS

134 Videos

Over 12 hours of instructional video

Extremely high quality tutorial videos

Easy to use interface

Great for users of Logic Pro or Logic Express.

Mac OSX

Logic Pro 9 Tutorial Level 1 Content:

Getting Started

Saving

Setting up your Audio Card

Guided Tour

Working with Tracks 1 - example video

Working with Tracks 2

Working with Tracks 3

Working with Channel Strips 1

Working with Channel Strips 2

Notes

The Transport 1

The Transport 2

Looping with Cycle - example video

Metronome

Creating a Song with Loops 1

Creating a Song with Loops 2

Software Instruments

MIDI Recording 1

MIDI Recording 2

Step Input 1 - example video

Step Input 2

Step Input 3

Audio Recording 1

Audio Recording 2

Adding Audio Files

Audio to MIDI

Parameters 1

Parameters 2

Finding the Tools

Zooming

Selection 1

Selection 2

Editing 1

Editing 2

Editing 3

Flex Time 1 - example video

Flex Time 2

Flex Time 3

Naming Regions

Looping Regions

Amp Designer

Pedalboard 1

Pedalboard 2

Logic Pro 9 Tutorial Level 2 Content:

MIDI Cycle Recording

Multi-track MIDI Recording

Piano Roll 1

Piano Roll 2

Event List

Quantizing MIDI

Groove Templates

Fades - example video

Sample Editor

Punch Recording

Take Recording

Audio Bin

Mute & Solo - example video

Mixer Overview

Groups

Channel EQ

Effects

Plug-in Window

Track Freeze - example video

Signature Track

Tempo Track

Beat Mapping Track

Transposition Track

Folder Regions

Catch & Link

Markers

Screensets

File Browser

Key Commands

Advanced Sample Editor

Digital Factory 1

Digital Factory 2

Audio Regions & Tempo - example video

Strip Silence

Bus Recording

Advanced Piano Roll

Hyper Editor 1

Hyper Editor 2

Hyper Drums 1

Hyper Drums 2

Hyper Draw

ESM, ESE & ESP

EVB3, EVD6 & EVP88

ES2

EXS24

EVOC 20

Ringshifter


Logic Pro 9 Tutorial Level 3 Content:

Transform Window 1

Transform Window 2

Multi-out Instruments

External MIDI Instruments 1

External MIDI Instruments 2

Track Automation 1

Track Automation 2

Bouncing 1

Bouncing 2

Monitor Mixes

ReWire

Advanced Editing

Time Stretching - example video

Beat Slicing

Creating Apple Loops

Split Stereo Files

Recycle Files

Binaural Panner

Surround Audio 1

Surround Audio 2

Surround Bounce

Using External Effects - example video

Audio Units Plug-ins

Tempo Operations

Tempo Interpreter

Tempo List

Global Tuning

Score Editor 1

Score Editor 2

Score Editor 3

Environment: Intro

Environment: Faders

Environment: Transformers - example video

Environment: Integration

Project Export

Video Track

Synchronization

Control Surfaces

Sharing Settings - example video

TDM/HD Support

Sculpture

Ultrabeat

Delay Designer

Space Designer

System Compatibility:

This product requires QuickTime for video playback. DVD-Rom drive required for Mac/PC DVD-ROM. Internet product registration required. Minimum screen resolution for DVD-ROM 1024 x 768. Internet connection for Downloadable tutorial and internet product authorization required - up to 3 computers. Authorization and De-Authorization permitted to allow moving tutorial to different computers.

PC: Windows XP Home or Professional, Intel Pentium or AMD Athlon 800 MHz or faster, 256 MB RAM. Windows MME or DirectSound Sound Card.

MAC: Requires Mac OS X v10.2 or higher, Power Mac G4 867 MHz, 256 MB RAM, Sound Card.
---
Related Products
Product Code
44262

Description
Multi Pattern Large Diaphragm Condenser Microphone

$229.00 Add to cart

Product Code
69149

Description
Professional Monitor Headphones

$149.00 Add to cart

Product Code
g25

Description
Gift Certificate (may be purchased in multiple amounts)

$25.00 Add to cart
Ask Video
Logic Pro 9 Tutorial Bundle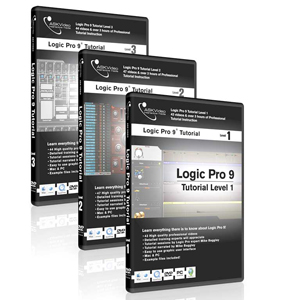 Tutorial DVD Level 1-3
MPN #: SBPS
UPC #:
Regular price: $134.99 $119.9500 Available from: 8th Street Music Condition: New Out of Stock