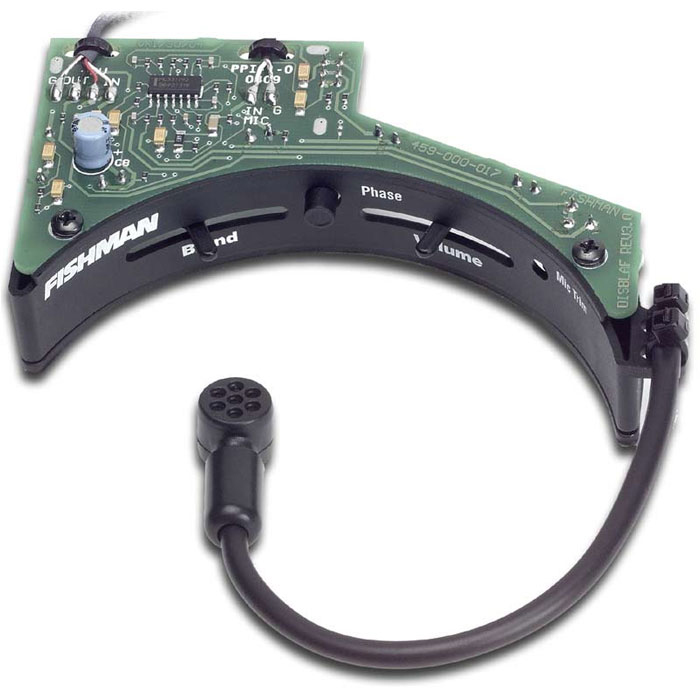 Mic & Bridge Pickup - Integrated Onboard Blending, Easy Install
Product Code M27823
See Below For Product and Pricing Options
---
Select Option
Product Code
27823

Description
Pickup & Preamp System

$299.95

Add to cart

Product Code
27824

Description
Pickup & Preamp System

$299.95

Add to cart
---
Combining the very best of Fishmans popular Acoustic Matrix undersaddle pickup and proprietary Ellipse blending system, the new Ellipse Matrix Blend produces exceptional amplified tone and installs without any major modifications or cosmetic defects to the instrument.
The Ellipse Matrix Blends design features the Acoustic Matrix pickup in a choice of wide, narrow, and split pickup formats. The system is complemented with a high-quality flexible gooseneck condenser mini-microphone to provide enhanced tonal reproduction through blending.
Most importantly, the Ellipse Matrix Blend can be discreetly mounted inside the instrument's soundhole for quick, easy access in a way that is virtually 'transparent' to its appearance.
0
0
Narrow Format includes 3/32" width undersaddle pickup

Wide Format includes 1/8 (3.2mm) width undersaddle pickup


The Ellipse Matrix Blend system includes Volume and Blend controls with Phase Switch and Microphone Trim.

A special switchable Natural I/Natural II bass boost enhances low-end response for smaller sized concert, auditorium and nylon string classical guitars.

Manufactured to Fishman's highest standards, the Ellipse Matrix Blend features solder-free installation, an endpin jack, and 9-Volt battery operation.

It accommodates most round soundholes from 3.875 inches to 4.125 inches in diameter.
---