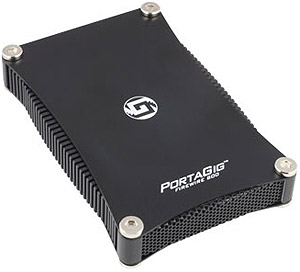 7200 RPM Bus-Powered Pocket Drive
Product Code M44550
See Below For Product and Pricing Options
---
Glyph started with their hugely popular FireWire 400 PortaGig and upgraded it with two FireWire 800 ports, a fast internal SATA II drive, Oxford 934 chip, and a rear power switch. They have also upgraded the warranty to three years and included coverage under Glyph's Overnight Advance Replacement policy. This tiny bus-powered hard drive weighs less than 10 ounces, but is powerful enough to support high track-count audio sessions, and has been tested and approved with Digidesign Pro Tools. Designed with a fanless, light aluminum enclosure, it allows you to work on the road easily and reliably. If bus power is not available or is insufficient, you can use the included power supply.

PortaGig 800 drives are available in 7,200 and 5,400 RPM models. All models of the PortaGig 800 perform well in an audio environment, however the 7,200 RPM models have slightly higher track count compared to the 5,400 RPM models due to their higher transfer rates.

The included USB cable is a "Y" cable: one end connects to the drive and two ends can be connected to the computer. In some situations, a single USB port will not supply enough USB bus power for the PortaGig 800, and two computer USB ports are needed. Due to differing bus power specs, the safest choice is to use the PortaGig 800 with the included DC power supply. Additionally, the DC power supply should be used with PortaGig 800 in capacities of 200GB or higher.
0
0
MPN: PGFW8001B-320

- Up to 320GB in a tiny enclosure
- 7,200 RPM and 5,400 RPM models available
- Seagate SATA II drives used exclusively
- Weighs less than 10 Ounces
- Tested and approved with Digidesign Pro ToolsT to support over 55 tracks of 24bit / 48k audio, with edits
- Small, portable, aluminum case runs quietly with fanless design
- Applications: Field recording, moving audio, video, graphics, and prepress files
- Includes universal power supply
- Includes carrying sleeve

Interfaces:
- (2) FireWire 800 (IEEE 1394b) 9-pin ports
- (1) USB 2.0 Hi-speed (device-side) port

- Bridging Chip: Oxford 934
- Average seek time (read): 8 milliseconds
- Maximum Transfer Rate: 800 Mb/sec (100MB/sec)
- Sustained Transfer Rate: up to 44MB/sec
- Buffer Size (cache): 8 MB
- Dimensions: H 0.86" x W 3.3" x D 5.2"
- Configuration: Portable enclosure
- Weight: 0.6 lbs. / 0.3 kg
- Power Supply: Universal 100-240v 50/60 Hz

Operating System Compatibility:
- Apple OS 8.6, 9.X, 10.X
- Microsoft Windows 98SE, ME, 2000, XP, Vista
- Modern Unix-based, Linux, or BSD

- Content Creation Applications: Qualified with all major audio production packages that support FireWire storage, including Digidesign Pro ToolsT, Steinberg Nuendo and Cubase, Apple Logic, MOTU Digital Performer, Cakewalk Sonar, Sony Vegas and more...

Included:
- FireWire 800 (9-pin to 9-pin) cable
- USB Cable (Y-cable, uses two USB ports for necessary power)
- Power supply
- Carrying sleeve

Warranty:
- 3 Years
- 1 Year Overnight Advance Replace more info
- 2 Years Free Basic Data Recovery more info
---