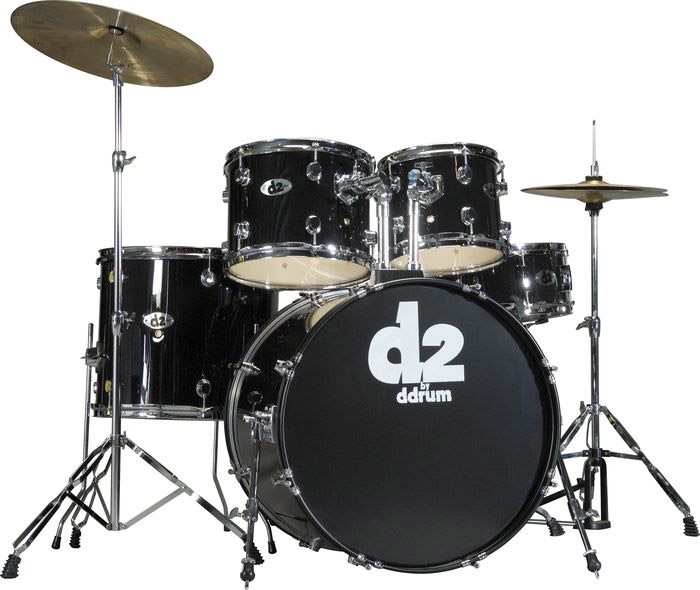 Complete 5-Piece Drum Set with Cymbals and Throne
Product Code M45530
See Below For Product and Pricing Options
---
Select Option
Product Code
45530

Description
Complete 5-Piece Drum Set with Cymbals and Throne

$399.00

Add to cart
---
The ddrum D2 5-Piece Drum Set provides an affordable way to get everything you need to be able to play, right out of the box. It features 9-ply mahogany shells, which provide rich low-end and smooth mids. The ddrum kit also includes cymbals, a throne, and a hardware package.

The hardware pack consists of a chain-drive bass drum pedal, geared/locking double-braced snare, cymbal, and hi-hat stand, and a double-braced throne.

The drum set also features handmade 14" hi-hats and a 17" crash/ride, telescoping bass drum spurs, and power/fusion toms. A 22" x 18" bass drum, 10" x 8" and 12" x 9" mounted toms, a 16" x 14" floor tom, and a 5-1/2" x 14" snare.

To top it all off, it also includes a Pro ddrum stick bag and 6-pair of ddrum sticks.
0
0
9-ply mahogany shells

Bass drum pedal

Snare drum stand

Cymbal stand

Hi-hat stand

Throne

14" hi-hats

17" crash/ride

Pro ddrum stick bag

6-pair of ddrum sticks

Telescoping bass drum spurs

Sizes:

22" x 18" kick drum

10" x 8" and 12" x 9" mounted toms

16" x 14" floor tom

5-1/2" x 14" snare
---