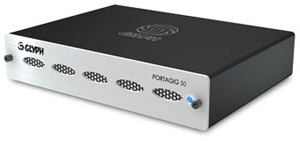 Firewire Hard Drive - 7200 RPM
Product Code M61802
See Below For Product and Pricing Options
---
The PortaGig 50 has a small, portable, aluminum case and runs quietly with its fanless design. Connected by FireWire 800, USB or eSATA, it reports the drive's health and temperature as a background task using Glyph Manager, notifying you if your drive needs attention. PortaGig 50 has a rear power switch, uses an Oxford 934 chip, and is finished off with a classic Glyph styling and a stainless steel face plate. Designed for field recording, moving audio, video, graphics, and prepress files, it includes a universal power supply and a carrying sleeve.
Speeds and Performance

PortaGig 50 drives are available in 7,200 and 5,400 RPM, and use exclusively Seagate SATA II hard disk mechanisms. Seagate drives live up to their reputation for performance, quality, and durability. All models of the PortaGig 50 perform well in an audio environment, however the 7,200 RPM models have slightly higher track counts compared to the 5,400 RPM models due to their higher transfer rates.
Tested and Approved

The PortaGig 50 has been qualified with Digidesign Pro Tools™ to support over 70 tracks of 24bit / 48k audio, with edits.

The best warranty in the industry includes a 3 Year Full Warranty, 2 Years of Free Level I Data Recovery, and 1 Year of Free Overnight Advance Replacement.
0
0
MPN: PG501B

7,200 RPM

(2) FireWire 800 (IEEE 1394b) 9-pin ports

(1) USB 2.0 Hi-speed (device-side) port

(1) eSATA 3Gbit/s port

Bridging chipset- Oxford 934

Average seek time- 8ms

Maximum transfer rate (eSATA port)- 3 Gbit/s (300MB/sec)

FireWire 800 port: Read - 76MB/s, Write - 65MB/s
eSATA port: Read - 83MB/s, Write - 81MB/s

Cache size- 8MB

Height: 1 inch

Width: 4.8 inches

Depth: 3.6 inches

Weight: .5lb (.3kg)


Apple OS 8.6, 9.X, 10.X

Microsoft Windows 98SE, 2000, XP, Vista, 7

Modern Unix-based, Linux, or BSD

Power Supply- External Universal 100-240v 50/60 Hz


The included USB cable is a "Y" cable: one end connects to the drive and two ends can be connected to the computer. In some situations, a single USB port will not supply enough USB bus power for the PortaGig 50, and two computer USB ports are needed. Due to differing bus power specs, the safest choice is to use the PortaGig 50 with the included DC power supply. Additionally, the DC power supply should be used with PortaGig 50 in capacities of 250GB or higher.


Includes

FireWire 800 (9-pin to 9-pin) cable

A to Mini-B USB Cable. (Y-cable, uses two USB ports for necessary power)

Universal AC external power supply

Protective carrying sleeve

Full 3 Year Warranty
---