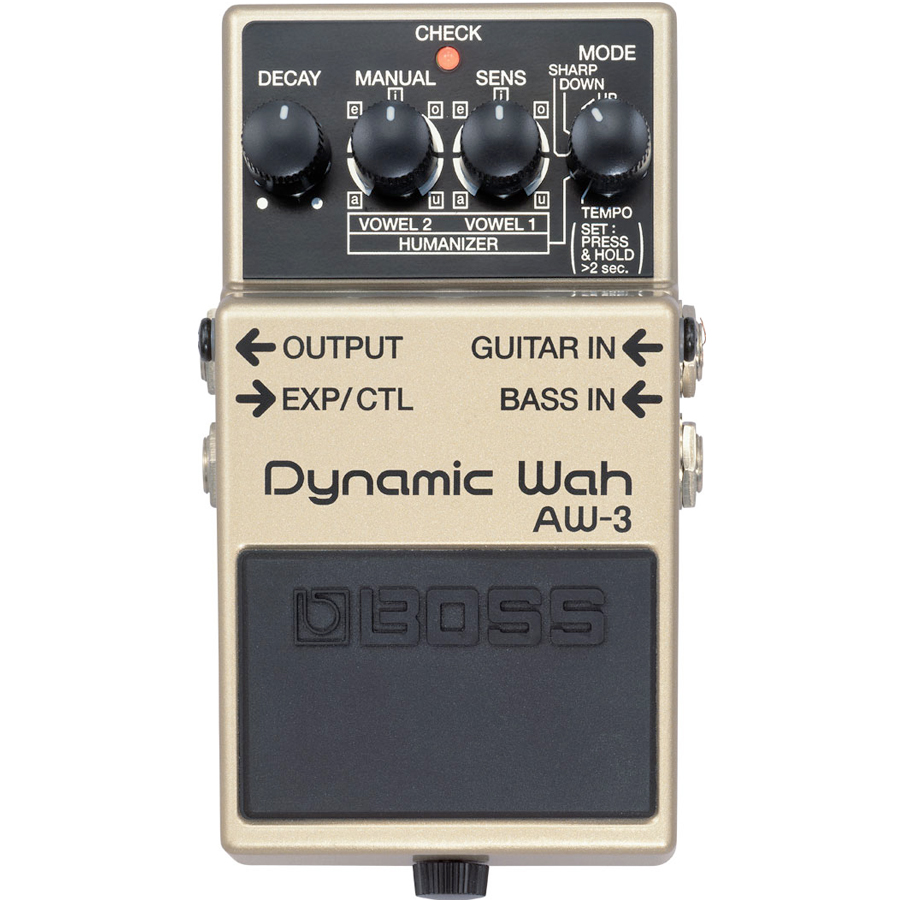 ---
the AW-3 Dynamic Wah offers a great many features in a compact pedal format, and takes the concept of auto-wah and dynamic filtering to a whole new level. But before we go into its features, first a little history…

Musicians have been trying to give their instruments vocal characteristics for almost as long as musicians have walked the earth, from "talking" drums on down. The evolution of dynamic filters goes back to early jazz. Horn players would use things like common bathroom plungers waved over the bell of their horns in order to get human vowel-type sounds. It was (and is) a distinct and expressive sound, but was very hard for guitar players to emulate, until the first wah pedals appeared. Because of their unique, emotional, almost vocal-like sounds, wah effects have quickly become indispensable to many guitarists.

Dynamic filters are electronic effects used to produce wah sounds controlled by picking dynamics, instead of a pedal. The harder you play, the stronger and more pronounced the wah effect, so you can have much more control and variety of sounds than with a traditional wah pedal. A dynamic filter can sound like a traditional wah pedal, or can be much more extreme, to give you a sound almost like a sweeping filter on a synth.

The BOSS AW-3 can produce dynamics-controlled wah effects, or it can be set to wah automatically, and of course you can control the range, intensity and harmonic content of the sound. Like the PH-3, the AW-3 also has a new tap-tempo feature, another BOSS first, so you can control the tempo of the wah effect just by tapping the footswitch. The filter can be set to sweep up or down, so you can dial in just the sound you want. And there's also a new Sharp mode, which uses high harmonic emphasis to make the sweep very distinctive.
2
2
MPN: AW3
UPC: 761294053041

Another new feature in the AW-3 is called the "Humanizer." Put simply, the Humanizer is an electronic effect that simulates human vowel sounds—a long way from the horn player's plunger! The Humanizer can simulate five different vowel characteristics, and you can set the AW-3 to switch between any two vowel sounds at one time. For example, instead of the typical "wah-wah" sound, your AW-3 could make your sound become something like "I-O" or 'A-EE" or any other combination of vowels. Trust us, this must be heard to be believed.

Add up these features alone and you'd likely have the most powerful dynamic filter pedal ever, but the AW-3 offers still more: there's an Expression Pedal input, so you can turn the AW-3 into a foot-controllable realtime wah, or realtime Humanizer, just by sweeping an optional expression pedal. And this also happens to be the quietest BOSS filter pedal ever, employing the same converters and processor used in BOSS' ME-30 Multiple Effect Processor, but instead of using it to produce 16 different effects, it's all dedicated to the dynamics filtering. Finally, the AW-3 also has a separate dedicated input for bass, so bassists can tap into killer synth-bass, bass wah, and other cool sounds without sacrificing any of those all-important low frequencies.

Conclusions
Obviously, these are good times for guitarists and bassists who like stompboxes, and BOSS stompboxes are sounding better than ever. With killer (and affordable) sonic tools like the PH-3 Phase Shifter and the AW-3 Dynamic Filter, there's no excuse for not having the best tone on the block.
---
Boss
AW-3 Dynamic Wah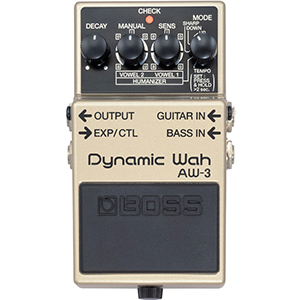 Dynamic Wah Effect Pedal
MPN #: AW3
UPC #: 761294053041
Regular price: $199.50 $139.9900 Available from: 8th Street Music Condition: New Available to Order