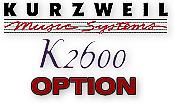 RMB4-26 Vintage Electric Pianos ROM
Product Code 12023
Retail Price
$299.00
Sale Price!
$229.00
Buy Today and Save $70.00 (23% from Retail)

We're sorry, this product is no longer available.
---
The Vintage Electric Pianos ROM option adds the classic electric piano sounds that are vital to any modern keyboard player. While some electric piano sounds have remained obscure vintage gems, others have attained a level of importance to the keyboardist comparable to that which the Fender® Stratocaster® or Gibson Les Paul has for the modern guitarist.

The instruments included in the ROM block are: Fender® Rhodes Electric Piano, Wurlitzer Electric Piano, Hohner Pianet, Yamaha CP-80 Electric Grand Piano, and the RMI Electra-Piano.

Each program was created using high-quality audio samples of electric pianos as a starting point. The sounds were then processed using Kurzweil's V.A.S.T. synthesis engine. This allowed us to apply powerful filters, velocity layers and cross-fades, envelopes and a host of other sound-sculpting tools. In some cases, samples from the K2600's base-ROM were also used in combination with the Vintage EP's samples in order to add a certain flavor or to enhance the harmonic content of the sound.

The final stage of sound-shaping was done in KDFX, our massive effects processing engine. KDFX played a crucial role in making this a truly ground-breaking project, providing on-board effects unprecedented in both quantity and quality. Effects pedals, speaker cabinets, and recording techniques have all been faithfully replicated, giving the Vintage EP's programs a level of detail and realism never before achieved in any electric piano emulation.

Using V.A.S.T. and KDFX we were able to replicate the exact sounds from dozens of different live and studio recordings of electric pianos. For this reason, many of the program names in Vintage EPs are derived from song titles and not electric piano model numbers. Also, we have included a section devoted entirely to non-realistic sounds, "hybrids and synths," where we transformed the Vintage EPs sound sources into a wide variety of sonic textures, ranging from slight mutations to completely unrecognizable new sounds.

We have included detailed charts that list the controller assignments for each program and setup. If a program has been taken from a specific recording, the artist's name and song title have been provided as well.

Fender® Rhodes

Produced from 1965-1986 in a number of variations of the original model, the Fender® Rhodes is the most widely recognized and easily identified electric piano sound in popular music. The Rhodes played an important role in defining some of the new styles of music that began to emerge in the mid-sixties and early seventies, mainly jazz-fusion, disco and funk, and was adopted quickly by other already established styles such as R&B, rock, pop, blues, and jazz. The Rhodes sound remains popular today and it can be found in a variety of settings: played live by blues, funk and jam bands among others, and on recordings of hip-hop, pop, acid-jazz, and electronica.

Wurlitzer

Similar in both its design and sound to the Rhodes, the Wurlitzer electric piano was nearly as popular, and actually pre-dated the first Rhodes suitcase model. The Wurlitzer produced a sound which had a slightly more narrow frequency range than the Rhodes; it was "thinner" sounding, blending more easily with other instruments in a mix.

Hohner Pianet

Although featured prominently in a number of classic rock songs by The Beatles, The Zombies and others, the Hohner Pianet remains a lesser-known instrument, its sound having often been mistakenly attributed to the Wurlitzer.

Produced from c.1962-1980 in various console models, the Pianet series differed from the Rhodes and Wurlitzer in a few important areas. Sound was produced by metal reeds, which were plucked by a set of adhesive pads. Also distinguishing the Pianet was the absence of a sustain pedal.

Yamaha CP-80

Known commonly as the "electric grand", the CP-80 (88 notes), along with its smaller counterpart, the CP-70 (76 notes), was the product of clever engineering combined with traditional piano-making craftsmanship. Inside the CP-80 are the basic workings of a real acoustic piano, which have been altered to fit into a smaller enclosure. On the outside, the CP-80 looks like a "grand" version of the Rhodes, covered in tolex, with the top portion extending in the rear to accommodate the piano harp inside. Up until the mid-1980s, when sampled pianos became available, the CP-70/80 was the only instrument capable of providing a decent substitute for a real piano. While it served this purpose well, the CP-70/80 had some unique features, which allowed it to have its own very distinct sound when desired.

RMI Electra-Piano

Built by Rocky Mount Instruments, a division of the Allen Organ Company, from 1967-1980, the RMI Electra-Piano is the one instrument represented in Vintage EPs which did not produce sound by electromechanical means. With an electronic tone-generator for each note, un-weighted plastic keys, which were not touch-sensitive, and a set of "stops" for sound selection, the RMI more closely resembled an organ than anything else.

There were five stops on the RMI for tone: Piano, Piano PP, Harpsi, Harpsi PP, and Lute. There were two additional stops; Accenter, which added in an attack "thump" as well as Organ Mode, which extended the decay of held notes.

The RMI was most widely used by progressive-rock bands like Genesis and Yes in the early to mid-1970s, although it has also appeared in a broad variety of other settings.
0
0
Vintage Electric Piano Programs

600 Model This! Rhds
601 Shinin' Xfade
602 CleanRhdsEchPlx
603 AgedTolexPhasSw2
604 Real 70's Chorus
605 Studio ClassicEP
606 SweetLoretta Amp
607 TheNightFly
608 Sugdaddy Mtron
609 Herbie'sEPWahSw2
610 Adjstbl ChDlyRvb
611 XTineRhds RvsRvb
612 BellToneDist RDS
613 The Phase I'm In
614 HardStr CompRhds
615 SizzleTine PhsCh
616 EarlyFusionDstEP
617 Growlin'Electric
618 Serious EPno
619 70's HrdStr EP
620 Rhds No Bell
621 Hard E Piano
622 Soft E Piano
623 Barking Tines
624 Triple Tines
625 Stay With Me
626 What'dISay Wurly
627 RetroVerb Wurly
628 VANCradleWillROK
629 Supertramp Wrly
630 PinkFloydzTheWah
631 EQ Vintage Wurly
632 StandnOnTheVerge
633 WoodstockClunker
634 Wurly + Alien FX
635 MeanPhaseWURLY
636 UpcloseHeavyWrly
637 Lesslie Wurlie
638 Soft Wurly
639 Joy to the Piant
640 TheseEyes
641 No Quarter
642 Black Friday
643 StrwyToEPHeaven
644 MetalBuzz Piant
645 ThisIsTheWalrus!
646 MistyMountain EP
647 Classic Zombies
648 Tony's FuzzBox
649 Queen's Friend
650 Bernie's CP*Funk
651 CP80 Wallflower
652 Porta EPiano
653 VideoKilledtheCP
654 Red Rain
655 OBLA-D CP80
656 Dark Elec Grand
657 CP80 All Purpose
658 Bright Live CP80
659 Groovy Dyn Chor
660 Leave Me Alone
661 Thin Space Piano
662 Chorus'd Hall CP
663 80'sReflectxn EP
664 LiveAmp CP Plate
665 Tight Room forEP
666 Dr. John's RMI
667 Lamb's Wool
668 RMI Phase Flange
669 RMI Crunch
670 Wakeman On Ice!!
671 Rael On Broadway
672 MXR InMy Stomach
673 Electronica RMI
674 RMI Switch 2
675 Crocodile Rock
676 RoTo RMI
677 FrankenRoadz
678 Trace S&H EP
679 Baroque Synth
680 Skunk Art
681 SliderEP Synth
682 TalkinRingmod
683 Flurlitzer
684 EPno n'Pad
685 Pick Up EP
686 Strummed EPiano
687 Brittle Comper
688 Cheese Keys
689 RM-Either
690 Xylo-Rhoadz
691 Bubble Snap
692 Cypress Pluck
693 Electro Fugue
694 RMI Organ Keys
695 Hurtful
696 Multi Grand
697 Exploring RMI
698 Ambient Swells
699 Raffa's Revenge
---
Kurzweil
RMB4-26 (K2600 Series)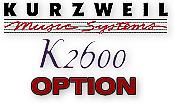 RMB4-26 Vintage Electric Pianos ROM
MPN #:
UPC #:
Regular price: $299.00 $229.0000 Available from: 8th Street Music Condition: New Out of Stock