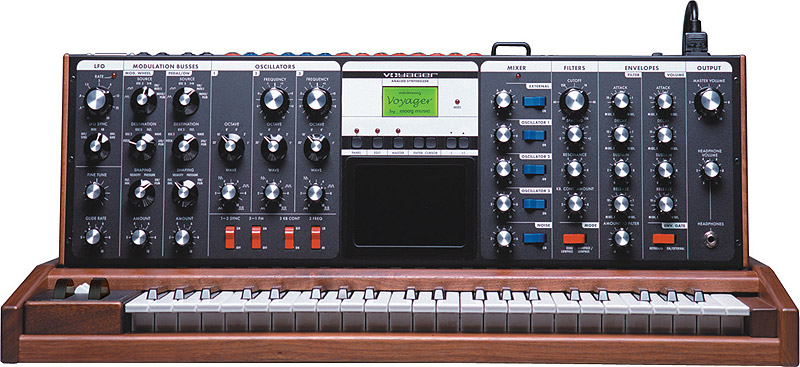 Analog Performance Synthesizer
Product Code 13000
Retail Price
$3695
Sale Price!
$3,050.00
Buy Today and Save $645.00 (17% from Retail)

We're sorry, this product is no longer available.
---
The Minimoog Voyager Synthesizer is a monophonic analog performance synthesizer. It incorporates virtually all of the sound resources and functions of the original Model D Minimoog, which was produced by Moog Music, Inc. from 1970 to 1982. It has many new additional features, including a three dimensional touch surface, MIDI IN and MIDI OUT implementation, extensive patching facilities, and a large number of new panel features.

Of the 896 user accessible presets, 704 come pre-loaded with patches from Nigel Hopkins, Brian Kehew, Will Alexander, Bernie Worrell, Drew Newmann, Amos Gaynes, Steve Dunnington, Aron Magner, Chad Hugo, Darrell Diaz, Frank Lucas, Fred Wreck, Gabrial McNair, Geoffrey Keezer, Herbie Hancock, Khari Simmons, James Lumb, Jamie Muhoberac, Joseph Rivers, Neil Palmer, Printz Board, Randy Cantor, Rick Wakeman, Mark Kline, Zon Vern Pyles, Thomas Wolf.

Additionally, V3.0 adds the following capability to the Voyager: The External Mixer knob (just right of the display panel) has a dual function that allows you to rapidly change presets as opposed to continuously punching the cursor buttons. MIDI enhancements allow you to send either 7 or 14 bit resolution from the Mod Wheel, and optionally reduces the amount of MIDI data being sent from the Touch Surface.

The signal path starts with a bank of three wide-range, high-stability voltage controlled oscillators, one noise source, and one audio preamplifier for externally-applied audio signals. The sound modifiers are two Moog filters and one stereo VCA (Voltage Controlled Amplifier). Modulation sources are two ADSR (Attack Decay Sustain Release) envelope generators and one multiwaveform LFO (Low Frequency Oscillator).Control devices include a 44-key keyboard with velocity and afterpressure outputs, pitch bend and modulation wheels, a three dimensional touch surface, and many control/pedal input jacks.

The Minimoog Voyager has a hinged, multi-position panel and a solid hardwood cabinet. The power supply accepts any power voltage from 100 volts to 240 volts.
0
0
MPN: VY-MIN-004
UPC: 889406027893

- Oscillators Module: Three wide-range, high stability VCO's (Voltage Controlled Oscillators) with continuously-variable waveforms.

- Mixer Module: Five-input mixer for combining the audio sources prior to filtering.

- Filters Module: Dual mode filter module includes dual lowpass and highpass-lowpass filtering. Dual lowpass mode consists of two Moog lowpass-resonant filters in parallel, one per output channel. Highpass-lowpass mode consists of Moog lowpass filter in series with a highpass filter.

- Envelopes Module: The Envelopes Module generates two wide-range ADSR (Attack Decay Sustain Release) envelopes. The Filter Envelope sweeps the filter and is available for modulation shaping. The Volume Envelope shapes the overall volume.

- LFO Module: Low Frequency Oscillator generates triangular, square, Sample & Hold, and smoothed Sample & Hold waveforms for use as modulating signals.

- Modulation Busses Module: Selects the sources, destinations, and shaping signals for the MOD WHEEL bus and the EXT PEDAL/ON bus.

- Output Module: MASTER VOLUME, HEADPHONE VOLUME

- Glide and Fine Tune Module: GLIDE varies the speed at which the keyboard voltage changes, from instantaneous to several seconds. FINE TUNE adjusts the overall tuning of the instrument.

- 44 KEY KEYBOARD produces Pitch, Gate, Velocity, and Pressure control outputs.

- WHEELS: Pitch Wheel bends pitch over a range of up to +/-1 octave. Mod wheel controls the gain of the MOD WHEEL bus.

- THREE DIMENSIONALTOUCH SURFACE provides three continuously-variable control signals which are derived from the up-down and left-right position of the player's finger, and the amount of area with which the player makes contact to the surface.

Includes Backlit Pitch/Mod Wheels

OSYS
---
Moog
Minimoog Voyager - Performer Edition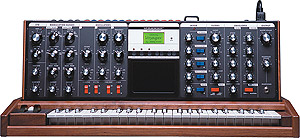 Analog Performance Synthesizer
MPN #: VY-MIN-004
UPC #: 889406027893
Regular price: $3695 $3050.0000 Available from: 8th Street Music Condition: New Out of Stock