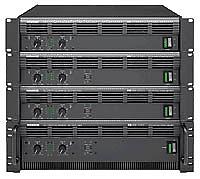 Professional power amplifier
Product Code 1684
Retail Price
$749
Sale Price!
$599.00
Buy Today and Save $150.00 (20% from Retail)

We're sorry, this product is no longer available.
---
FR Series power amps don't pull power out of the ozone or switch on and off a gazillion times a second. They're traditional "lead sled" designs with massive toroid transformers, huge storage capacitors, state-of-the-art output devices and cooling systems that outperform all amps in their price ranges. They deliver enormous amounts of current into extremely low impedances -- and they have dynamic power reserves to spare. The reason FR Series amps are so affordable is because of Mackie's huge investment in automated manufacturing technology, not because we cut any corners.


Cutting to the chase: FR power amps sound better than their competition when driven into clipping (overload). Since that's how 99 out of every hundred PA systems are usually operated, this is a major point.*
When an amp clips, you start hearing harmonic distortion. So conventional amps use something called negative feedback to help control clipping distortion. The output section of the amp sends a signal back to earlier stages to "throttle the system down." The trouble is, this "solution" causes its own problem: During clipping, when the amp relies on negative feedback, it electronically "confuses" earlier amp stages, causing them to latch in a clipping mode instead of recovering quickly. Latching causes the amp to sound really awful when pushed too hard -- which it inevitably will be.
To effectively deal with clipping, an amp must be able to recoup almost instantaneously. That's what we mean by Fast Recovery. FR Series amps use very sparing amounts of negative feedback. Then we use complementary Baker Clamp circuits on the positive and negative voltage amp stages, which prevent the stages from saturating (and latching) during periods of overdrive. An additional transistor senses when the Baker Clamp is active and then activates the FR Series amplifiers' internal limiting circuits. The result is no latching, instant recovery from overdriving the amp -- and way better sound.


The more heat you can conduct away from an amp's output devices (transistors) the longer they'll last. The better physical contact that can be made between a transistor and its heat exchanger, the more heat can be pulled away and dissipated in the air. All four FR Series amplifier models have a mirror-polished heat exchanger that maximizes thermal transfer. This requires hand polishing the exchanger extrusion, but we think it's worth it to achieve better reliability and performance.
The exchanger itself is transverse mounted with its air inlet in the middle. Cool room air enters the front of the amp, then travels down two short cooling tunnels and exits on the amplifier's sides. This T-Tunnel design provides a more constant thermal gradient than one long cooling tunnel -- in other words, two short air passages keep all transistors closer to the same temperature instead of getting processively hotter as the air temperature increases down one long exchanger.


A big advantage to owning an FR Series amp is that you get important extra features.* Features other amp manufacturers make you pay extra for or leave out all together.

Variable low cut filters for tighter bass. All PA cabinets only reproduce bass down to a certain point, called the tuned frequency. Below that point, you get audio sludge and potential woofer damage. FR Series variable low cut filters let you feed your system only the frequencies it can handle. You can "dial in" any tuned frequency from 5Hz to 170Hz. All models also include an infrasonic stabilizer circuit that cuts the really low frequencies that cause visible woofer cone flutter.
Constant Directivity Horn EQ for smoother treble. To improve high frequency reproduction, many sound systems use constant directivity (CD horns). They improve treble dispersion by more evenly distributing high frequencies. But in doing so, they actually create a frequency "dip" that reduces important frequencies anywhere from 2.5kHz to 5kHz. The old way to compensate for this was a special crossover module (hard to find and usually expensive) or a graphic equalizer (nice try, but the "cure" is worse than the problem). The M•800, M•1400 and M•1400i include separate left and right CD horn EQ adjustments. This 6dB/octave EQ's "knee" position is sweepable from 2kHz to 6kHz -- we extended the high end boost so you can add "Air" EQ even if you're not using CD horns.
Built-in subwoofer crossovers. The M•1400 and M•1400i feature 3rd order, 18dB/octave, Bessel electronic crossovers with 2 selectable frequencies. The M•2600 features 4th order, 24dB/octave, Linkwitz-Riley electronic subwoofer crossovers with 3 selectable frequencies. All have uniform time-delay low-pass filters. Just select the crossover frequency, connect the subwoofer output to another amp -- and drive that subwoofer all over the map.

Efficiency. A power amplifier converts some of the raw power from a wall socket into modulated musical power for your speakers. The rest is turned into heat. The theoretical maximum efficiency of 78% has yet to be achieved by any power amplifier. Typical power amplifiers only get about 65% efficiency... or less. The FR Series amplifiers achieve 74.5%, only 3.5% shy of the theoretical maximum.
Wide power bandwidth. It's easy for an amplifier to put out high frequencies (not much electrical energy is required). But low frequencies demand awesome amounts of power. In order to sound good, a power amplifier has to be able to deliver flat response over an extremely wide range of frequencies. The outputs of an FR Series amplifier are very flat and wide: +0/-3dB from 10 Hz to 80 kHz and full power capability to 100 kHz.
Fast voltage slew rate. An amplifier must be able to reproduce brief, intense bursts of energy–transient peaks–at the same rate they are input to the amp. An amplifier's ability to do this is measured by its voltage slew rate. The slew rate of an FR Series amplifier exceeds 50V/µsec. That's one of the fastest slew rates of any pro audio amp.
Low distortion. On all fronts, the FR Series amplifiers rival snooty, creampuff audiophile amps. Total Harmonic Distortion spec (THD) for each member of the FR Series is 0.012% at 8 ohms 20 Hz-20 kHz.


Such as both XLR and TRS inputs, extra male XLR signal pass-through, integral servo-controlled limiters, elaborate but normally inaudible protection circuits, automatic turn-on delay, front panel LED ladder displays and detented level controls calibrated in both volts and dB.
All FR Series amps will operate on as little as 63% of their rated voltage (a major plus during brownouts or when you have to work at the end of a long, skinny extension cord).


0
1
MPN: M1400I

1400 watts @ 4 ohms bridged
1000 watts @ 8 ohms bridged
700 + 700 watts @ 2 ohms stereo
500 + 500 watts @ 4 ohms stereo
300 + 300 watts @ 8 ohms stereo
Ultra-low-noise/ low-distortion design
Fast Recovery circuitry reduces distortion at the edge of clipping and beyond
Two 2nd order, 12dB/octave, Bessel low-cut filters with variable frequency from Off to 170Hz help optimize bass output of your sound system
3rd order, 18dB/octave, Bessel electronic subwoofer crossover with two selectable frequency points
Constant directivity horn EQ/Air EQ with variable frequency from 2k to 6kHz and on/off switch
Limiter with On/Off switch (decreases distortion that may become present when the M•1400/1400i is driven at max levels without affecting overall sound levels)
XLR thru outputs
1/4" jacks (M•1400i) or Speakon(R) connectors (M•1400) and 5-way binding post outputs (both models)
Detented gain controls calibrated in dB & volts
Signal present and OL LEDs
Channel Status LEDs
Easily handles 2-ohm loads all night long
Superior T-Design cooling
5-year transferrable Limited Warranty

---
Mackie
M1400i SerII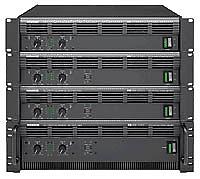 Professional power amplifier
MPN #: M1400I
UPC #:
Regular price: $749 $599.0000 Available from: 8th Street Music Condition: New Out of Stock