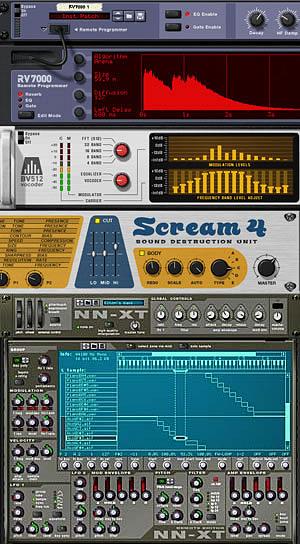 Virtual Synth/Loop/Effects Generator
Product Code 20139
Retail Price
$499.95
Sale Price!
$349.00
Buy Today and Save $150.95 (30% from Retail)

We're sorry, this product is no longer available.
---
Making music should be as easy as powering up a computer, loading up a powerful piece of music software, and getting down to business. And it is. Reason 2.5 is a virtual studio rack with all the tools and instruments you need to turn your ideas into music. And it's more than just a set of excellent synths and effects. It's a complete music system. Step into the age of Reason.

Synthesizers, samplers, drum machine, ReCycle-based loop player, mixer, effects, pattern sequencer and more. As many of each as your computer can handle. Reason is an infinitely expandable music workstation on a CD-ROM, complete with its own realtime sequencer.


Less fuss, more freedom
As a Reason user, you can forget about the downsides of music production. Forget malfunctioning modules and confusing connections. Reason's cables don't tangle. Forget about steep learning curves and menus within menus. Reason is so direct you'll learn it in minutes. And forget the tedious process of gathering all the different disks and soundbanks needed to load up a song.

With Reason, picking up where you left off – be it last night or last month – is as simple as turning the power on. When you save your music, your whole studio setup is stored along with it. You can even include your samples, loops and drum kits in the Reason file, for easy web publishing or email distribution to other Reason users. For once, total recall is truly total.


All controls work as their real life counter- parts.
And so is the sound. The audio quality is everything you would expect from the people behind ReCycle and ReBirth. But pristine sound quality is only half the story; the instruments and effects in Reason are loaded with character and attitude. Reason will not just impress, but inspire you.

All the controls you need
Each unit in Reason's virtual rack is edited from its own on-screen front panel. All the sliders, knobs, buttons and functions are right in front of you, ready to be tweaked, turned and twisted in absolute real-time. And all your front panel actions – filter adjustments, pitch bending, gain riding or panning – can be recorded and automated in the Reason sequencer.

Need more gear?
In Reason, you will never run out of rack space.
No problem. Choose a synth, a drum machine, a loop player or any device from the Create menu, and it will instantly appear in your rack, logically patched into the signal chain. And because Reason is designed to go easy on your computer, you can repeat the process until you're more than happy. If you ever wished you had eleven samplers and ten compressors, Reason is definitely for you. And if you have created more machines than you have mixer channels, just create another mixer.

The studio of your dreams is just a few mouse clicks away.


Use Reason the way you want to:
As a self-contained synth studio system. Everything you need is there, including a fast and flexible sequencer with powerful, dedicated event editors for each type of device.
As a sub-system synchronized to your audio sequencer. Process Reason's audio output with plug-in effects and mix it with your hard disk tracks. With Reason in ReWire mode, its instruments are automatically patched into the mixer in any other ReWire compatible application. Seamless integration.

As a virtual synth rack with your MIDI sequencer. Reason's devices can be handled in exactly the same way as hardware.


0
0
Introducing Reason 2.5, the x-tra FX update. We bring you four brand new sound processing tools and two science projects. This is Reason in full effect.

RV7000 Advanced Reverb
A professional stereo reverb unit with the finest sounding algorithms around.

BV512 Digital Vocoder
A multi-talented 4 to 512-band vocoder with the power to equalize.

Scream 4 Sound Destruction Unit
An advanced distortion device capable of everything from tape saturation to total destruction.

UN-16 Unison
A classic effect designed to fatten and widen any sound.

Spider Audio Merger & Splitter
A small and indispensable utlity for audio signal path scientists.

Spider CV Merger & Splitter
A handy signal path routing utility for CV and Gate experimentalists.

System requirements
Here's what you need to be able to run Reason 2.5:

Windows
Intel Pentium 2 or better + 233 MHz or faster + 64 Megabytes of RAM + CD-ROM drive, Windows 98, ME, 2000 or XP (or later) + 256 color monitor (or better), 800x600 or larger + A 16 bit Windows compatible audio card, preferably with an ASIO or DirectX driver + Microsoft DirectX (if supported by the card) + A MIDI interface and a MIDI keyboard (or similar).

Mac OS
For Mac OS X: Any computer that runs Mac OS X version 10.1 or later. For Mac OS 9: A Power Macintosh with 604, 604e, G3 or G4 processor or better + 166 MHz or faster + 128 Megabytes of RAM + Mac OS 9.0 or later. CD-ROM drive + 256 color monitor (or better), 800x600 or larger + A MIDI interface and a MIDI keyboard (or similar). system requirements.

UOY
---
Propellerhead
Reason 2.5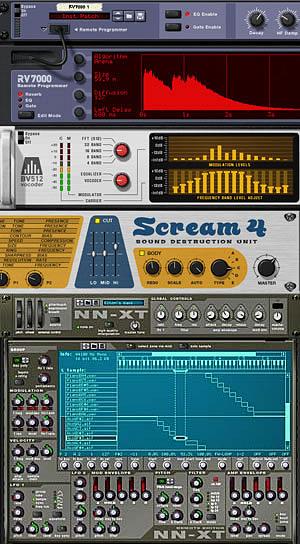 Virtual Synth/Loop/Effects Generator
MPN #:
UPC #:
Regular price: $499.95 $349.0000 Available from: 8th Street Music Condition: New Out of Stock