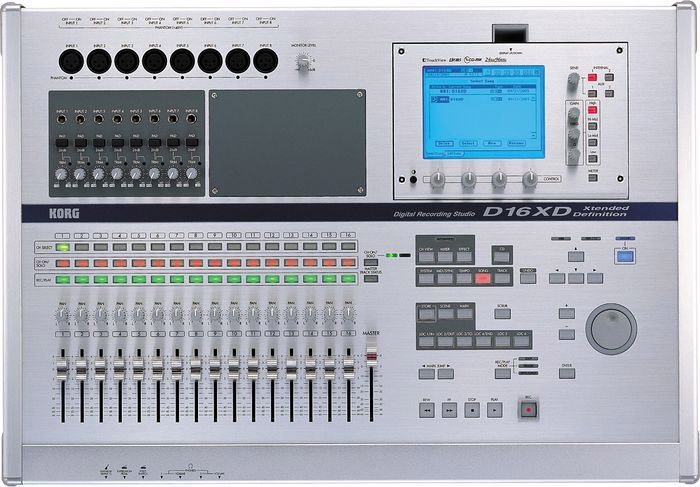 Xtended Definition Digital 16 Track Studio w/CD
Product Code 20840
Retail Price
$2600
Sale Price!
$995.00
Buy Today and Save $1,605.00 (62% from Retail)

We're sorry, this product is no longer available.
---
With the Xtended Definition series, Korg brings a whole set of professional features to its D-Series of digital recording studios. A stable of advanced mixing, editing, and recording features are complimented by a huge internal hard drive, a built-in CD-RW burner and a variety of performance enhancing options. Offering 96 kHz / 24 bit resolution, up to sixteen simultaneous record tracks and mix automation. The D16XD Digital Recording Studio is equipped to bring your creative ideas to life.

Brilliant Ergonomic Design
The D16XD is designed to provide unparalleled ease of use, the highest quality audio recording and processing available – and to look good doing it. The clean, stylish lines and uncluttered control surface are preserved thanks to the huge TouchView display that organizes a wealth of parameters and controls into easily accessed on-screen menus. This new display features enhanced resolution, a four-tone gray scale, and tilts up for easy viewing. The improvements to the display make it ideal for audio editing functions. Four dedicated knobs below the display provide permanent realtime access to the Effects parameters. Similar dedicated knobs and buttons for the individual EQs and Sends are located to the right of the display.

Supreme Audio Quality
Xtended Definition means that this new recorder features uncompressed, 96 kHz / 24-bit audio recording. Resolutions of 48 kHz and 44.1 kHz (both at 24 and 16 bit depths) are also supported. Digital processing quality remains at high levels throughout the mixer, effect and output stages. But digital excellence is not the end of the story. The D16XD also provides eight channels of fully programmable analog compression to the inputs, delivering a richness of tone and dynamic processing that cannot be duplicated by digital technology.

Modular Input Design
Eight XLR jacks, each with individual phantom power supply, only hint at the input possibilities. Eight 1/4" balanced jacks are also provided. Each input features a variable trim knob and a 24dB pad to accommodate almost any input source. By adding the optional eight channel analog input board (AIB-8) the D16XD can reach its full potential of 16 inputs. The optional analog compressor board (ACB-8) provides the same high quality compression to these extra inputs. For added convenience, the front panel offers a dedicated guitar input.

Tracks Galore
The D16XD support up to 16 tracks of simultaneous recording and playback.* Each track contains eight virtual tracks. New to the Xtended Definition series is a Master Track dedicated to creating your final stereo mix. The Master Track also features 8 virtual tracks, allowing you to make many alternate mixes in the same song. Just in case you're curious, that comes out to 144 total tracks for the D16XD. Wow!
*AIB-8 required.

Mixer Madness
The D16XD features a 40 input, 12 buss digital mixer with extensive EQ capabilities. Each of the 16 recorder channels features a full four-band parametric EQ with selectable hi and low shelving. The submixer inputs can accommodate 24 channels, each with hi and low shelving EQ, and a final eight band fully parametric EQ is available when recording to the Master Track. Channel pairing is also available with multiple pan control algorithms. Stereo Master, Monitor, Solo and Cue outputs, plus two internal effect busses and two aux busses round out the Mixer section.

Automation & Navigation
The mixer section of the D16XD can store 100 different mixer "scenes" and recall them automatically during playback. The TouchView screen can display the settings of each mixer scene. Locate points – six in all – are used to define edit points and loop points. An additional 100 "Marks" can be used to auto-locate back to any point in a song. You can even name each of the Marks to help remind you what part of your song they are pointing to.

Effects by the Boatload
The D16XD is a veritable wellspring of effect processing power. Up to eleven high quality digital effects are available simultaneously on the D16XD – 8 Insert Effects, two Master Effects (stereo) and one Final Effect (stereo). The icon driven display and dedicated control knobs combine to make effect routing, selection and editing a breeze. A palette of 52 effect types produces 128 preset effect program, and 128 user programmable effect programs. The effects programs are based on Korg's highly acclaimed REMS modeling technology. Footswitch and footpedal jacks on the front panel allow you to actually play and interact with the effects in real time.

Keep the Beat
As a metronome reference or to help you build up a track, the D16XD contains a library of over 200 PCM rhythm patterns. Tempo maps allow you to preset tempo (and pattern) changes at any point in the song. By tapping on the beat – or at the start of each measure – you can use Tap Tempo to control the tempo manually.

0
0
MPN: D16XD

Limitless Editing Abilities
Track editing is raised to new heights in these Xtended Definition digital recorders. You can swap, delete, move, bounce, normalize, copy, reverse – even fade tracks in or out. Expansion and compression tools allow you to shrink or stretch a track to fit into a specific time, with either fixed or variable pitch. Optimize commands include deleting recorded silent areas to recover valuable recording time, or removing punch in/out artifacts. You can also import and export track data as .WAV format audio files, with internal digital rate conversion, include 24 to 16 bit dithering. Once again, the huge TouchView display comes to the rescue, making it easy to zoom in on the displayed audio data and set your edit points with great accuracy. Change your mind? All edits (up to the last sixteen) can be reversed using the Undo command.

Put It All Together
After you've recorded to your heart's content, burn your creation to CD and give it a listen. Feeling prolific? Arrange multiple songs in order, specify the gap time between songs, and burn your CD all at once using the Album Project feature. Mark points can be used to create track indexes when burning a continuous performance (a live concert for example) to CD.

Studio Friendly
Designed to be at home in an increasingly digital studio environment, the D16XD recorder comes equipped with S/P DIF optical connectors for digital input and output. A two GB area of the internal hard drive is designated as the USB drive, which can be recognized by a computer connected to the D16XD's USB port for easy file sharing. An additional eight channels of digital I/O are available in ADAT light-pipe format by adding the optional Digital Interface Board (DIB-8). This option also includes a digital word clock input and output. Transport, fader movement, effect settings and other controls changes can be sent and received via MIDI. The D16XD can also send and receive MIDI Time Code (MTC) and MIDI Machine Control (MMC) commands and send MIDI Clock. Multiple frame rates are supported for MTC sync.


Operating temperature:
+5 – +40 °C (do not allow condensation)


Recorder section:
Number of tracks:
144 tracks (including virtual tracks), Simultaneous playback 16 tracks, simultaneous recording 8 tracks @ 48 kHz/44.1 kHz, 16-bit (If the AIB-8 is installed, 16 tracks of simultaneous recording), Simultaneous playback 16 tracks, simultaneous recording 8 tracks @ 48 kHz/44 kHz, 24-bit Simultaneous playback 8 tracks, simultaneous recording 4 tracks @ 96 kHz, 24-bit

Recording format:
24-bit/16-bit uncompressed, 44.1 kHz/48 kHz/96 kHz

Recording time:
44.1 kHz, 16-bit: maximum 152 hours, 96 kHz, 24-bit: maximum 40 hours
* when using a 40 GB hard disk

Number of songs:
100 songs per drive

Locate points:
Six points per song

Mark points:
100 points per song (marks can be named)

Metronome/Rhythm patterns:
265

MMC functions:
Transmitted and received

Synchronization:
MTC transmission/reception, MIDI Clock transmission, Tempo map (200 events per song), Sync track (one track per song), Tempo recording

CD-R/RW functions:
Internal CD-R/RW, audio CD writing (Track At Once, Disc At Once), backup/restore, audio file (WAV format) import (ISO 9660), system load

USB functions:
Backup/restore, audio file (WAV format) import/export (FAT16), system load

PC (USB) drive capacity:
2 GB

Track editing:
Copy (overwrite/insert), erase, delete, swap, reverse, optimize (normal/erase silence/erase punch noise), expand/compress, fade, normalize

Song editing:
Copy, move, delete, rename, protect, save now

Display format:
Calendar time, HDD remaining capacity, scene, mark, tempo map

Locate format::
Hour/Min/Sec.ms, Hour/Min/Sec.Frame, Meas/Beat/Tick



MIDI functionality:
Mixer control, effect control, MMC transmission/reception, MTC transmission/reception, MIDI Clock transmission


Mixer section:
Internal processing:
69-bit

Inputs:
40 channels (16 recorder channels, 24 sub-in)


Buses:
12 buses, 2 Eff Send buses, 2 AUX buses, 2 SOLO buses (stereo), 2 CUE buses (stereo), 2 MASTER buses (stereo), 2 MONITOR buses (stereo)

Equalizer:
Recorder channels 1–16, 4-band full parametric EQ, Sub Mixer channels 1–24, 2-band shelving EQ, Master track, 8-band full parametric EQ

Dynamics:
Analog compressor maximum 16 channels (when the ACB-8 is installed)

Scene memories:
100 scene per song


Effect section:
Internal processing:
56-bit

Structure:
Insert x 8 (maximum), Master x 2 (maximum), Final x 1, All usable simultaneously at 44.1/48 kHz


Programs:
128 preset, 128 user, 32 song

Algorithms:
52


General:
Display:
320 x 240 pixel, four-level grayscale, Movable LCD with backlight and touch panel

Power supply:
AC Local Voltage

Power consumption:
98 W (main unit only), 120 W (with AIB-8, ACB-8, DIB-8 installed) 56 W (main unit only), 70 W (with AIB-8, ACB-8, DIB-8 installed)

Dimensions:
26.85" (W) x 18.66" (D) x 7.28" (H)
682 mm (W) x 474 mm (D) x 185 mm (H)
(including protrusions)




Weight:
12 kg/26.46 lbs/12.5 kg/27.56 lbs (when the AIB-8, ACB-8 and DIB-8 is installed)


Principal specifications:
Frequency response:
10 Hz – 20 kHz ±1 dB @ fs 44.1 kHz, +4 dBu, 10 k? load; 10 Hz – 22 kHz ±1 dB @ fs 48 kHz, +4 dBu, 10 k? load; 10 Hz – 44 kHz ±1 dB
@ fs 96 kHz, +4 dBu, 10 k? load
S/N: 100 dB (typical) @ fs 44.1 kHz, 48 kHz, 24-bit, IHF-A; 103 dB (typical)
@ fs 96 kHz, 24-bit


Dynamic range:
100 dB (typical) @ fs 44.1 kHz, 48 kHz, IHF-A; 103 dB (typical) @ fs 96 kHz, 24-bit

THD+N:
0.03% (typical) 20 Hz–20 kHz @ fs 44.1 kHz, 48 kHz, 24-bit,
+16 dBu,10 k? load; 0.03% (typical) 20 Hz–40 kHz @ fs 96 kHz, 24-bit, +16 dBu, 10 k? load


A/D conversion:
24-bit 64 times oversampling

D/A conversion:
24-bit 128 times oversampling

Sampling frequency:
Internal: 44.1 kHz, 48 kHz, 96 kHz;
External: 44.1 kHz±6%, 48 kHz±6%, 96 kHz±6%

Record/Playback bit:
16-bit, 24-bit


Analog/digital input and output specifications:



INPUT 1–8:
Connectors:
XLR-3-31 type (+48 V phantom power, switchable), 1/4" TRS phone jack (balanced)

Input impedance:
4 k§Ù (XLR-3-31), 10 k§Ù (TRS phone jacks)

Nominal level:
–60 dBu to –12 dBu @ TRIM=max. – min. PAD OFF; –34 dBu to +14 dBu @ TRIM=max. – min. PAD ON

Maximum level:
–48 dBu to 0 dBu @ TRIM=max. – min. PAD OFF; –22 dBu to +26 dBu @ TRIM=max. – min. PAD ON

Source impedance:
600 §Ù


INPUT 9–16:
* If the 8-channel analog input board (AIB-8) is installed

Connectors:
1/4" TRS phone jack (balanced)


Input impedance:
10 k§Ù

Nominal level:
–60 dBu to –12 dBu @ TRIM=max. – min. PAD OFF; –34 dBu to +14 dBu @ TRIM=max. – min. PAD ON

Maximum level:
–48 dBu to 0 dBu @ TRIM=max. – min. PAD OFF; –22 dBu to +26 dBu @ TRIM=max. – min. PAD ON

Source impedance:
600 §Ù


ANALOG COMPRESSOR:
Threshold level:
0 to –40 dB

Ratio:
1.5:1 to inf:1

Attack time:
1 to 200 mS

Release time:
10 mS to 10 S

Out gain:
±20 dB


GUITAR INPUT:
Connector:
1/4" phone jack (unbalanced)

Input impedance:
1 M§Ù

Nominal level:
–60 dBu to –12 dBu @ TRIM=max. – min. PAD OFF; –34 dBu to +14 dBu @ TRIM=max. – min. PAD ON

Maximum level:
–48 dBu to 0 dBu @ TRIM=max. – min. PAD OFF; –22 dBu to +26 dBu @ TRIM=max. – min. PAD ON

Source impedance:
600 §Ù


MASTER OUTPUT L/R:
Connectors:
1/4" phone jack (unbalanced)

Output impedance:
150 §Ù

Nominal level:
+4 dBu

Maximum level:
+16 dBu

Load impedance:
10 k§Ù or higher


MONITOR OUTPUT L/R:
Connectors:
1/4" phone jack (unbalanced)

Output impedance:
150 §Ù or higher

Nominal level:
+4 dBu

Maximum level:
+16 dBu

Load impedance:
10 k§Ù or higher


AUX OUTPUT 1–4 [*1, 2]>:
Connectors:
1/4" phone jack (unbalanced)

Output impedance:
150 §Ù

Nominal level:
–10 dBu

Maximum level:
+2 dBu

Load impedance:
10 k§Ù or higher


PHONES 1, 2:
Connector:
1/4" stereo phone jack

Output impedance:
100 §Ù

Maximum level:
50 mW @ 32 §Ù


S/P DIF INPUT/OUTPUT:
Connector:
Optical

Format:
24-bit S/P DIF (IEC60958)


USB:
Connector:
Type B

Format:
Slave, USB 1.1 compliant

Supported OS:
Window Me, Windows 2000 or later; Mac OS 9.0.4 or later * If using the D16XD with Windows 98, please refer to the Korg website or contact your Korg distributor.


ADAT INPUT/OUTPUT:
* If the ADAT I/O board (DIB-8) is installed :


Connectors:
Optical

Format:
ADAT Type I/II format


WORD CLOCK INPUT/OUTPUT:
* If the ADAT I/O board (DIB-8) is installed:


Connectors:
BNC

Format:
TTL/75 §Ù


MIDI IN/OUT:
Connectors:
DIN 5-pin x 2


FOOT SW:
Connector:
1/4" phone jack (use separately sold PS-1)


EXPRESSION PEDAL:
Connector:
1/4" stereo phone jack (use separately sold XVP-10 or EXP-2)

Included items:
AC cable, Owner's manual

Separately sold options:
PS-1 pedal switch, XVP-10 EXP/VOL pedal, EXP-2 foot controller, 8-channel analog compressor board (ACB-8), 8-channel analog input board (AIB-8), ADAT I/O board (DIB-8)

Specifications subject to change without notice.

leys
---
Related Products
Product Code
68067

Description
Two 8 inch Powered Studio Monitors

$399.00 Add to cart

Product Code
43959

Description
Classic Large-Diaphragm Cardioid Condenser Microphone

$349.00 Add to cart

Product Code
g25

Description
Gift Certificate (may be purchased in multiple amounts)

$25.00 Add to cart
Korg
D16XD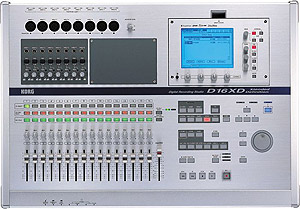 Xtended Definition Digital 16 Track Studio w/CD
MPN #: D16XD
UPC #:
Regular price: $2600 $995.0000 Available from: 8th Street Music Condition: New Out of Stock