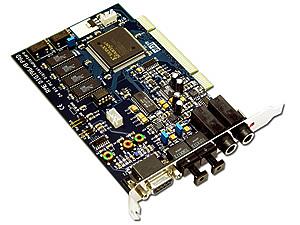 24 Bit/96 kHz Digital/Analog PCI Card
Product Code 20856
Retail Price
$529
Sale Price!
$399.00
Buy Today and Save $130.00 (25% from Retail)

We're sorry, this product is no longer available.
---
DIGI96/8 PAD is the ultimate audio interface for Mac and PC. When using headphones the stepless volume fader control is very convenient, and in ADAT® mode the analog output can be routed to each of the 4 stereo pairs. An optional breakout cable adds professional AES/EBU connectivity using XLR-connectors.

Despite being built into a computer the card reaches stunning 112 dBA SNR! Professionals will enjoy the easy way to change the Emphasis bit and immediately listen to the changes in sound on the analog output. Playing back encoded AC-3 streams is compatible to every AC-3 decoder by setting the 'Non-Audio' bit.

The optional Expansion Boards (EXB) turn the DIGI96/8 into a fully analog version, with 4 or 8 analog inputs and outputs in exceptional quality. The optional Word Clock Module (WCM) adds word clock input and output, a unique test and 'house clock' mode. And our latest TDIF Expansion (TEB) lets you use the card as TDIF interface as well.

Last but not least: The DIGI96 series includes DIGICheck, the ultimate measurement, analysis and test tool!

The DIGI96 series offers drivers for Windows 95/98 (MME, multi-DirectSound, ASIO 2.0, GSIF, DS/MME/ASIO/GSIF multi-client operation), Windows NT (MME with multi-client operation, ASIO 2.0), Windows 2000/XP (MME, ASIO 2.0, GSIF, MME/ASIO/GSIF multi-client operation), Mac OS 9.x (Sound Manager and ASIO 2.0), Mac OS X (Core Audio), and Linux (OSS and ALSA.)

DIGI96/8 PAD is also available as Broadcast version, offering an analog input and output level of +6 dBu and 9 dB headroom (+15 dBu @ 0 dBFS.)

SETTINGS
Simply click on the DIGI symbol in the systray of the taskbar and the settings dialog of the DIGI96/8 PAD comes up. The clear structured, easy to understand window plus the unique informative status displays for input and output make your work with the DIGI96/8 PAD to a real pleasure. With a simple mouse click (or a freely configurable key shortcut) you gain access to the full power of your card.

RME's Settings dialog shows installed and active DIGI96® series' cards, according to their numbering in the system. Therefore even in multicard usage you'll always know which wave device belongs to which card.
0
1
TECHNICAL SPECIFICATIONS AND FEATURES

Supported sample frequencies: 32 kHz, 44.1 kHz, 48 kHz, 64 kHz, 88.2 kHz, 96 kHz
All settings changeable in realtime, all output options even in playback mode
Separate record- and playback circuits; complete master mode
Enhanced Full Duplex: Different sample rates at input and output possible
Mixed Mode: ADAT® in - SPDIF out and vice versa at full synchronization
AutoSync: Automatic and intelligent master/slave clock control
Unsurpassed Bitclock PLL (audio synchronization) in ADAT® mode
Optional Word Clock Module (WCM) provides word clock input and output
TMS (Track Marker Support): Supports CD/DAT start-IDs and the read out of CD subcode
Comes with DIGICheck: the ultimate measurement, analysis and test tool
Unique status windows for record and playback, showing mode and sample rate
Zero Latency Monitoring: Hardware bypass per track, controlled by Punch-in/out
AutoSelect searches automatically for an input with valid signal
Combined Channel Interleave/Multi Device driver compatible to almost all recording programs
Complete interrupt-sharing
Windows driver with Pentium® optimization (quad times memory transfer)
High bus transfer rate (up to 130 MByte/s)
Digital inputs and outputs ground-free transformer coupled
Super low jitter design: < 1 ns in PLL mode (44.1 kHz, optical in)
32 bit memory transfer and 128 kB fast SRAM guarantee very low system load
Analog input +4 dBu/-10 dBV configurable
Superior analog 24 bit/96 kHz input. Dynamic range 109 dBA
Flexible superior analog 24 bit/96 kHz monitor output. Dynamic range 112 dBA
Low impedance output (75 ohm) ready for headphones, stepless output level through software faders
Speaker Protection minimizes noise during power on/off
Analog output routable to ADAT® tracks
Digital I/O: optical (TOSLINK), coaxial (phono), internal (CD-ROM/Sync-I/O). Optional breakout cable (not included in standard version)
provides AES XLR connection.
Formats SPDIF-AES/EBU (Consumer, Professional), ADAT®
UNIQUE TECHNOLOGIES IN HAMMERFALL DSP

AutoSync
Intelligent clock control according to operational mode and present/desired sample rate.

Bitclock PLL
The most reliable receiver circuit for ADAT optical signal.

Dynamic Bus Utilization
Scalable computer load according to the current usage.

Enhanced ZLM®
Monitoring of the input signal, independent from clock mode and sample rate.

Intelligent Clock Control
Measurement and display of all incoming and used clocks.

Latency Fast Change
Change latency on-the-fly under ASIO, without manual reset or re-boot.

SyncAlign®
Surveillance and sample accurate synchronization of all channels.

SyncCheck®
Comparison and display of all input clock status.

Zero Latency Monitoring (ZLM®)
Automatic monitoring of the input signal with zero latency.

DIGICheck DSP
Professional status and level display at lowest CPU load.



Stereo Level Meter, Multichannel Level Meter, Global Level Meter, Spectral Analyser, Vector Audio Scope, Correlation Meter, Totalyser, Bit Statistics & Noise. Unlimited number of simultaneous measurment functions, unbelievable configuration options, stellar accuracy.

Includes Samplitude 6 Master FREE!!!

Samplitude Master is targeted at CD mastering and 2 track WAV editing. A steadily increasing number of recording studios want to master their recordings themselves. Sarnplitude Master was especially designed for them, offering high-end mastering capable CD burner functions (DAO) including CD Text, ISRC, UPC sub-index, CD extra, and more. Sample rates of up to 192 kHz make this program ideal for DVD Video, DVD audio and DSD. Digital reading of audio CDs from the CD-ROM drive is also possible.

The clearly organized File Manager sorts out your data chaos. All necessary edging functions, audio effects and import /export formats are included in the program. Enjoy comfortable wave editing including quick cuts, and a huge selection of high quality audio effects.

Samplitude Master - for wave editing and CD-production

Features:

CD/DVD mastering, audio editing
4 tracks stereo or mono)
32 bit float sound quality internal resolution
Recordings up to 24 bit / 192 kHz
Multi-band dynamics and stereo FX in the mixer master section and offline
Object editor featuring real-time effects EQ, dynamics, Direct X
Support of all sound cards through 16 bit, 24 bit, or 32 bit WAV driver
Auto Crossfade mode, variable real-time crossfades
Cut/copy paste for objects
Freely definable keyboard shortcuts
Cut/copy and drag & drop operations between projects
Different `Lock' and 'Move Object' options
Automation curves for volume, panorama, surround and MIDI controller
---
RME Audio
DIGI96/8 PAD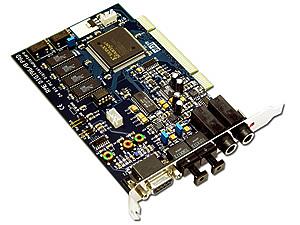 24 Bit/96 kHz Digital/Analog PCI Card
MPN #:
UPC #:
Regular price: $529 $399.0000 Available from: 8th Street Music Condition: New Out of Stock