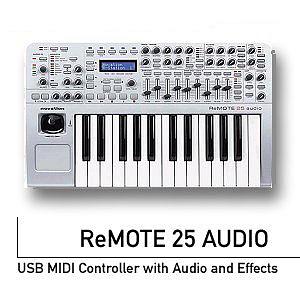 USB MIDI Software Controller/Audio Interface w/Abelton Live & Cubasis SE Bundle
Product Code 21743
Retail Price
$1099
Sale Price!
$749.00
Buy Today and Save $350.00 (32% from Retail)

We're sorry, this product is no longer available.
---
2-Octave MIDI Controller with Semi-Weighted and Aftertouch responsive Keyboard, in-built K-Station Synthesizer engine, 2-Channel Audio and 2x Digital Multi-FX
Here it is, the most highly specified two octave USB MIDI controller keyboard with integrated audio and effects that you can get your hands on. Ideal for use with your laptop or studio set-up, the new ReMOTE 25 Audio Xtreme is bursting with the kind of high quality features, flexibility and real control you've come to expect from Novation. It'as all in the box, great sound making capabilities, awesome controller features, sequencing software and audio editing!

A semi-weighted two octave keyboard action with aftertouch.
At the heart of the ReMOTE 25 Audio is a superb action semi-weighted with aftertouch keyboard. Unlike many controllers on the market you can play your favourite software/hardware synth or sampler with the care and precise control that can make a huge difference to the final performance.

Awesome Sound Modelling - A Complete K-Station Synth Built-In!
The ReMOTE 25 Audio Xtreme features a full K-station synth which features three of the most powerful oscillators around, each providing the classic waveforms and a sine wave for those sub-bass floor-shaking grooves. Plus it gets waveform 'doubling' for mega phatt sounds with no loss of polyphony. FM algorithms take care of the metallic and percussive sounds and for even more sound making options, external audio can be used as an oscillator source waveform or processed through the mixer, filter and envelope sections.
The K's filters are no less impressive.
Genuine Novation Warm Liquid Filters deliver the rich, warm sound of an analog filter. Selectable low-pass, 12dB or 24dB cut-off curves with resonance and overdrive make it easy to recreate anything from a distorted TB303® to a tightly rounded bass patch.

Performance Enhancing
There's a stellar arpeggiator. Combine it with the two LFO's to create jaw-dropping complex audio motion effects. Sync them to MIDI or to signals generated from an external audio source. And if you like that, you'll die when you use and experience the power of the the funky 12 band vocoder. - Robot and talky effects are a snap.
In short, the 'Xtreme's sound modelling capabilities are matched only by it's bigger brothers in the Novation range.
Plus, with a K-Station, you get the control.
0
0
Astonishing Software Bundle
Included with the ReMOTE 25 Audio Xtreme is some of the coolest software around.
Novation - Abelton Live - A real-time audio production solution that eliminates the boundaries between composition, performance, recording and sound design. Easily combine loops, phrases and songs from diverse origins. Create music on the fly, without being bound to a fixed timeline. Improvise song arrangements, instantly drop samples on cue, interact with other performers, musicians or DJs. Record multi-track audio or real-time loops. Instantly change the tempo, melody, groove and sonic signature of your sounds at any time. Enter your samples and work 'from within' to create endless variations.

Steinberg Cubase SE
With its VST and ASIO interfaces, Cubase SE offers exceptional flexibility that has set standards in sequencing. If you can do without features such as surround sound or a variety of automation modes, Cubase SE is an great solution that delivers everything you need.

Novation V-Station VST plug-in
The V-Station gets the same real 3 oscillator flexibility as the award winning K-Station, awesome liquid analog filters, 8-voice polyphony, rippin' simultaneous FX and the kind of phatt sounds only a genuine Novation synth can offer. It's got masses of sophistication, acres of program locations and the flexibility of integrating it with your favourite sequencer / disc-based recording set-up. More

X/Y Touchpad for total expression
A touch sensitive pad is conveniently located next to the keyboard and may be programmed to control multiple parameters in the X and Y direction. Imagine for example, setting a distortion amount and a pan position on the left to right movement and an LFO speed and filter cut-off on the top to bottom movement - Total creative control.

Ergonomic Programmable Pitch and Modulation Mechanism
A slick and beautifully designed pitch and modulation control mechanism allows for realtime performance. A switch on the base of the keyboard allows for the modulation (front to back) travel to be static or spring loaded for individual preference. The hand grip is rubberised for maximum ergonomic feel.

Dedicated Transport Controls
For your favourite sequencer control, be it Reason, Digital Performer, Cubase, Logic or Sonar, the dedicated transport controls make the repetitive process of stop, start and record a breeze. If a specific sequencer template is called up, other buttons perform alternative common tasks such as locator marks and track creation.

Backlit two line LCD
A bright backlit two line silver and blue display feeds back all the important control information whether it be the name of the template selected or the name and values of any controls.

Synthesizer layout grouping of controls
No need to place template labels over controls when tweaking your favourite hardware or software Synthesizer. The main control panel comprising 28 buttons, 16 pots, 3 encoders and 9 sliders is ergonomically designed such that every parameter may be quickly and easily edited. All controls can be named and memorised as a collection and given a group template name. They can then be saved in any one of the template memories. - See right for the complete front panel.

Massive set of templates containing over 150 parameters
To get up and running fast, the ReMOTE 25 Audio Xtreme is shipped with dozens of electronic templates preset to control popular hardware and software products. Templates may be personalised for a specific way of working by combining any data from any preset to create an entirely new templates which of course can be named and saved. The complete list is shown in the following table. New tables will be available for download as they become available from the Novation web site.

Pristine quality audio preamps and effects section.
Whether making music on the move or in the studio, the addition of two high quality mic / line preamps and two multi-effects processors completes the package. Just plug into the laptop or the desktop computer and begin recording using your favourite sequencer! The two warm, ultra low noise, high bandwidth audio preamplifiers with phantom power add that special something to the input signal be it a microphone or instrument. Signals as high as +10dBm. (7 Volts Peak to Peak) and as low as -60dBm (2.2 millivolts) are effortlessly handled before being fed to the digital world through the onboard twin 24 bit A/D converters.

Simultaneous Multi Effects
Two multi-effect processors provide simultaneous Reverb,Chorus-Phaser,Delay, Compression, Distortion and EQ.
following the audio input preamp. Effects may listened to and recorded by the sequencer or listened to and recorded 'dry'. Using the effects processor, an artist may record for example with reverb and delay in the headphone mix without using any of the sequencers effects or an additional outboard effects unit.

Independent headphone control
In a typical project studio setup recording often takes place in a single room. During a 'take' headphones are used and then the results of listened to by the 'in room' monitor loudspeakers. Independent rotary control over loudspeaker and headphone levels makes the process of record and listen to playback effortless. - Powered monitor loudspeakers may be connected directly to the audio outputs along with a pair of headphones - no need for any additional hardware mixer.
And as the ReMOTE 25 Audio Xtreme has dual built-in multi-FX processor you can monitor vocal recording 'live' with FX such as reverb even when recording the vocals 'dry' - no need for external mixers and effects processors! - see below.

Recording and listening with Effects
Most modern software audio sequencers allow the input signal to be monitored with low latency but this is only a copy of the whatever is plugged into the audio input(s).

An outstanding feature of the ReMOTE 25 Audio Xtreme is the ability to record and /or monitor complete with effects such as Reverb without the need for an external hardware effects box. This is particulary useful when recording vocals since the artist will normal prefer an amount of reverb in the headphones during a performance. It usually will help him/her to envisage a live situationwith some ambience in the room.

There are three options with regard to monitoring and recording the effects.

1. Bypass
This option will disable the effects section and the computer system will record any audio data 'dry' - that is, an amplified version of the signal appearing at the audio inputs. Any monitoring of the signal by headphones or on the main left and right outputs will also be 'dry'

2. Listen & Record
This option will enable the effects section and the computer system will record any audio data 'wet' - that is, an amplified version of the signal appearing at the audio inputs together with any of the audio effects (such as reverb). Any monitoring of the signal by headphones or on the main left and right outputs will also be 'wet'

3. Listen & Record (Listen wet and Record Dry)
This option will enable the effects section BUT the computer will record any audio data 'dry' - that is, an amplified version of the signal appearing at the audio inputs. Any monitoring of the signal by headphones or on the main left and right outputs will be 'wet'. This would be considered as a very useful option when, for example, recording a voice the signal can be recorded 'dry' but the artist will be able to listen (monitor) his or her performance with effects applied.

MIDI, Audio and power in just one cable!
Finely tuned software drivers that link the integrated USB Audio and MIDI make for very low latency recording and playback. Press a key on the ReMOTE and instantly hear the selected Plug-In - No non-musical latency delays. No more hassle with multiple connection leads and wall wart power cables - just plug in the USB cable and go.

Plenty of re chargeable portable power
The ReMOTE 25 may be powered by 6 C size batteries and if re-chargeable types are fitted they will be charged when the unit is plugged into the USB port or when used with an external PSU. Battery operation allows for true 'on the move' use. Playing time can be over 12 hours when using alkaline type batteries or when fully charged.

Built In USB / MIDI Interface
No need to purchase a separate MIDI interface. The ReMOTE 25 provides two MIDI Out ports and one MIDI In port. Information originating from the ReMOTE keyboard or its controls can be sent directly to the USB port and / or any of the MIDI out ports. The MIDI ports can be used to integrate the rest of your MIDI gear into your computer system.

Runs on Windows XP and MAC OS X
For ease of use combined ASIO low latency audio and MIDI software drivers are included for PC's running Windows XP and MAC running OS X.
---
Novation
ReMOTE 25 Audio XTREME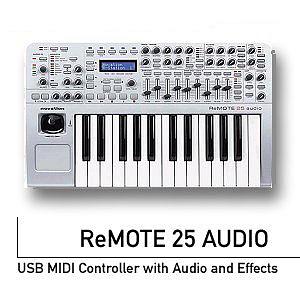 USB MIDI Software Controller/Audio Interface w/Abelton Live & Cubasis SE Bundle
MPN #:
UPC #:
Regular price: $1099 $749.0000 Available from: 8th Street Music Condition: New Out of Stock