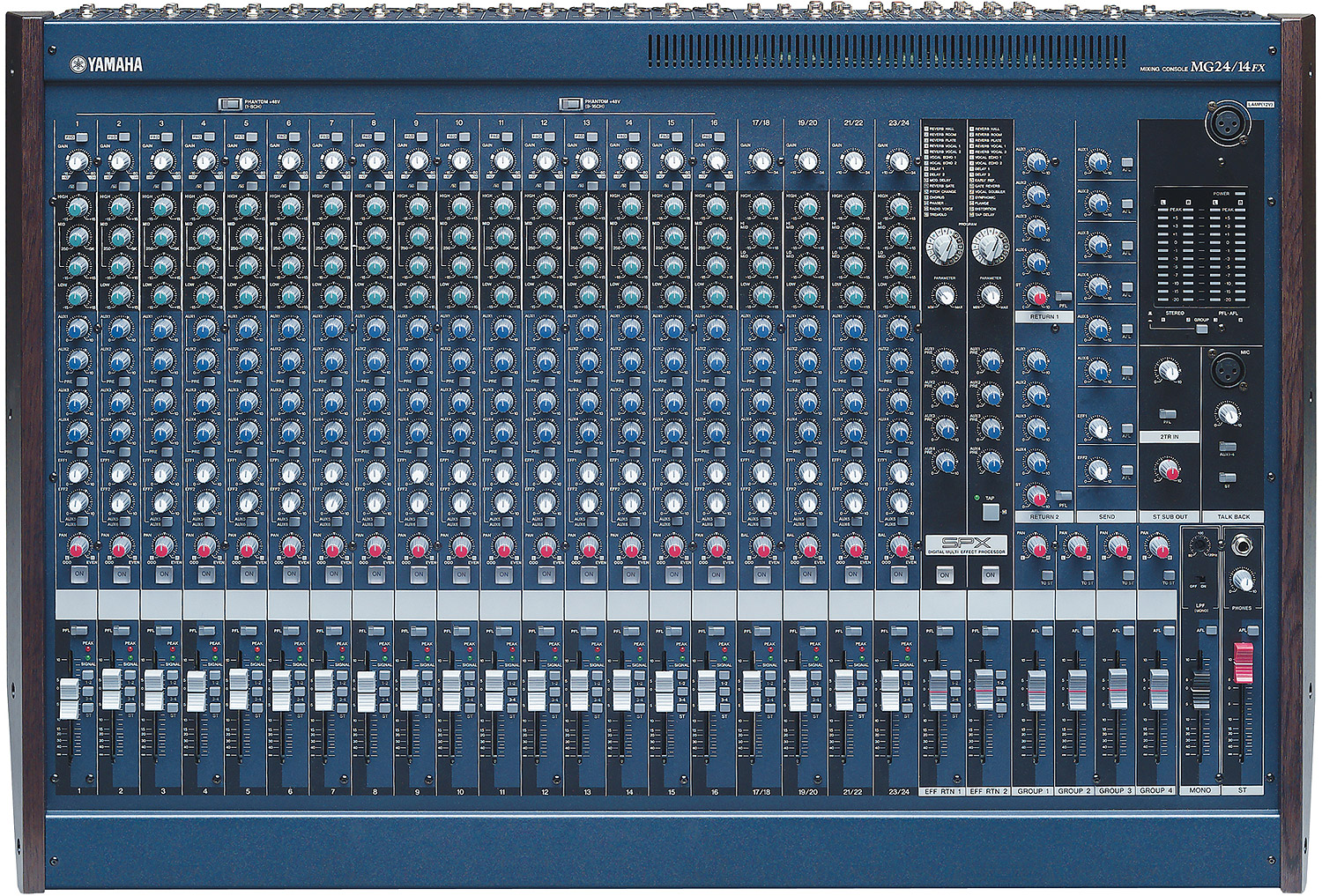 24 Input 14 Bus Mixer with Dual EFX
Product Code 21778
Retail Price
$1249
Sale Price!
$769.99
Buy Today and Save $479.01 (38% from Retail)

We're sorry, this product is no longer available.
---
The MG 24/14FX and MG 32/14FX are serious mixers, able to meet the toughest live sound challenges. Choose either the 24 input MG24/14FX or the 32 input MG32/14MX according to your needs. The MG24/14FX is equipped with 16 mono mic/line channels with phantom power, while the MG32/14FX has 24. Both mixers feature 4 stereo input channels, dual digital effect systems on-board with a selection of 16 pro-quality SPX effects, inserts on all mono channels, and 3-band EQs with a sweepable midband and switchable hi-pass filter provided on all input channels. Additionally, the main mono output as a sweepable low-pass filter, so that it can be used to feed a subwoofer. If you need a high-performance analog mixer for music production or sound reinforcement, the Yamaha MG Series is the first -- and last -- place you should look.
0
0
MPN: MG2414FX
UPC: 086792658957

Serious Capacity For Sound Reinforcement & Installations
If your application is live sound reinforcement, you'll want all the channel capacity you can get - just in case. Vocal mics, instrument mics, stereo keyboards, direct-injection feeds, drum mics, and the rest can add up very quickly. With 24 and 32 input channels, respectively, the MG24/14FX and MG32/14FX are ready to handle all but the most ambitious sound-reinforcement setups. And with dual SPX digital effect systems on-board, you won't need racks of outboard gear to get the sound you need. There's also a comprehensive range of group and auxiliary busses to make even complex mixes easy.

24 or 32 Input Channels
Choose either the 24-channel MG24/14FX or the 32-channel MG32/14MX according to your needs. All other features are the same. The MG24/14FX has 16 mono microphone/line channels while the MG32/14FX has 24. Both offer four stereo line channels in addition to the mono mic/line channels.

Low-noise, High-precision Mic Preamps With Phantom Power
All 16 mic preamps in the MG24/14FX and all 24 mic preamps in the MG32/14FX are of exemplary quality. They offer low-noise, transparent amplification with the widest possible range of dynamic and condenser microphones, which adds up to cleaner, better-sounding mixes. All mic preamps feature switchable phantom power for phantom-powered studio condenser microphones. Phantom power is switchable in 8-channel groups.

Illuminated Switches
Illuminated ON (channel), PFL (Pre-Fader Listen), and phantom-power switches let you confirm critical console settings at a glance.

14 Buses In All For Flexible Signal Routing
In addition to lots of input channels, live sound reinforcement applications usually demand a number of additional mixes - usually in the form of group sub-mixes and aux sends for external signal processing and monitor mixes. In both the MG24/14FX and MG32/14FX you have a total of 14 mix buses: the main stereo program bus, four stereo group bus pairs for convenient channel grouping, six auxiliary busses (four configurable for pre- or post-fader operation and two set up as effect sends), and two internal effect busses that feed the dual high-performance built-in effect processors.

Insert I/O
All mono input channels feature insert I/O patch points so you can insert compressors, EQ, or other extra signal-processing gear into the channel signal path as required.

3-band Mid-sweep Channel EQ and HPF
The 3-band equalizers with a sweepable midband provided on all input channels are designed for exceptionally smooth, intuitive response that can help you to create cleaner, tighter mixes. All mono microphone input channels also feature a switchable high-pass filter that can be used to cut out unwanted low-frequency noise.

Dual SPX Digital Effects
In the MG24/14FX and MG32/14FX you have not one, but two high-performance digital signal processing stages, fed by separate effect buses, so you can enhance your mix with two separate effects at the same time. And the effects are provided by the very latest Yamaha DSP technology - you know you're getting the best. Each stage provides a selection of 16 professional - quality SPX digital effects, including reverb, delay, pitch change, chorus, phasing, vocal doubling, distortion, and more. Parameter controls that can be adjusted to tailor the effects to your sonic requirement are also provided and Tap delay makes it easy to produce tempo-synchronized delays.

Talkback Input
Communication capability is important for efficient setup as well as for keeping a show running smoothly. The MG24/14FX and MG32/14FX both feature a talkback system that allows the FOH engineer to communicate with the monitor engineer, performers, or other staff to keep the team operating at optimum efficiency.

Balanced XLR Stereo and Mono Outputs
Professional connectivity is provided by reliable XLR-type balanced stereo and mono outputs.

Sweepable LPF for Mono Out
One of the many uses for a mono output is to drive a subwoofer system. The MG24/14FX and MG32/14FX make this easier than ever with a built-in sweepable low-pass filter on the mono outputs.
---
Yamaha
MG24/14FX
24 Input 14 Bus Mixer with Dual EFX
MPN #: MG2414FX
UPC #: 086792658957
Regular price: $1249 $769.9900 Available from: 8th Street Music Condition: New Out of Stock