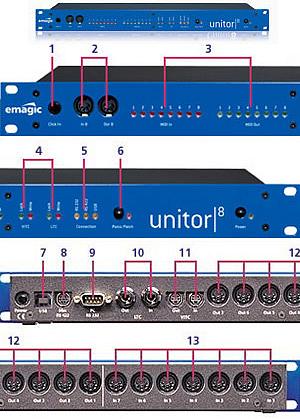 professional MIDI interface
Product Code 23032
Sale Price!
$499.95
We're sorry, this product is no longer available.
---
Emagic's Unitor8 MkII is the ideal communications center for the professional studio. When it is necessary to integrate tape and video machines, timecode DATs, and mixer automation with a large MIDI rig, the Unitor8 MkII is the obvious choice. Emagic's proven Active MIDI Transmission (AMT) technology provides particularly exact timing at all MIDI ports, even in a stacked system. An external click input makes it possible to drive Logic Audio from a percussive audio signal Ö for example, control the tempo of the sequencer with a previously recorded rhythm track. Not only an interface and synchronizer, the Unitor8 MkII is also a versatile MIDI patch-bay; step between programmable patches with a footswitch or select from up to 32 patches via MIDI program change commands. In the unlikely event of notes sticking while in patch mode, the panic button will quickly fix the problem. Compatible with your professional requirements both now and in the future, the Unitor8 MkII also features an updateable operating system.

The Unitor8 MkII reads and writes SMPTE timecode as LTC and VITC. The precision sync processor built into the Unitor8 MkII is capable of reading the LTC code from a master tape machine at even 10 times the original tape speed. Using VITC is desirable when the sequencer needs to be synchronized to video with frame accuracy; the Unitor8 MkII provides this frame accurate synchronization at all times, even during fast-forward and rewind. Thanks to the video in and output, you can insert a timecode display into the video with variable position and size Ö even in LTC mode. These features plus the advantage of ultra short lock times make Emagic's Unitor8 MkII highly desirable in all production environments where intuitive workflow is as important as the time you will save.

Stackable and Compatible
The Unitor8 MkII is fully compatible with any standard MIDI software under Mac and Windows 95/98 (drivers for Windows NT and Windows 2000 are in development). With its full set of connectors such as USB for Mac and Windows, RS232 (Windows) and RS422 (Mac), the Unitor8 MkII quickly fits into any computer environment. Up to eight* devices can be stacked and they will function like one big 64x64 MIDI interface (Mac: Emagic software or Unitor8 OMS driver required) with AMT** to ensure razor-sharp timing on every port. Unitor8 MkII, AMT8 and the Unitor8 can be combined in any combination; this allows, for example, the connection of a Unitor8 without USB to a computer with USB via an AMT8.
1. Click In
This 1/4" jack allows an audio signal, for example a metronome click or kick drum sound from a drum machine to be the system's synchronization source. Additionally, a (double) foot switch or pedal can be connected and assigned to send any MIDI event.

2. In 8, Out 8
The last MIDI Input and Output of the Unitor8 MKII is located on the front panel of the unit. This allows for problem free connections with other MIDI devices and guest keyboardists.

3. MIDI Indicators
Each MIDI Input and Output has a corresponding LED on the front panel. This provides an easy overview of the MIDI activity within the system.
4. Indicators for VITC and LTC
VITC and LTC LEDs indicate if time-code in these formats is being generated or read. Time-code generation is controlled via the supplied software or from within Emagic's Logic software.

5. USB/RS 422 (Mac)/RS 232 Support
The connection lights indicate whether a Macintosh (RS 422), RS 232 or a USB compatible machine communicates with the Unitor8 MKII.
6. Panic/Patch Button
A quick press of this button will send an all notes off message through all MIDI ports of the Unitor8 MKII, cancelling any stuck notes (panic function). Holding the button down toggles the Unitor8 MKII between its computer mode and its patch mode. Patch mode allows the Unitor8 MKII to act as a stand alone MIDI patch bay without a connection to a computer. Up to 32 patches can be accessed via MIDI program change events or a connected footswitch.
7. USB
The USB connection to your computer. Connect additional Emagic MIDI interfaces via RS-422 (further interfaces alternating via RS-232 and RS-422, up to a total of eight units).

8. Mac RS 422
Use this port to connect Unitor8 MKII with a Macintosh via the modem or printer port. You can connect additional Emagic interfaces via RS-232 (further interfaces alternating via RS-422 and RS-232, up to a total of eight units).
9. RS 232
Use this port to connect Unitor8 MKII with a com port. You can connect additional Emagic interfaces via RS-422 (further interfaces alternating via RS-232 and RS-422, up to a total of eight units).

10. LTC In/Out
Use these 1/4" jacks to read or write SMPTE timecode to an audio track.
11. S-Video In/Out (Rear Panel)
Video devices are connected via these ports in order to read or write SMPTE for VITC. In addition, time-code can be displayed within the video picture during SMPTE for LTC synchronization (time-code video burn-in).

12. MIDI Out 1-7
MIDI Outputs 1 to 7.

13. MIDI In 1-7
MIDI Input 1 to 7.
0
1
Mac compatible: Directly supported via Logic Audio and SoundDiver, OMS, MTP emulation.

Windows 95/98 compatible (MME): MME compatible multi-client MIDI driver (multiple MIDI programs can use different MIDI ports simultaneously),Drivers for Windows NT and Windows 2000 are now available.

AMT in conjunction with AMT compatible software (e.g. Logic Audio)

8 independent MIDI Inputs with Activity LED

8 independent MIDI Outputs with Activity LED

RS-422 connection for Macintosh

RS-232 connection for PC

USB connection

8 units per port* (mixed AMT8/Unitor8/Unitor8 MkII systems possible)

Stand alone operation with 32 Patches

Connection Activity LEDs (Mac/PC/Network)

Panic/Patch button

Unitor8 Control software for Mac/Windows 95/98 included

External Power Supply included

LTC/VITC Generator and Reader with extremely short lock times

LTC sync at 12-1000% original tape speed Ö also during rewind!

VITC synchronization during single frame advance forward/backward

Timecode Video Burn-In Ö also during LTC Sync

Timecode Refresh function, adjustable Freewheeling, Jam Sync function

Adjustable MTC Full Frame Message (e.g. for ProTools or Paris)

Operating system can be updated via SysEx

Input for audio trigger signal or single/double foot switch

LTC/VITC read and write control LEDs

LTC In and Out, 1/4 in. jacks

VITC In and Out, S-Video connectors

Technical Description

System Requirements Windows
Serial operation: Windows 95**/98/98 SE/Me/NT 4.0/2000

USB operation: Windows 98 SE/Me* and a USB 1.1 compatible computer connection

K6/Pentium or better recommended

Free COM port (1-4) or USB port

* USB support under Windows 2000/NT4.0 in preparation.
** Windows 95 supports max. 11 MIDI ports.

System Requirements Macintosh
Serial operation: Mac OS 7.5.3 or higher

USB operation: requires Mac OS 9.0.4 or higher and a USB 1.1 compatible computer connection

Direct connection to Logic (4.04 or newer) and SoundDiver (2.08 or newer) without OMS

Power Mac with 3 MB free RAM or better

Free modem, printer or USB port
---
Related Products
Product Code
g25

Description
Gift Certificate (may be purchased in multiple amounts)

$25.00 Add to cart

Product Code
8181

Description
4 Meter Dual MIDI Cable, Dual 5-pin DIN to Dual 5-pin DIN

$16.95 Add to cart
Emagic
Unitor8mkII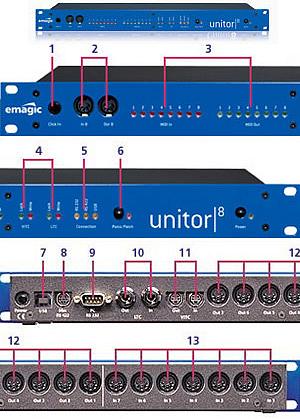 professional MIDI interface
MPN #:
UPC #:
Regular price: $ $499.9500 Available from: 8th Street Music Condition: New Out of Stock