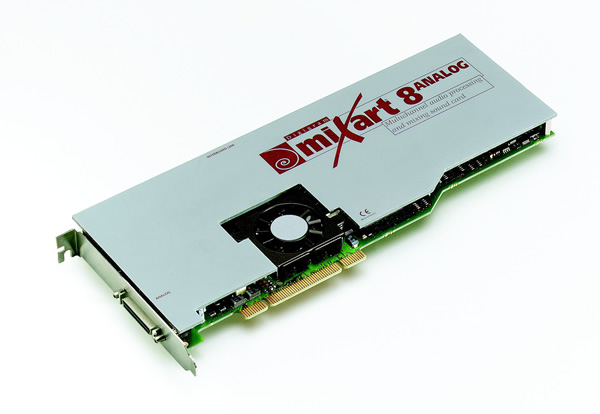 Pristine PCI Card - 8/8 analog mono I/Os in Digigram quality and sophisticated audio routing/mixing
Product Code 24445
Retail Price
$1690.00
Sale Price!
$1,549.00
Buy Today and Save $141.00 (8% from Retail)

We're sorry, this product is no longer available.
---
miXart 8 is a unique platform, combining powerful Digigram onboard processing with comprehensive audio mixing functions. Boost your professional audio applications requiring multiple I/Os for distributing, recording, routing, and mixing with the legendary Digigram sound quality.
8/8 analog mono I/Os in Digigram quality and sophisticated audio routing/mixing make the miXart 8 a multipurpose card for playback or record applications.
miXart 8 is the best choice for professional, high-quality audio routing and mixing at a very reasonable price. Software options available for the miXart 8 platform turn this card into a powerful, high-performing audio processing device.
0
0
For Windows (PC) ONLY


CONFIGURATION
miXart 8
Bus/Format PCI master mode
Digital signal processor 8240 Power PC at 250 MHz
Memory SDRAM 16 MB
External Cache Memory -----
Size 265 mm X 107 mm
Power Consumption +5 V 2.4 A+12 V 0.3 A / -12 V 0.2 A
Operating: temp / humidity (noncondensing) 0°C to +50°C; 5% to 90%
Storage : temp / humidity (noncondensing) -5°C to +70°C; 0% to 95%
Connectors Breakout cable with 16 XLR connectors
Breakout cable for optional AES/EBU module with 9 XLR, 3 BNC, and 1 phono connectors
AUDIO INPUT/OUTPUTS
Analog mono inputs 4 switchable line/mic level, 4 line level
Inputs 1 to 4
Maximum input line level/Impedance
Analog variable gain
Inputs 5 to 8
Nominal input line level/Impedance Switchable:
+4 dBu or -10 dBV / <10k
AES/EBU stereo inputs 4 (optional)
ADAT inputs -----
Analog mono outputs
Maximum output line level/Impedance
Analog variable gain 8+22 dBu / <100
0.5 dB steps
AES/EBU stereo outputs 4 (optional)
ADAT outputs -----
EXTERNAL SYNCHRONIZATION
AES/EBU syncinput/AES 11 compliant Optional independent
Word Clock/SuperWord
Clock sync input Optional
WordClock sync output Optional
LTC sync input Optional
LTC (SMPTE) input level -20 dBu to +6 dBu
Time code capture speed tolerance ±15%
Video sync input Optional blackburst
AUDIO SPECIFICATIONS
Sampling frequencies From 8 - 48 kHz
Audio processing 32 bit floating point
A/D and D/A converter resolutions 24 bit
Frequency response at 48 kHz(record + play) Only Play for miXart 16 ± 0.2 dB
Signal-to-noise ratio (unweighted) > +93 dB (line)
Distortion + noise at 1KHz (record + play) 0.004% (<-88 dB)
Channel phase difference : 20Hz to 20kHz 0.2° to 2°
Analog channel crosstalk at 1 KHz < -105 dB
DEVELOPMENT ENVIRONMENTS
Digigram management np SDK (PCX Tools, PCX Designer Kit), PCXedit, VConsole Builder, Vconsole Designer Kit
Other management Wave
OS supported Windows NT4, 2000 and XP; Linux ALSA version 0.9.1
---
Digigram
miXart 8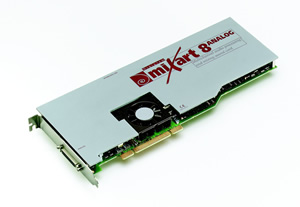 Pristine PCI Card - 8/8 analog mono I/Os in Digigram quality and sophisticated audio routing/mixing
MPN #:
UPC #:
Regular price: $1690.00 $1549.0000 Available from: 8th Street Music Condition: New Out of Stock