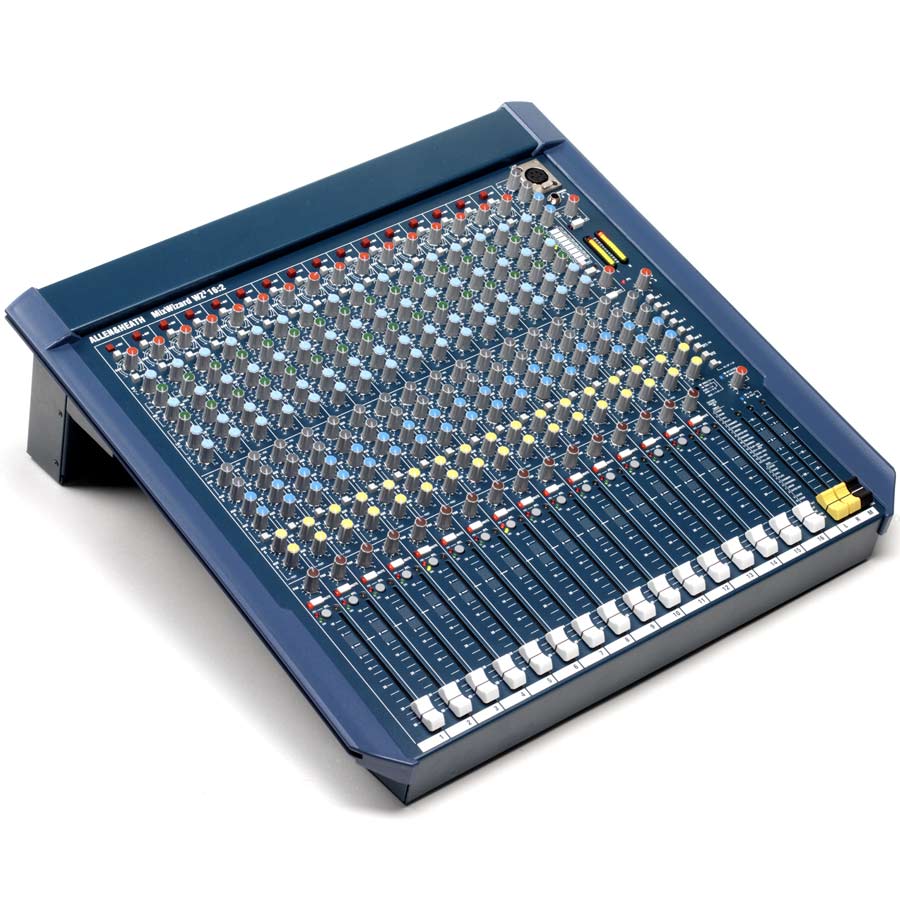 Professional 16 x 2 Mixer V3
Product Code 24962
Retail Price
$1399.00
Sale Price!
$999.00
Buy Today and Save $400.00 (29% from Retail)

We're sorry, this product is no longer available.
---
Allen & Heath presents the third generation of MixWizard, the MixWizard3 16:2 with even better sound quality, new preamp design, tailored EQ frequencies, an extra mono output on fader which can switched to provide a sub-bass mix from channel aux 6, and several routing changes to make the engineer's life easier. Put together with new styling, extra lamp socket, new Sys-Link options and backup power supply and it's easy to see that Allen & Heath just made the MixWizard3 16:2 even better.

Allen & Heath MixWizard3 16:2 at a Glance:

Mono Inputs: 8 or 16 mic / line channels.
Main output controlled by 100mm faders with 12 segment 3 color metering with insert.
Mono fader feeds mono XLR output.
6 Auxiliary Sends.
4 Band EQ plus HPF.
2 Stereo Returns.
On-board Digital FX.
Engineer's Toolbox.
0
0
Mono Inputs
8 or 16 mic / line channels with 4 band EQ, HPF, individual phantom power, 6 auxes, mute switch, signal and peak indicator leds and 100mm smooth action fader. A configurable direct out and insert using all-metal TRS jacks are provided.

Stereo Mix with AB out
Main output controlled by 100mm faders with 12 segment 3 color metering with insert. A-B output for additional L&R stereo output selectable pre or post L&R faders. Unique underpanel mode switch to configure A-B as a local monitor output for additional stereo monitoring.

Dedicated Mono Output
Mono fader feeds mono XLR output. Source select L+R sum or aux 6 mix for creating separate mono/C or aux fed sub mix.

6 Auxiliary Sends
6 auxiliaries: 1-2 prefade (option: link to follow pre/post switch), 3-4 switchable pre/post fade (option: permanently prefade) and 5- and 6 post fade (option to follow pre/post switch). Internal option to configure stereo channel L signal to odd auxes and R signal to even auxes. Aux masters are rotary controls with TRS outputs. The aux busses can be monitored in mono or related stereo pairs.

4 Band EQ plus HPF
Mono channels have separate controls for sweep and cut/boost on mid bands. HPF @ 100Hz is switchable.

2 Stereo Returns
[TRS] line inputs, routed via level controls to L&R mix. ST1 can feed aux 1-4. Note: the internal FX returns to ST1. The ST1 input allows external FX to be mixed in.

On-board Digital FX
32 FX programs with external midi editing / control. Can be configured in single mode (16 programs fed from aux 5) or Dual mode (8 programs fed from aux 5 plus another 8 programs fed from aux 6). FX are returned via ST1 to the mix, aux 1-4. The effects can be muted using a footswitch. WZ FX editor software is available from the website.

Engineer's Toolbox
Headphone output and local monitor possible, with separate level controls. Red led indicator when PFL on input channels is selected. PFL signal overrides the selected monitor source and L&R metering. A-B output can be configured as local stereo monitor

Allen & Heath MixWizard3 16:2 Features:

Performance improvements with new mic preamp design and more responsive EQ.
Extended PA possibilities with control of aux fed subs on new mono output fader.
Channel phantom power switches and signal indicators added.
User friendly options on aux sends and direct outputs.
XLR lamp socket. New Syslink options.
Slimmer build.
Pluggable jumper links.
Easy service construction.
New meter moulding design.
Extra feet on connector pod.
Universal rack or desk mount.
Dual stereo channel routing modes.
New side trims for style and portability.
Separate internal power supply module.
Dual redundant power supply connector added.
Balanced channel XLR normals through TRS for mic or line level XLR.
Pre-EQ aux option added for pre-insert, post-mute.
New surface mount technology.


AYY
---
Allen Heath
Mix Wizard 3 16:2 DX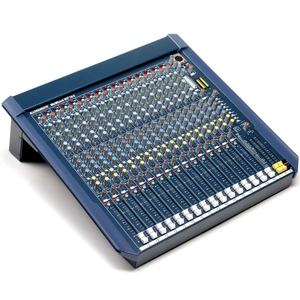 Professional 16 x 2 Mixer V3
MPN #:
UPC #:
Regular price: $1399.00 $999.0000 Available from: 8th Street Music Condition: New Out of Stock