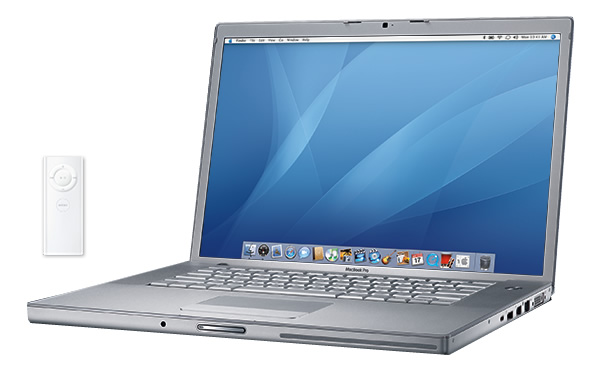 15.4-Inch 2.2GHz Intel Core 2 Duo with 4MB Shared L2 Cache, 2GB 667MHz DDR2 SDRAM, 120GB SATA HDD, Slot Load Dual Layer Super Drive 8x
Product Code 27144
Sale Price!
$1,999.00
We're sorry, this product is no longer available.
---
--17 inch MacBook Pro also available upon request--
Powered by Intel Core 2 Duo
MacBook Pro is the first Mac notebook built upon the revolutionary new Intel Core Duo. It's actually two processors built into a single chip — which makes this by far the biggest leap in mobile Mac power you've ever seen.

Huge Performance Gains
Its 667MHz frontside bus and DDR2 memory have four times the bandwidth over the PowerBook G4, and the MacBook Pro's 16-lane PCI Express graphics bus has eight times the bandwidth. MacBook Pro also incorporates an ATI Mobility Radeon X1600 graphics processor with up to 256MB of dedicated GDDR3 memory — another leap in performance for high-end graphics and 3D applications. The result? MacBook Pro offers up to four times the speed of the PowerBook G4 in key performance benchmarks.

Have Brighter Ideas
Your eyes will light up when you see how MacBook Pro's display has lit up. This new-generation 15.4-inch display is 67% brighter than the previous model.

It's Showtime
If you need to present to a group, or you'd like to just watch MacBook Pro from across your hotel room, you've got everything you need. With the Front Row interface and Apple Remote, you're free to sit or stand across the room and present photos, movies and music at the click of your remote.

iSight Built-in
A full-scale iSight camera built at the top of the MacBook Pro's display means you're ready for video conferencing via iChat wherever you are — no cords or cameras to plug in or carry around.

Make the Connection
Despite the amazing 1-inch slim design, MacBook Pro offers a full complement of ports and connections. MacBook Pro even supports the new Express Card/34 standard for further expansion.

MagSafe Connector
Mobile users will love the new power adapter featuring the MagSafe Connector — a magnetic DC plug that both ensures a tight connection and enables a clean break from the power port when there is undue tension. It prevents the MacBook Pro from being pulled off of a desk when the cord is accidentally tripped over, and it protects the power cord from wear and tear.
0
1
MPN: MA610LL/A

--Please specify when ordering what options you want with your new MacBook Pro--
Processor and Memory

2.2GHz or 2.4GHz Intel Core 2 Duo processor, 4MB on chip shared L2 cache running 1:1 with processor speed
800MHz frontside bus
2GB (2x1GB SODIMMS) with two SODIMM slots support up to 4GB

Expansion
One FireWire 400 port at up to 400 Mbps
one FireWire 800 port at up to 800 Mbps
Two 480-Mbps USB 2.0 ports
ExpressCard/34 slot

Battery and power
60-watt-hour lithium-polymer battery (with integrated charge indicator LEDs)
85W Power Adapter with MagSafe Connector and cable management system
Power adapter port

Communications
Built-in 54-Mbps AirPort Extreme wireless networking (802.11g standard).
Built-in Bluetooth 2.0+EDR (Enhanced Data Rate)
Built-in 10/100/1000BASE-T Gigabit Ethernet (RJ-45 connector)

Audio
Combined optical digital input/audio line in (minijack)
Combined optical digital output/headphone out (minijack)
Built-in stereo speakers
Internal omnidirectional microphone (located under left speaker grille)

Keyboard and trackpad
Built-in full-size keyboard with 78 (U.S.) or 79 (ISO) keys, including 12 function keys, 4 arrow keys (inverted "T" arrangement), and embedded numeric keypad
Backlit keyboard with ambient light sensors for automatic adjustment of keyboard illumination and screen brightness
Solid-state scrolling Trackpad for precise cursor control; supports two finger scrolling, tap, double-tap, and drag capabilities
Apple Remote included

Electrical and environmental requirements
Meets ENERGY STAR requirements
Line voltage: 100V to 240V AC
Frequency: 50Hz to 60Hz
Operating temperature: 50° to 95° F (10° to 35° C)
Storage temperature: -13° to 113° F (-24° to 45° C)
Relative humidity: 0% to 90% noncondensing
Maximum operating altitude: 10,000 feet
Maximum storage altitude: 15,000 feet
Maximum shipping altitude: 35,000 feet

Display
15.4-inch (diagonal) TFT display with support for millions of colors; optional glossy widescreen display
Supported resolutions: 1440 by 900 (native), 1280 by 800, 1152 by 720, 1024 by 640, and 800 by 500 at 16:10 aspect ratio; 1024 by 768, 800 by 600, and 640 by 480 at 4:3 aspect ratio; 1024 by 768, 800 by 600, and 640 by 480 at 4:3 aspect ratio stretched; 720 by 480 at 3:2 aspect ratio; 720 by 480 at 3:2 aspect ratio stretched

Video and graphics support
NVIDIA GeForce 8600M GT graphics processor with dual-link DVI support, 128MB of GDDR3 SDRAM on 2.2GHz configuration; 256MB of GDDR3 SDRAM on 2.4GHz configuration
DVI output port
VGA output using included DVI to VGA adapter
Built-in iSight camera

Storage
120GB 5400 rpm SATA internal hdd
Optional 160GB 5400-rpm or 200GB 4200-rpm hard drives.
Slot-loading Dual Layer SuperDrive (DVD±RW/CD-RW)
Maximum Write: 6x DVD-R, DVD+R, DVD+RW, and DVD-RW; 24x CD-R; 10x CD-RW
Maximum Read: 8x DVD-ROM; 6x DVD-ROM (double layer DVD-9), DVD-R, DVD+R, DVD+RW, DVD-RW; 4x DVD+R (double layered); 24x CD

Size and weight
Height: 1.0 inch (2.59 cm)
Width: 14.1 inches (35.7 cm)
Depth: 9.6 inches (24.3 cm)
Weight: 5.6 pounds (2.54 kg) with battery and optical drive installed

Software
Mac OS X v10.4 Tiger (includes Spotlight, Dashboard, Mail, iChat AV, Safari, Address Book, QuickTime, iCal, DVD Player, Xcode Developer Tools)

iLife '06 (includes iTunes, iPhoto, iMovie HD, iDVD, iWeb, GarageBand), Microsoft Office 2004 for Mac Test Drive, iWork '06 (30-day trial), QuickBooks for Mac New User Edition, Comic Life, FileMaker Pro trial, Omni Outliner
Photo Booth
Front Row

oiyy
---
Related Products
Product Code
g25

Description
Gift Certificate (may be purchased in multiple amounts)

$25.00 Add to cart
Apple
MacBook Pro 15.4-Inch 2.2GHz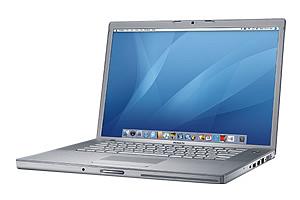 15.4-Inch 2.2GHz Intel Core 2 Duo with 4MB Shared L2 Cache, 2GB 667MHz DDR2 SDRAM, 120GB SATA HDD, Slot Load Dual Layer Super Drive 8x
MPN #: MA610LL/A
UPC #:
Regular price: $0 $1999.0000 Available from: 8th Street Music Condition: New Out of Stock