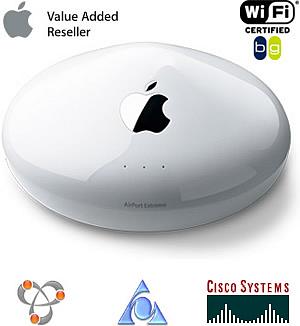 AirPort Extreme Base Station with Power over Ethernet and UL 2043
Product Code 30670
Sale Price!
$249.00
We're sorry, this product is no longer available.
---
Apple's AirPort Extreme wireless networking products lets you create campus-wide wireless network for your school, university, or business. This will allow students, faculty, and business professionals to surf the Internet from almost anywhere on campus. The AirPort Extreme base Station with Power over Ethernet and UL 2043 makes this investment cost effective.

This AirPort Extreme Base Station model includes a 10/100BASE-T RJ-45 Ethernet WAN port for wired network access, a 10/100BASE-T RJ-45 Ethernet LAN port for connecting computers a USB port for sharing a printer across the wireless network (1), and an external range extending antenna port. Additionally, this model supports Power over Ethernet and UL 2043 (2). The AirPort Extreme Power over Ethernet solution, which is based on the IEEE 802.3af standard, allows wireless network administrators to run both data and power through an Ethernet cable. This provides an incredible amount of flexibility in deploying base stations across a campus. Now the added expense and hassle of making sure that power plugs are available where the base stations need to be deployment is removed. Coupled with the Power over Ethernet feature is the ability to deploy this base station in air-handling spaces. This is possible because this model conforms to UL 2043 - a safety standard from the Underwriters Laboratories, who have deemed this product safe to use above ceiling tiles. Now it is possible to place base stations out of sight and close to where the Ethernet cables are typically run in a building. Again for a wireless network administrator this adds a tremendous amount of flexibility. The AirPort Extreme Base Station supports AirPort-enabled and AirPort Extreme-enabled Mac computers, as well as Windows PCs with Wi-Fi certified 802.11b or 802.11g solutions installed.

Based on the high-speed wireless technology called 802.11g, it enables you to achieve data rates nearly 5 times faster than the original AirPort (3). Using the AirPort Extreme Base Station, up to 50 users can work and play on the Internet simultaneously up to 150 feet away from the base station.

This model of AirPort Extreme comes with two utilities to facilitate the preparation, configuration, and on-going monitoring of a campus wide network: the AirPort Client Monitor and the AirPort Management Utility.

The AirPort Client Monitor is a tool to help you determine where a base station should be placed and measure the signal quality of the connection as your move further away from the base station. (4) The AirPort Management Utility is designed to help configure and manage a large number of base stations deployed across your campus. Using this application it is possible to group base stations together by building, floor, or any custom grouping that is desirable for the wireless network administrator. Once grouped it is possible to make configuration adjustments to all base stations, a select few, or even just one. Base station management for an entire campus can all be done remotely. (4)

With this AirPort Extreme Base Station model you can extend the range of your wireless network by adding an Apple-approved omni-directional or directional external antenna. A software feature allows you to reduce the coverage area of your wireless network to just a single room to help prevent channel overlap and provide extra privacy.

The AirPort Extreme Base Station comes equipped with support for 128-bit WEP encryption and WPA-Enterprise to secure over-the-air transmissions.
0
1
System Requirements:
Administration of a campus-wide AirPort Extreme Wireless Network requires an AirPort Extreme-enabled or AirPort-enabled computer with AirPort Management Utility and Airport Client Monitor software.
Wireless administration requires Mac OS X v10.3 or later.
Wireless printing over USB requires Mac client computers with Mac OS X v10.2.7 or later.


Notes:
(1) Wireless printing over USB requires Mac OS X v10.2.3 or later and a compatible printer.

(2) This base station model is compliant with the IEEE 802.3af PD, Class 0 standard. Power over Ethernet requires an IEEE 802.3af compatible powered sourcing equipment, like a switch or a hub. This product conforms to the UL 2043 test for heat and smoke emissions and may be used in Air Handling spaces.

(3) Achieving data rates up to 54 Mbps requires that all users have an AirPort Extreme-ready computer with an AirPort Extreme Card installed and are communicating with an AirPort Extreme Base Station. If a user with an AirPort-enabled computer or other Wi-Fi certified 802.11b product joins an AirPort Extreme wireless network, that user will get up to 11 Mbps and AirPort Extreme users on the same wireless network will get less than 54 Mbps. AirPort Extreme-enabled computers that connect to an AirPort or other Wi-Fi certified 802.11b network will achieve data rates up to 11 Mbps, the maximum allowed by an 802.11b wireless network. Actual speed will vary based on range, connection rate, site conditions, size of network, and other factors.

(4) AirPort Client Monitor and AirPort Management Utility require Mac OS X 10.3 or later.

(5) External antenna port available on selected models. For use with Apple-approved antennas only; antennas sold separately. External antennas do not conform to UL 2043 and may not be used in Air Handling spaces.



OIY
---
Related Products
Product Code
g25

Description
Gift Certificate (may be purchased in multiple amounts)

$25.00 Add to cart
Apple
AirPort Extreme Base Station-M9397LL/A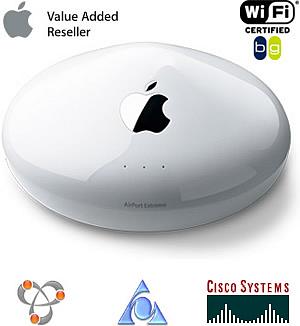 AirPort Extreme Base Station with Power over Ethernet and UL 2043
MPN #:
UPC #:
Regular price: $0 $249.0000 Available from: 8th Street Music Condition: New Out of Stock