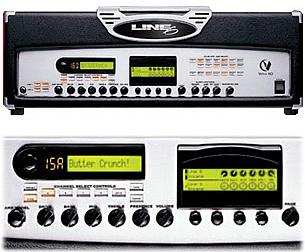 Advanced Guitar Amp w/Modeling & Effects
Product Code 30890
Retail Price
$2399.99
Sale Price!
$1,699.99
Buy Today and Save $700.00 (29% from Retail)

We're sorry, this product is no longer available.
---
Several years of research have resulted in the development of the latest generation of modeling—a process called Point to Point Interactive Modeling. This new technique allows for each unique Vetta model to be built with every bit as much care and attention to detail as the crême de la crême of hand wired amps, capturing more nuance than previously possible. Every carefully analyzed and modeled tonal element contains all the dynamic interactive details crucial to tone and feel. Even unique sonic contributions, such as aging components like transformers and filter caps, are now captured. Then, each of these dozens of dynamic elements can be "hand wired" together in any order, allowing them to interact as naturally as they would in the "wired" world.

That wasn't enough for Line 6, though, so they decided to journey even further. They found that playing through two completely independent amp models at the same time, expanded the boundaries of tonal exploration beyond the horizon. The possibilities continued to mount, with the ability to assign different completely routable stompboxes to each amp. Speaker cabinets are also totally independent. The crowning touch allows Vetta to magically manipulate your sound in oh-so-subtle ways so the previously unimagined dream of studio double tracking could finally be realized on stage. Let Vetta carry you on the journey to your land of tone. It'll take you there like nothing else before.

Take a Leap Inside Vetta
Ever hear a guitar sound that's just "huge"? Maybe a tiny tweed combo, with just the right mic technique. Maybe a couple of stompboxes, a modern high-performance half-stack, and the kind of effects only found in professional studios or stadium tours. Maybe BOTH at the same time. Whatever sound you need, Vetta delivers that sound. Simple, complex, and all points in between.

Each channel is a complete rig, with your choice of amp models–any 2 at once, stompboxes–any 3 at once, and studio quality post-amp processing like reverb, compression, pitch shift, and EQ—all at once. Then there's the new Double Tracker. And it just wouldn't be right if we didn't give you the same great sound you hear coming out of the speakers in a convenient line level output.

The optional FBV (formerly FBX**) pedal board is like having a crew of roadies ready to wheel out an entirely new collection of gear and hook it all up — in time for your next note. With a backlit display that shows where you are, and rugged steel stomp switches and twin expression pedals to give you complete control of where you're going.
0
0
Vetta Features:
Complete No-Compromise Guitar System. Rig Functionality, Combo Portability.
Incredibly toneful, next generation amp models. The best we've ever done.
Unique Line 6 features like Two Amps At Once and Double Tracker, combined with a built-in collection of vintage stompboxes and studio gear, give you a live sound previously available only in the studio.
Revolutionary power amp design duplicates the punch and feel of the greatest amps
Intuitive and comprehensive pedal board for total control of amps, stompboxes, and effects.
Wet/Dry Cabinet Support
Direct XLR outputs
Programmable stereo effects loop
Flash upgradable software

Add a Vetta Foot Controller and get...
Dedicated channel switches
Dedicated effects on/off switches
Large name display
Wah and Volume pedals
Chromatic digital tuner
Tap Tempo
---
Related Products
Product Code
22284

Description
Expression Pedal

$49.95 Add to cart

Product Code
30545

Description
Cable to connect Variax to Digital Interface and PODxt Live

$29.99 Add to cart

Product Code
g25

Description
Gift Certificate (may be purchased in multiple amounts)

$25.00 Add to cart
Line 6
Vetta II HD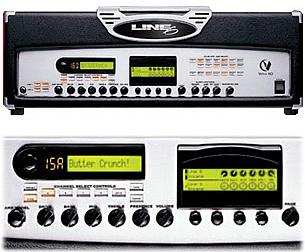 Advanced Guitar Amp w/Modeling & Effects
MPN #:
UPC #:
Regular price: $2399.99 $1699.9900 Available from: 8th Street Music Condition: New Out of Stock