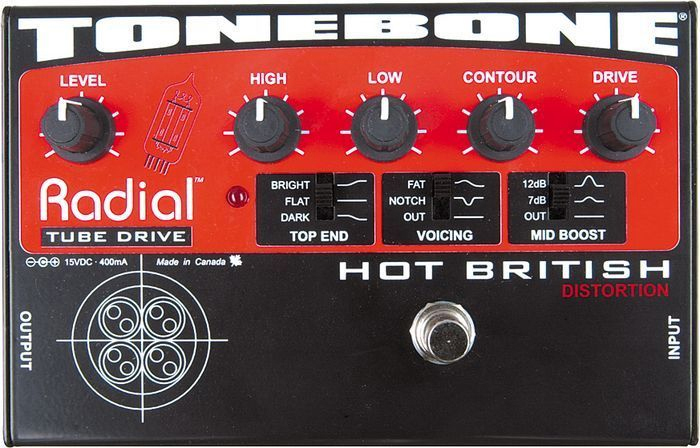 Tube Distortion Pedal
Product Code 31065
Retail Price
$275
Sale Price!
$199.99
Buy Today and Save $75.01 (27% from Retail)

We're sorry, this product is no longer available.
---
The Tonebone Hot British is distortion at its best! From fat hot-wired Marshall tones to the huge scooped out mid sounds, the Hot British is blistering brute force extraordinaire! The Hot British is tailored to extract ultra-rich harmonics and full-on saturated tube settings without the mud or noise that is typical with other pedals. The powerful EQ settings truly allow the player to dial in to the type of tones that create everything from chunky rhythms to sizzling lead solos.

Drive and Level Controls
The Hot British design follows the way a guitar amplifier works whereby the input DRIVE is akin to the input channel volume, while the LEVEL control acts more like a master volume control. The DRIVE control provides overall input gain to the distortion circuit. When used in conjunction with the EQ controls, the Hot British easily allows one to emulate the rhythm tones reminiscent of ZZ-Top, Metallica, Megadeath and Soundgarden. For soloing, the wailing tones popularized by players like Eddie Van Halen, Richie Blackmore, Yngwie Malmsteen, and Randy Rhodes are also easily attained.

Equalization and Tonal Structure
The Tonebone Hot British employs active post-distortion equalization for maximum flexibility. Tone shaping is performed with three controls and three switches thus allowing the guitarist to dial in the type of tonal structure that may be desired. HIGH and LOW equalization are extremely active providing up to 15dB of gain control. These work in conjunction with the TOP-END, MID-BOOST and VOICING controls. Overall shaping begins with the TOP-END control with choice of Dark, Normal or Bright settings, which are used to compensate for the tonal characteristics of the amplifier. The MID-BOOST switch is used to fatten-up single coil pick-ups or to add 'meat' to the tone for additional cut during soloing. The Hot British mid-range frequencies have been carefully selected to work with popular amplifiers like Twins and Marshalls. These settings are extremely effective at compensating for 'clean' oriented channels on classic tube amplifiers. The three-position VOICING switch works with the CONTOUR control for radical souped-up tones. The FAT position develops huge blistering solo tones and the cut-through power to get past the noise when you have to. The V or 'scoop' position is used to cut the mids while allowing the lower and upper harmonics to remain, creating huge chunky rhythms when building a wall of sound with a solid foundation.
0
0
MPN: Hot British
UPC: 676101034147

HIGH & LOW controls:
Post distortion active tone controls that boost or cut from 12 o'clock position.
Low: +/- 14.5 db @ 100Hz
High: +/- 10 db @ 4.3kHz

CONTOUR control:
Used in conjunction with the VOICING selector switch, the passive contour control dials in the mid-center frequency for either cut in the V' position or boost in the FAT position.

DRIVE control:
Used in conjunction with the drive gain switch, drive is used to adjust the overall amount of gain to the overdrive circuit.

TOP END switch:
Switch sets the overall tonal character of the Hot British to best match the amp and it's settings. Brighter amps are normally compensated with darker settings.
Bright: Boosts +6dB @ 10kHz
Flat: No boost
Dark: Cuts -6dB @ 1.8kHz

VOICING switch:
Three position switch allows the user to jump to chunky V style scooped rhythms or huge solos in the FAT position.
Fat: Mid boost - passive filter
Bypass: Flat
Scooped: Mid cut - passive filer

MID BOOST switch:
Used to fatten up the sound for more cut and sustain during solos. Also, will fatten up the sound of single coil pick-ups.
High: Boosts +12dB @ 620Hz
Medium: Boosts +6dB @ 390Hz
Bypass: No Boost

Tube:
Standard 12AX7 vacuum tube inside is used in distortion stage to accentuate upper harmonics and warmth.

Distortion:
Proprietary tube hybrid distortion circuit. Wide range of distortion settings may be derived.

Footswitch:
True by-pass with red in/out status LED.

Power Supply:
15VDC adapter (110V standard - export models available).

Construction:
14 gauge steel construction with baked enamel coat.

Standard package:
Includes power supply, rubber stick-on feet, owner's manual.

Size:
6 7/8" W x 4 1/4" D x 2" H (174mm x 108mm x 51mm)

Weight:
3 lbs / 1.35kg
---
Radial
Tonebone - Hot British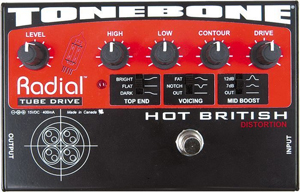 Tube Distortion Pedal
MPN #: Hot British
UPC #: 676101034147
Regular price: $275 $199.9900 Available from: 8th Street Music Condition: New Out of Stock