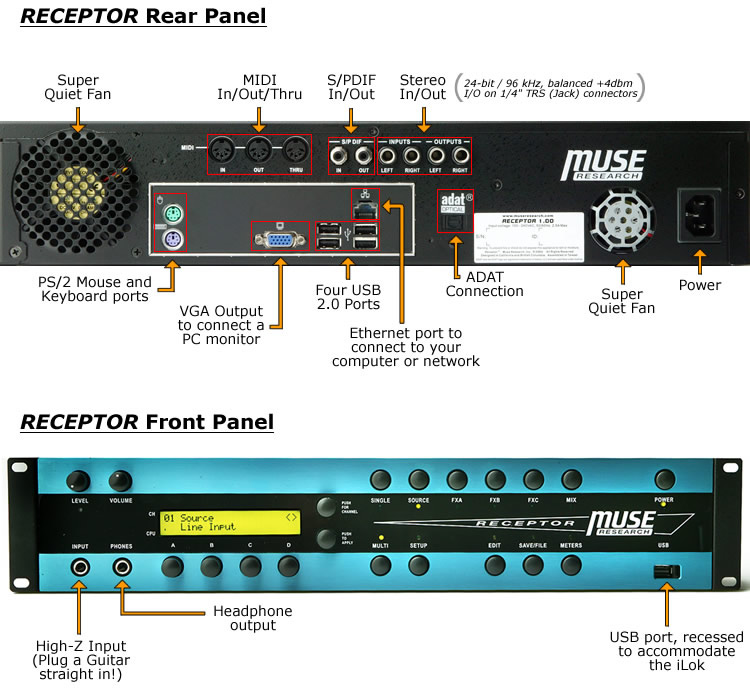 2U Rackmount Hardware VST Plug-In Player
Product Code 31159
Retail Price
$2299.00
Sale Price!
$999.00
Buy Today and Save $1,300.00 (57% from Retail)

We're sorry, this product is no longer available.
---
It's deceptively simple to describe what Receptor is: a 2U rack-mountable module that runs standard Windows VST instruments and effects. Receptor can process and play back 16 simultaneous audio sources, which can be either internal VSTi instruments or external analog/digital inputs. It can also run up to 57 VST effects at one time. But that barely hints at what you can do with Receptor!

Receptor is incredibly easy to use. Just turn it on, dial up a VST plug-in effect or instrument, and start making music. Optimized for live performance, Receptor will amaze you with a library of pre-installed plug-ins and lightning fast MIDI response.

Receptor is incredibly versatile. It can run VST software synths, guitar processors, and audio effects, essentially working as three products in one. And you can use it in stand-alone mode and connect a keyboard, mouse and monitor for ease of use. From its super quiet operation in the studio to its rugged rack mount enclosure, Receptor is a tool designed to help you get your act together and then take it on the road.

Mixer style interface-Receptor's intuitive, mixer-like architecture combines up to 16 different audio sources, which can be either internal VSTi instruments or external analog/digital inputs. Each source is then routed through its own inline effects matrix that allows three VST plug-ins to be configured in every possible parallel/series arrangement. From there, each source is sent to a dedicated mixer channel, where the sound can be further processed by sending it to two dedicated effects busses, each with another fully configurable VST effects matrix. Need more processing? There is yet another VST effects matrix on the master output, for mastering and sweetening effects.

In all, Receptor provides architectural support for as many as 16 simultaneous VSTi instruments and 57 VST effects, while further offering the ability to process external inputs using its front-panel high-Z input, its rear-panel balanced analog inputs, or its S/PDIF digital input.

Download and edit presets with your Windows or Mac computer--
And, all this effects power can be harnessed through Receptor's intuitive front-panel interface, with full front panel and MIDI access to millions of internal patch locations. For those who prefer mice to buttons, you can connect a mouse, keyboard and monitor directly to Receptor, or you can network it to your Mac or PC and control it remotely from a window on that machine.

"So should I buy this instead of a second computer?"--
You certainly can, and there are some benefits to doing just that. However, if you want to use a second music computer, you'd also have to purchase an additional MIDI interface, another audio card or breakout box, another copy of your VST hosting application, and a second monitor to actually see it all work. Everything is built-in to Receptor. It's designed to work equally well whether it's used stand-alone with only its front panel; stand-alone but connected to its own keyboard, mouse and monitor; or networked with an existing computer for remote control. Receptor actually enhances an existing computer; it doesn't replace it. It is, in fact, an ideal companion for a computer-based DAW, especially if that DAW doesn't run Windows VSTs or is running low on CPU cycles.

Comes with free VST plug-ins!--
As an added bonus, Receptor also includes $400 of free software from Dash Signature, LinPlug, Ohm Force and PSP!
0
0
UPC: 000888881920

Features:

Plays VST effects and VSTi instruments without requiring a computer

Handles up to 16 internal and external audio signals at once

Can play up to 57 VST effects at once

Accepts standard keyboard, mouse and monitor for convenience

Connects to Windows computers for additional downloading and editing

Sturdy construction stands up to live performance use

Take it to the studio to recreate your DAW effects!
---
Muse Research
Receptor 1.0 REV C

2U Rackmount Hardware VST Plug-In Player
MPN #:
UPC #: 000888881920
Regular price: $2299.00 $999.0000 Available from: 8th Street Music Condition: New Out of Stock