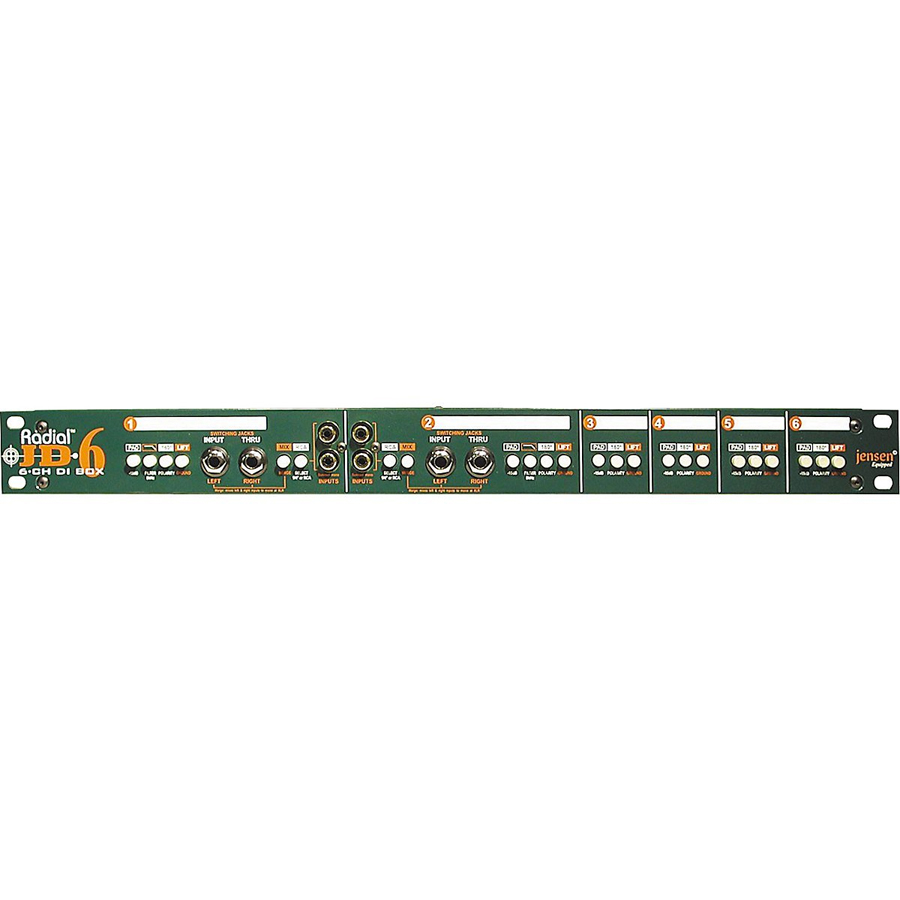 6-Channel Rackmount Passive Direct Box
Product Code 31248
Retail Price
$1000
Sale Price!
$899.99
Buy Today and Save $100.01 (10% from Retail)

We're sorry, this product is no longer available.
---
The Radial JD6 is a multi-channel passive direct box that has been specifically designed to address the needs of concert touring, while being equally at home in the studio.

The JD6 houses six completely independent Jensen® transformer isolated channels for minimal cross-talk and maximum protection against noise, 60 cycle hum, and buzz. Jensen® transformers are legendary in their ability to reject noise caused by RF, magnetic induction, and 'ground loops' while producing an exceptionally wide bandwidth and warm Bessel response. The JD6 employs the same audio circuit as the renowned Radial JDI for explosive signal handling; virtually zero phase distortion; and a true linear performance from 20Hz up (see side bar on bandwidth response).
A Swiss Army Direct Box
To address connections to computers, CD players, video machines and usual musical instruments, channels 1 and 2 have been outfitted with extra features and connections to simplify interfacing: Choice of dual RCA or ¼" input jacks with push-button selector switch for double duty functionality during hectic shows; a merge function that converts the input and thruput to left & right mix to mono at the XLR to save valuable audio channels at the mixing console; and a high-frequency roll-off filter that is expressly designed to reduce noise from CRT and LCD screens, and that older vintage gear that we love, yet hate due to noise!

Channels 1 & 2 also feature ¼" switching jacks with front channel priority. In most keyboard set-ups, usual hook-up is done on the rear panel so that cables connecting to sound modules can be tied and hidden away. By simply inserting a ¼" jack in the front panel, the input and thru-put signal connections are diverted, much the same way as with a studio patch bay. This is most advantageous in studio set-ups where one may wish to connect a guest bass player or alternate keyboard through the JD6 without having to reconfigure the cabling system.

All six channels of the Radial JD6 feature -15dB pad to control extra hot signals such as from consumer electronic devices and some audio-visual equipment; a 180º polarity reverse that flips pin-2 and pin-3 on the XLR to interface with older pre-AES standard equipment and for creative combinations of 'in and out of phase sounds'; and a pin-1 ground lift disconnect at the XLR for added prevention against ground-loops.

Many of today's keyboard racks or electronic drum systems are so jam-packed with modules that trouble-shooting can be an onerous task. To make recognition easy, each channel features a screened white labeling zone for tape or wax pencil identification.
0
0
UPC: 676101034864

A connector for all reasons
In an effort to keep the front of the rack clear of obstructions, all primary connections are done on the rear panel. The Radial JD6 rear panel is 'maxed out' with ¼" input & thru-put connectors; XLR output for each channel; and individual channel identification.
A choice of extension panels is also available from Radial that can bring ¼" and XLR connectors to the front or back of dual-rail 19" rack enclosures. Radial offers a choice of multi-pin quick-disconnect connectors for touring professionals. These may be configured to mate directly to Radial concert snake systems or to other manufactuer's snakes by contacting the Radial Custom Shop.

The front panel RCA jacks are also mounted adjacent to each other so that when in use, cables are brought to a single point. This keeps front panel controls clear from obstructions and makes trouble shooting and system set-ups easy.

A well-grounded individual
In today's complex touring environments, noise is an ever-present problem. This is amplified with the fan's expectations for quality and the improved fidelity of the sound systems in general.

To eliminate noise, every precaution has been designed in to the JD6. Take off the cover and one immediately notices the full metal shielded transformers and full-surface ground planes across the dual-sided PC board. This technology guides stray magnetic fields and radio frequencies away from the audio path.

The JD6 employs six Jensen Transformers in a floating configuration with insulated connectors for 100% isolation. A series of internal switches allow the engineer to connect each ground to the JD6 chassis for alternate ground schemes. These may then be grounded to the rack rail via a rear-panel ground lug. For those that prefer a common ground to a single channel, a side-access ground switch connects the chassis to channel-1 ground.

Built like a tank
As with all Radial products, the JD6 is built to handle the abuses of the road. A durable baked enamel finish protects the exterior and welded 14-guage steel chassis reduces opportunity for stress on the PC board and avoids the potential for cold solder joints, the No.1 cause of system failure. Radial stands behind each JD6 with a 3 year limited warrany.
---
Radial
JD6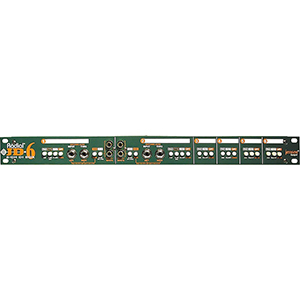 6-Channel Rackmount Passive Direct Box
MPN #:
UPC #: 676101034864
Regular price: $1000 $899.9900 Available from: 8th Street Music Condition: New Out of Stock