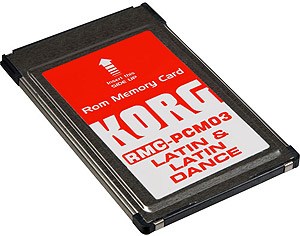 Latin & Latin Dance Expansion Board for PA80
Product Code 40050
Retail Price
$350
Sale Price!
$280.00
Buy Today and Save $70.00 (20% from Retail)

We're sorry, this product is no longer available.
---
The Styles have been created using sampled audio grooves. By using a professional studio to record top professional musicians playing live, these audio grooves have an authentic and natural feel. Korg's sophisticated time-slice technology allows the tempo of these sampled grooves to be changed by + or - 30 BPM without affecting the audio quality. In addition to forming the foundation of these Styles, the sampled grooves are also available in the 16 "Master Drum Kits" as construction sets.
These are authentic Latin sounds and Styles, and they really do sound amazing!

Includes these new Styles:

1- Salsa Cubana

2- Dance Gitana

3- Bachata

4- Salsa in NYC

5- Salsa Funk

6- Latin Dance

7- Rhumba Napolatina

8- Salsa Portoricana

9- Euro Cha Cha

10- Bachata Nueva

11- Beguine

12- El Son

13- Merengue

14- Samba

15- Spanish Dance

16- Cumbia

17- Disco Latino

18- Disco in Cuba

19- Sensual Dance

20- Sex Bomb

21- MamboDanceN°5

22- Bamba Loca

23- Latin Swing

24- TarantelLatina

25- Bolero

26- Oyo Cha Cha

27- Cuarteto

28- Mambo

29- Rhumba

30- DanceRevival '60s

31- Latin Rap

32- Latin Funk
0
0
MPN: RMC-PCM03

Excellent support available at www.korgpa.com where the latest Operating System (Version 2.51) and Musical Resource is now available. This OS represents a wealth of new functions, based greatly on communication with our valued end-users. The Update to the OS contains a manual supplement spelling out all the new features, and how they work; but let me highlight a few for you:
1) Volume Link: Actually, this one has been asked for since before version 2.0, and it's finally here. This allows the levels of all the Style tracks, or all the Real Time parts, to be adjusted with a single fader, while preserving the proportional mix.
2) "Expert" Chord Recognition: This allows much more freedom for the single keyboardist, especially a performer with some chops. It allows for recognition of so-called "rootless" Jazz chords. This way, the performer does not have to play the root, and the root will automatically be played by the Style anyway.
3) GM Best Sound Substitution. So you have a phenomenal sounding keyboard, but your GM files sound dull and lifeless? This is common - GM is the lowest common denominator, and yet nearly all commercially produced sequences are in SMF / GM file format. Well, now the Pa1XPro can substitute its own great killer sounds for the lame-GM sounds - automatically. Very cool feature.
4) Fast Play. There is a lot of information in the "header" of a Song file. The Pa1XPro used to play a few moments of blank space after you pressed start to load this info before the song started. Now it just does it, and the first beat of your Song starts right away. A big plus for live performance.
5) Auto Select Setting. Yes, we added this feature - allowing you to select the most recently accessed sound, style or performance in a bank with a single touch of the bank key - in the last OS. But you couldn't save the setting, and had to re-set it every time you powered on. Now this setting can be saved.
6) Aftertouch Off. New aftertouch curve parameter that is simply off.
---
Korg
RMC-PCM03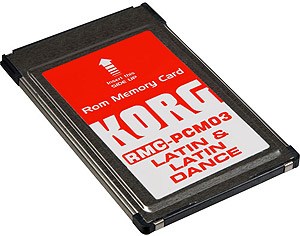 Latin & Latin Dance Expansion Board for PA80
MPN #: RMC-PCM03
UPC #:
Regular price: $350 $280.0000 Available from: 8th Street Music Condition: New Out of Stock