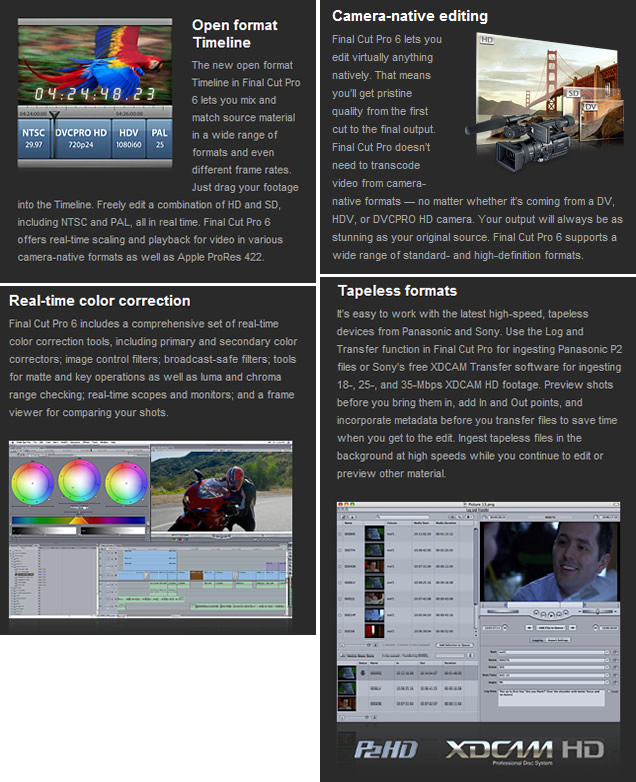 Introducing FInal Cut Studio 2. Editing Unleashed.
Product Code 40946
Sale Price!
$1,299.00
We're sorry, this product is no longer available.
---
You know the benefits of keeping all your production under one roof. Why not keep all your production tools in one box? Final Cut Studio 2 combines the industry-standard Final Cut Pro 6 — including powerful SD, DV and HD editing capability — with the real-time design engine of Motion 3 for stunning motion graphics, the flexible audio creation and control tools of Soundtrack Pro 2 and the sophisticated SD and HD DVD authoring features of DVD Studio Pro 4.

Elevate production values with powerful editing tools, revolutionary sound design, real-time motion graphics and next-generation DVD authoring, all in one affordable package. Edit virtually any format, from film to DV and native HDV to fully uncompressed HD — complete with simultaneous multicamera playback — in real time. Create, manipulate and fix audio. Create eye-popping motion graphics with GPU-accelerated, 32-bit float rendering. Then author your finished product to DVD, complete with highly interactive titles and fast, distributed encoding.

Do it all with Final Cut Studio and its integrated, state-of-the-art applications. Make Final Cut Studio your all-in-one virtual studio and it's a wrap.


Final Cut Pro 6 Broad Format Suppport.
- Real-time, native SD and HD editing: Work with HD as easily as you work with DV. Includes support for DV, DVCPRO, DVCAM, DVCPRO 50, IMX, uncompressed 8- and 10-bit SD or HD as well as Apple ProRes 422 and Panasonic P2HD and Sony's XDCAM HD software for ingesting 18-, 25-, and 35-mbps footage.
- Open format Timeline: Drag clips with different formats and even different frame rates ino the new open format Timeline.
- Multicamera editing: View simultaneous, multicamera playback in real time for on-the-fly editing.
- Dynamic RT: See more real-time effects than ever thanks to dynamic image quality and frame rate scaling.
- Apple ProRes 422: Final Cut Pro 6 introduces ProRes 422, AppleÕs new post-production format offering uncompressed HD quality at SD file sizes.
- Camera-native editing: Final Cut Pro 6 lets you edit virtually anything natively.
- Cinema Tools 4 for film: Cinema Tools 4 is a powerful upgrade that offers additional convenience for traditional film workflows.

Soundtrack Pro 2
- Waveform editor with Action layers: Reorder, suspend and delete any audio edit, anytime.
- Intelligent Find-and-Fix: Quickly identify and correct common audio problems.
- Professional effect plug-ins: Extend your sonic palette with over 50 effect plug-ins and Audio Unit support.

Motion 3
- GPU-Accelerated 32-bit float rendering: Use your graphics processing hardware to accelerate rendering of high-quality composites.
- Replicator: Animate waves of repeating graphics or movies along user-defined grids.
- FxPlug: Usher in a new breed of third-party filter effects using full 32-bit processing.
- 3D multiplane environment: Easily create 3D motion graphics by extending the 2D tools you already use into 3D space.
- Vector-based paint strokes: Use the swipe of a pen to create pressure-sensitive paint strokes, complete with dramatic 3D looks.
- 3D text behaviors: Build dramatic title sequences with drag-and-drop ease using new 3D text behaviors.
- Point tracking and match moving: Set up point tracking or four-corner match moves in just a few clicks.
- Image stabilization and SmoothCam: Motion 3 offers two powerful options for correcting shaky shots.
- Synchronized Audio behavior: With the new Audio behavior in Motion 3, creating an animation that synchronizes to music has never been easier.
Advanced Keyframe Editor: Draw animation curves for any parameter in seconds using the intuitive new keyframe pen tool in Motion 3.
Seamless integration with Final Cut Pro: Send clips from Final Cut Pro to Motion when you want to use advanced image processing behaviors or to layer motion graphics on top of your footage.

DVD Studio Pro 4
- HD DVD: Showcase your HD content with industry-standard H.264 encoding.
- Distributed encoding: Dramatically speed up encoding of HD and SD video.
- Dolby Digital Professional encoder: Combine audio and video compression into one workflow.

Color
Introducing Color, Apple's new professional color grading application. Quickly and easily experiment with primary and secondary color grade adjustments for SD, HD, and even 2K projects. Color lets you preview the results - at any resolution - in real time. When you have just the look you want, render at stunning quality and blazing speeds. Color uses GPU-accelerated processing to produce RGB output in resolutions up to 4:4:4 with 32-bit float processing. Color makes it easy for editors to create signature looks for projects ranging from short video pieces to full-length theatrical films.

Compressor 3
Compressor 3 features a new customizable interface, streamlined workflow, and expanded support for a wide range of encoding tasks.
0
0
MPN: MA285Z/A

Common to all
Final Cut Studio 2
applications:
Macintosh with a 1.25GHz or faster PowerPC G4, PowerPC G5, or Intel Core Duo processor and Intel Xeon
processors
- 1GB of RAM minimum, 2GB RAM when working with compressed HD and uncompressed SD, 4GB RAM when
working with uncompressed HD
- Accelerated Graphics Port (AGP) or PCI Express Quartz Extreme graphics card; Final Cut Studio does not
support running on the Integrated Intel Graphics processors
- Display with 1024 x 768 resolution minimum, 1280 x 1024 resolution or higher recommended
- Mac OS X v10.4.9 (or later)
- QuickTime 7.1.6 (or later)
- DVD drive for installation
- 4GB of disk space required to install all applications (Final Cut Pro, Color, DVD Studio Pro,
Soundtrack Pro, Motion, Cinema Tools, LiveType, Compressor, and Apple Qmaster)
- Additional 62GB required to install all optional templates, content, and tutorials (may be installed on
separate disks):
- 9GB for DVD Studio Pro content
- 9GB for Motion templates and tutorial media
- 24GB for Soundtrack Pro audio content
- 12GB for LiveFonts and LiveType animated elements and templates

Additional for:
Motion
- Requires the standard graphics card found in any Mac Pro, MacBook Pro, iMac Intel Core Duo, Power Mac G5,
or iMac G5; a 1.25GHz or faster PowerBook G4; or a 1.25GHz or faster flat-panel iMac
ATI Radeon 9800, ATI Radeon 9700 Pro, ATI Radeon 9600XT or 9600 Pro, ATI Mobility Radeon 9700, ATI
Mobility Radeon 9600, NVIDIA GeForce 6600 and 6600LE NVIDIA GeForce 7300 GT, NVIDIA GeForce Go5200
or FX 5200 Ultra
- Recommended graphics cards:
ATI Radeon x1900 XT, ATI Radeon x850 XT, ATI Radeon x800 XT, ATI Radeon x1600, NVIDIA GeForce Quadro FX
4500, NVIDIA GeForce 7800 GT, NVIDIA GeForce 6800 Ultra DDL or 6800 GT DD

Additional for:
Color
- Requires the standard graphics card found in any Mac Pro, MacBook Pro, iMac Intel Core Duo, or Power Mac G5
dual 2.0GHz or faster
ATI Mobility Radeon X1600, ATI Radeon X1600, ATI Radeon X850 XT, NVIDIA GeForce Quadro FX 4500, 7300 GT,
6600, 6600 LE, NVIDIA GeForce 7600 GT, NVIDIA GeForce 7800 GT, NVIDIA GeForce FX 5200 Ultra, NVIDIA GeForce
6800 Ultra DDL or 6800 GT DDL
- Recommended graphics cards:
ATI Radeon X1900 XT, 9600, ATI Radeon 9600 Pro, ATI Radeon 9600 XT, ATI Radeon 9650, ATI Radeon 9800 XT or
9800 Pro
- A display with 1680 x 1050 resolution or higher, dual displays recommended
- A three-button mouse for full functionality

Additional for:
DVD
Studio Pro
- Playback of DVD Studio Pro 4-authored HD DVDs requires a PowerPC G5, Intel Core Duo and Intel Xeon
processors
- For writing finished projects to disc: Apple SuperDrive or other DVD recorder
- For writing finished projects to a double-layer disc: a double-layer-compatible recorder and double-layer
media
- For transporting HD projects to a replicator: External drive or Internet transfer of the projectÕs disk image
- For transporting SD projects that contain copy-protection or dual-layer features to a replicator: DLT drive, external drive, or Internet transfer of the projectÕs disk image
---
Apple
Final Cut Studio 2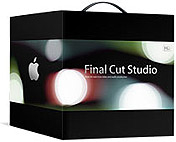 Introducing FInal Cut Studio 2. Editing Unleashed.
MPN #: MA285Z/A
UPC #:
Regular price: $0 $1299.0000 Available from: 8th Street Music Condition: New Out of Stock