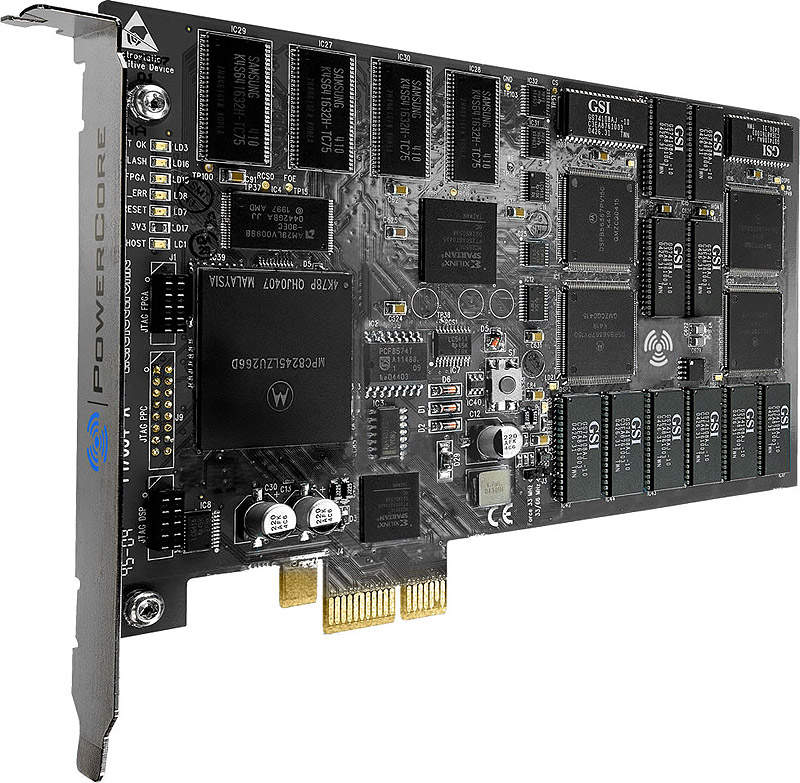 PCI-Express DSP powerstation for your PC or Mac
Product Code 42583
Retail Price
$1495
Sale Price!
$999.00
Buy Today and Save $496.00 (33% from Retail)

We're sorry, this product is no longer available.
---
The PowerCore PCI mkII fits into a standard PCI/PCI-X slot and the PowerCore Express fits into a PCI Express slot – that's the only difference between the two cards. Both of them come with the same amount of plug-ins and feature set and they are a potent combination between 14 state-of-the-art processing plug-ins and 4 x 150 mHz DSPs. The plug-in bundle that comes with the PCI and the Express card, consists of the 14 plug-ins known from PowerCore FireWire, leaving you with a bunch of versatile and professional tools, and it sports the same performance as the rack-based PowerCore FireWire.

PowerCore PCI mkII and PowerCore Express are designed for professional audio tasks, and with the included and optional plug-ins, they can be optimized for a variety of applications such as mastering, vocal processing and sound design. The PCI card and the Express card are the obvious choice for any professional sound engineer or producer with a VST, AU or RTAS compatible audio system.

For songwriters, composers and everybody else that care about sound quality and serious plug-ins, the PowerCore platform is the perfect match. The blue PowerCore PCI mkII card and the black PowerCore Express card deliver the sound of quality right into your studio. It complements the very highest of standards and excels via the unique and renowned tools that it has to offer. If you're looking for the ultimate tool that will enhance your creativity and give your productions superior audio quality, you should look no further.

Integrating perfectly with most VST, AU and RTAS applications, we've secured your freedom to choose your favourite application for music or film editing. On top of that we're constantly supplying new and professional plug-ins, most notably 1:1 ports of original and undiluted algorithms from the System 6000. 3rd party developers are adding to the stack, which gives you the choice of the best tools and instruments around.
0
0
MPN: 946600001

Included Plug-ins:
- 24/7•C: Convincing vintage compression and limiting using one of the most desired vintage models for PowerCore.
- Character: Character represents a new approach to getting great sound virtually instantly. The audio processing employs both the frequency response and the dynamic properties of the input source in a highly time-varying sense.
- Chorus•Delay: Modulation Multi-FX that recreates the 1210 Spatial Expander with its unique modulation images like Chorus, Flanging and Slap Delay with very flexible routing and filtering facilities.
- ClassicVerb: Classic Verb adds warm, lush reverb effects often associated with big expensive hardware processors.
- DeNoise: DeNoise is optimized for broadband noise removal, from tape hiss to static environmental noise. DeNoise is part of the optional plug-in Restoration Suite.
- Dynamic EQ: Dynamic EQ is a new tool for any mixing or mastering situation. This virtual processor eliminates the shortcomings of static EQ by providing a dynamically applied equalization.
- EQSat: EQSat Custom is a very clean sounding and carefully crafted EQ-model for any application including mastering.
- Filtroid: With its dual filters and extensive modulation capabilities, Filtroid brings the sound of analog filter banks to PowerCore.
- MasterX3: Virtual Finalizer Knock out Punch for any mixes or masters. Period. MasterX3 is the virtual incarnation of the TC Electronic Finalizer, the standard mastering processor in the pro audio field.
- MegaReverb: Hi-end Reverb based on years of ongoing research and the core technology of the TC Electronic M5000 hi-end studio processor.
- PowerCore 01: This mono-synth will deliver results similar to the famous SH-101, with some added features like velocity and drive.
- Tubifex: Tubifex includes three tube stages and a speaker simulator for truly convincing amp modeling. Each of the three stages is based on a classic 12AX7 design.
- Vintage CL: Vintage Compressor*Limiter delivers Hi-quality compression and limiting on each channel - up to 28 Vintage CLs can be run on one PowerCore card.
- VoiceStrip: This complete voice processing channel includes all tools required for vocal sound adjustment: Compression, De-Essing, a dedicated Voice EQ, Lo Cut Filter and Gate.

System Requirements:

Mac
- Desktop, iBook or PowerBook G4 or G5, 733mHz or better
- MacOS 10.3.6 or higher
- 512 mb Ram or more
- FireWire and Compact: 400 MBit FireWire connector (IEEE 1394)
- PCI mkII and Unplugged: A free PCI/PCI-X slot
- Express: A free PCI Express slot
- VST, Audio Units or RTAS*) compatible application such as Logic, Nuendo, Live or Digital Performer

Windows
- Desktop or laptop Pentium 4, 1.4 Ghz or better
- Windows XP or higher
- 512 mb Ram or more
- FireWire and Compact: 400 MBit FireWire connector (IEEE 1394)
- PCI mkII and Unplugged: A free PCI/PCI-X slot
- Express A free PCI Express slot
- VST, Audio Units or RTAS*) compatible application such as Nuendo, Cubase SX, Sonar or Live
- RTAS (ProTools) is supported via the VST to RTAS adapter from FXpansion (optional).
---
TC Electronic
Powercore Express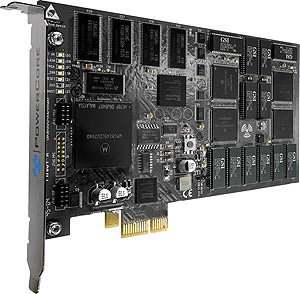 PCI-Express DSP powerstation for your PC or Mac
MPN #: 946600001
UPC #:
Regular price: $1495 $999.0000 Available from: 8th Street Music Condition: New Out of Stock