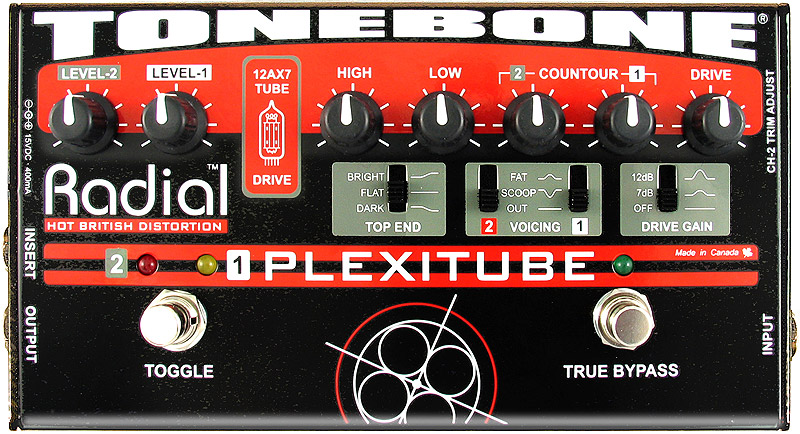 ---
Build like little Sherman tanks… yet compact enough to fit on your pedalboard, Tonebone pedals are among the world's most compact tube distortions. Tonebones use a proprietary hybrid circuit that combines the control of a dual-stage solid-state front end with the natural harmonic generation and warmth that only a real live 12AX7 tube can generate.

The tube is mounted on its side to keep the pedal profile down for easy pedal action and is powered by an external 15VDC supply. Power is internally regulated and filtered to eliminate noise. To further reduce self-noise a unique ground plane circuit topology is employed that makes Tonebone tube distortion pedals the quietest of all pedals in their class.

Tonebone is also built tough; 14-gauge steel construction reduces stress on the PC board and a baked enamel finish will keep your Tonebone looking great for years!
0
1
UPC: 676101036721

- Circuit type: Hybrid tube / proprietary circuit
- Tube type: 12AX7 vacuum tube
- Input impedance: 1meg Ohm at input jack
- Output impendence: 10K Ohm
- Drive control: Input drive gain control for both channels.
- Intermediate Ch-2 Drive trim adjuster: Recessed control -- accesable with a tweeker.

Voicing 1 & 2 3-way switch: Used inconjunction with the Ch-1 and Ch-2 Contour controls
- Channel-1: Fat, Scoop, Out
- Channel-2: Fat, Scoop, Extra Scoop

- Ch-1 & Ch2 Contour: Separate sound shaping control for each channel. Used in conjuction with the VOICING 3-position switch

Mid boost 3-way switch: Used to fatten up the sound for more cut and sustain during solos. Also, will fatten up the sound of single coil pickups.
- High: +12dB @ 620Hz
- Medium: +7dB @ 390Hz
- Off: No boost

Top end 3-way switch: Switch sets the overall tonal character of the Plexitube to best match the amp and settings. Brighter amps are normally compensated with darker settings.
- Bright: Boosts +6dB @ 10kHz
- Flat: No boost
- Dark: Cuts -6dB @ 1.8kHz

High & low EQ controls: Unity gain to +15dB
- Low: +/- 14.5 db @ 100Hz
- High: +/- 10 db @ 4.3kHz

- Level-1 & Level-2 controls: Used to balance the output level between the input drive without altering any of the tonal characteristics. Works like the master volume on an amplifier.
- Footswitch: True bypass with green on/off status LED
- Heavy-duty high-cycle switch
- LED indicator: Large 3mm OD ultra-bright status LED
- Switching: Opto-coupler assisted, 5msec Rise time
- Construction: 14 gauge steel, baked enamel finish
- Size: 7 in.w x 4 1/4 in.d x 2 in.h (174 x 108 x 51mm)
- Weight: 2.15lb (1kg)
---
Radial
Tonebone - Plexitube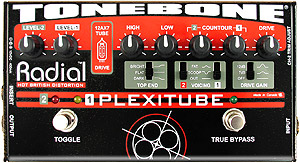 Tube Distortion Pedal
MPN #:
UPC #: 676101036721
Regular price: $400 $299.9900 Available from: 8th Street Music Condition: New Available to Order