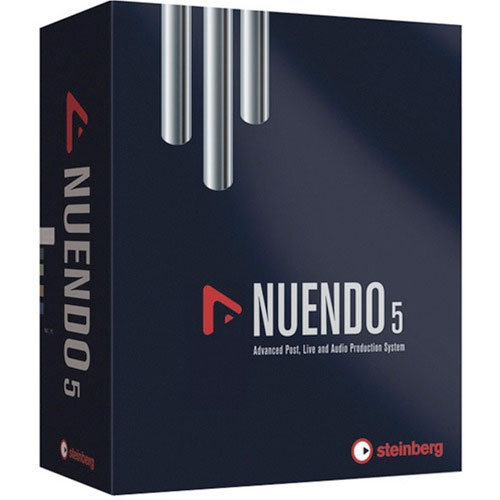 Professional Audio and Post-Production Software for Windows & Mac
Product Code 42992
Retail Price
$2340.99
Sale Price!
$1,799.99
Buy Today and Save $541.00 (23% from Retail)

This Item Ships FREE!
Click for Details
Click Here For Shipping Options
---
Nuendo 5 empowers professionals working in audio, live and post production for the film, television and media industry to higher levels of productivity, with a dedicated feature set that focuses on day-to-day production requirements like workflow, speed, versatility and reliability. Post-production editors, film mixers as well as live recording engineers around the world rely on the flexibility and industry openness that Nuendo provides.

Nuendo 5 assists audio post-production professionals working in the movie, television and media industries by providing dedicated features to boost productivity throughout the daily business. Used in blockbusters such as Sex and the City, Coraline, X-Men Wolverine, The Queen, The Hangover and 2012, Nuendo has arrived in the premier league of audio post-production projects. Not surprisingly, Nuendo is also widespread among companies developing popular video games and agencies creating award-winning commercials.

The core concept of Nuendo 5 is consequently based around the most important topics in audio post-production: workflow, speed, versatility and reliability. Nuendo 5 offers exceptional tools that make the program dedicated for audio post-production workflows. Be it the ADR toolset that dramatically speeds up the dubbing process, the exceptional surround mixing tools specially made to adapt audio-to-picture movements, stunning mixing features, such as automatable stem bus routing, or the new video engine — Nuendo 5 has it all covered. But there's even more to it. The revolutionary Clip Packages function allows you to organize individual clusters of audio clips as one handy file to be used at any point of your project, such as for film or television. To save valuable studio production time, Nuendo 5 also includes enhanced Automated Batch Export functionality that allows for exporting multiple files in one go. Exchanging audio files with Pro Tools is now as easy as it gets, just convert dual-mono tracks into stereo-interleaved files or vice versa. The well-received automation system which was already featured in Nuendo 4 has now been extended by tools that are mainly tailored to the film mixing process. Offering seamless support for interfaces and third-party controllers the likes of Euphonix, Smart AV and WK Audio plus the vast range of plug-ins that include new developments to create unique film sound effects as well as the VST3-based Surround Matrix Encoder/Decoder round out the endless feature list that Nuendo 5 provides.

The wealth of workflow improvements which speed up editing and mixing in audio post-production make Nuendo 5 adapt exactly to the way you work.

Valued for its reliability, even in the most challenging conditions, Nuendo offers exceptional tools that let you retain full control of recording processes. From small gigs in music clubs to huge festivals, such as Wacken Open Air, to the world's most popular shows like the Academy Awards or American Idol, Nuendo is used for a wide range of live recording needs. The reason for this is the highly flexible user interface and the native system concept that lets you use Nuendo 5 in a seamlessly scalable production environment. For laptop-based live rigs or grand-scale Yamaha mixing console production environments, Nuendo 5 is the perfect response to any situation.

Nuendo 5 includes further enhancements to accelerate the live production work. Arming all tracks at once is easier than ever before now that helpful key commands have been made available to further speed up the workflow. One of the most important aspects, especially in live recording, has also been covered in Nuendo 5: data security. Nuendo 5 lets you secure your data by backing up, storing and creating hard copies of all the session's recorded audio data under inclusion of various criteria — also on a second backup hard drive, if necessary. Last but not least, Nuendo 5 also comes with an extra large Remaining Record Time display which enables you to check the remaining recording capacity at a glance, even when standing behind the biggest of FOH consoles.

Featuring the latest version of Steinberg's renowned audio engine with its crystal-clear 32-bit floating point processing, Nuendo 5 also points with unprecedented audio quality. Combining the two most important aspects for live recording - workflow and audio quality - makes Nuendo 5 meet all requirements for live production.
0
0
Leading native audio post-production environment

Toolset for ADR work and new native video engine

Extended project exchange, including support of EDL lists

Superior editing features and smooth new scrubbing engine

Unique Nuendo Surround Panner V5 and more new VST3 plug-ins

Extended automation system with "flexible passes" technology

World-class mixing and routing features with automatable mix buses

Completely reworked MediaBay with networking capabilities

Network collaboration for multi-seat projects via LAN or WAN

Specs for Windows

Supported operating systems: Windows XP SP2 (32-Bit), Windows Vista and Windows 7

2 GHz processor (dual core processor recommended)

1024 MB RAM

Windows DirectX compatible audio hardware; ASIO compati­ble audio hardware recommended for low latency performance

Display resolution of 1280 x 800 pixels recommended

4 GB of free hard disk space

QuickTime 7.1 and video card supporting OpenGL 1.2 (OpenGL 2.0 recommended) required for video playback

USB-eLicenser and USB component connector

DVD-ROM drive with dual-layer support required for installation

Internet connection required for license activation

Specs for Mac

Supported operating systems: Mac OS X 10.5.8 and 10.6

Intel Core processor (Intel Core Duo recommended)

1024 MB RAM

CoreAudio compatible audio hardware

Display resolution of 1280 x 800 pixels

4 GB of free hard disk space

QuickTime 7.1 and video card supporting OpenGL 1.2 (OpenGL 2.0 recommended) required for video playback

USB-eLicenser and USB component connector

DVD-ROM drive with dual-layer support required for installation

Internet connection required for license activation
---
Steinberg
Nuendo 6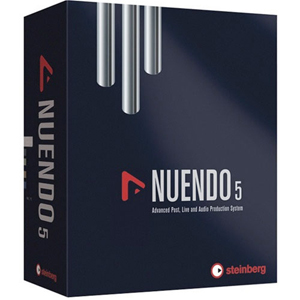 Professional Audio and Post-Production Software for Windows & Mac
MPN #:
UPC #:
Regular price: $2340.99 $1799.9900 Available from: 8th Street Music Condition: New Available to Order