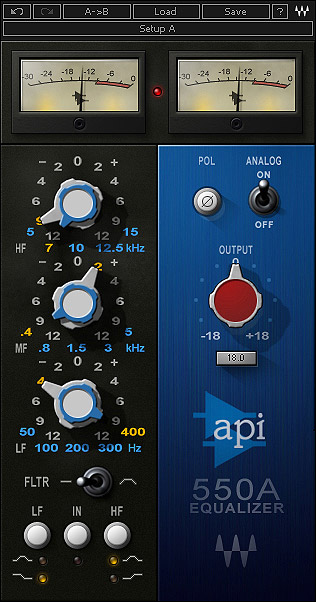 SSL, V-Series and API Collection
Product Code 43737
Sale Price!
$1,500.00
We're sorry, this product is no longer available.
---
Waves takes it's audio hardware modeling very serious, as do the professionals who utilize their plug-ins. Knowing how sound engineers strive to capture every subtle nuance of the song they are recording, the Waves developers went the extra mile with the Studio Classics Collection to make sure they've meticulously recreated the key components and circuit schematics of their hardware inspirations so that its virtual replications behave just like the real deal.

The Studio Classics Collection encapsulates the character of the most respected recording consoles in the world - the consoles that made music history. Now your DAW can have that big budget sound with Waves' Studio Classics Collection which bundles the SSL 4000 Collection, V-Series and The API Collection.

SSL 4000 Collection
- The Waves SSL 4000 Collection was developed under license from Solid State Logic. Includes three meticulously modeled plug-ins based on the legendary SSL 4000 Series: the SSL E-Channel, the SSL G-Master Buss Compressor, and the SSL G-Equalizer. This set of Native format plug-ins sound so close to the original consoles, even experts who work with SSL boards day in and day out can't tell the difference.

SSL G-Master Buss Compressor
- Based on the renowned master buss center compressor of the SL 4000 G console, the Waves SSL G-Master Buss Compressor captures the unique sound of the original's IC input and twin VCA gain-reduction amplifier design.

SSL E-Channel
- The SSL E-Channel delivers the incomparable sound of the Solid State Logic 4000-series console's all-discrete design and its Class A, VCA chip. It's a slice of the world's greatest hitmaking machine, in your computer.

- The equalization section of the SSL E-Channel is based on the renowned Black Knob equalizer, developed in 1983 with legendary producer George Martin. It features a High Pass Filter, Low Pass Filter, and a four-band parametric equalizer.

- The dynamics section features a soft-knee compressor/limiter and an expander/gate modeled on the SSL LS611E. Like the original, it can be placed before or after the equalization section, and makeup gain is automatically applied to maintain a steady output level.

SSL G-Equalizer
- This four-band equalizer, modeled on the SSL G Series EQ292, offers greater gain change than the E-Series EQ, and a slightly different curve. The SSL G-Equalizer includes a pre-boost dip and a pre-cut rise, as well as a broader Q for more extreme equalization. That's why many leading engineers use the E Channel's equalization for detailed problem-solving and mixing, and the SSL G-Equalizer to shape and give character to the sound.

V-series
- To most people, 2254, 1066, 1073, 1081 sound like random addresses. To audio professionals, they are the numbers of hardware legends. Now, with Waves' V-Series collection, you'll have the opportunity to work with state-of-the-art versions of these "vintage" models which were modified to capture the sound of consoles found in the world's most exclusive recording studios. We're talking big budget sound at your fingertips.

V-Comp
- Using a fixed nominal output gain and time constants, the V-Comp recreates the rich lush buss sound of the vintage 2254 hardware compressor. This super-responsive dynamics processor packs a recognizable musical punch heard on countless hit records. Its controlled, gentle compression can really glue a mix together.

V-EQ3
- Combining the best characteristics from two of the world s most desirable console modules, the 1066 and 1073, this 3-Band EQ, with its classic cutoff points and adjustable High-Pass Filter, is ideal for mixing and mastering. With the V-EQ3, it s never been easier to achieve the rich classic sound of the '60s and '70s.

V-EQ4
- Modeled on the highly sought-after 1081 console module, this classic 4-band equalizer features detailed high frequency boosts plus High-Pass and Low-Pass Filters. The V-EQ4 captures the characteristic sound of vintage analog gear while providing the limitless flexibility and versatility of the digital environment.

The API Collection
- Developed in association with Automated Processes Incorporated, the API Collection features four precision processors based on renowned API modules: the 550A 3-Band Equalizer, the 550B 4-Band Equalizer, the 560 Graphic Equalizer, and the 2500 Stereo Compressor. Used by engineers worldwide, on countless hit records, these modules deliver a sound like no other. And, with the API Collection, Waves captures every nuance of their unique sonic signatures.

API 550A 3-Band Equalizer
- Modeled on API s late 1960 s legend, the API 550A EQ delivers a sound that has been a hallmark of high end studios for decades.

API 560 10-Band Equalizer
- Based on API s 1967 classic, the 560 10-Band Graphic Equalizer features precision filtering and massive headroom, so you can take your sound to the edge and beyond.

API 550B 4-Band Equalizer
- Featuring four overlapped EQ bands, the 550B gives tracks that sweet analog sound that API is renowned for.

API 2500 Stereo Compressor
- The API 2500 is a dynamics processing powerhouse that lets you deliver the punch with absolute accuracy. Its dual channel design lets the 2500 also function as two separate mono channels via a single compression setting.
0
0
MPN: SCCNA

- Includes 10 professional level audio engineering plug-ins including: SSL G-Master Buss Compressor, SSL E-Channel, SSL G-Equalizer, V-Comp, V-EQ3, V-EQ4, API 550B, API 550A, APIA 560, API 2500.

SSL G-Channel

- G-Channel consolidates the equalization and dynamic controls of SSL G Series consoles into one convenient tool. The G-Channel EQ module delivers the original hardware's characteristic pre-boost dip, pre-cut rise, and broad Q for extreme frequency manipulation. The Dynamics section features soft-knee compression and limiting, a gate/expander, and automatic makeup gain for rock steady output levels. Together, they deliver the one-of-a-kind sound and convenient routing flexibility that have made the SSL G-Series console a control room classic. (G-Channel is available at no additional charge to users of SSL 4000 Collection and Studio Classics Collection covered by Waves Update Plan.)

System Requirements
- PC: Intel Pentium 4 2.8GHz/AMD Athlon 64 or equivalent, 512 MB, WinXP 32-bit (SP2), 1024x768 32-bit screen resolution
- Mac: G5 Dual 2Ghz, 512 MB, OS-X 10.4.8, 1024x768 32-bit screen resolution
- Intel-based Mac: Dual Core 1.83GHz, 512 MB, OS-X 10.4.8, 1024x768 32-bit, screen resolution

* Note: Waves products require iLok USB key authorization. Authorizing your bundle to your iLok is a one-time process that can be completed on any computer with an internet connection. It doesn't have to be your audio computer. The iLok authorization process consists of two phases: Selecting your products and iLok in your Waves account. Running the Authorizer to complete the process.
---
Waves
Studio Classics Collection - Native Digital Download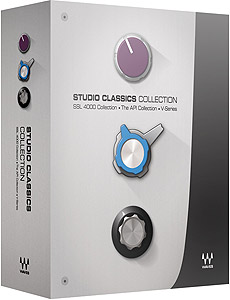 SSL, V-Series and API Collection
MPN #: SCCNA
UPC #:
Regular price: $ $1500.0000 Available from: 8th Street Music Condition: New Out of Stock