Reason Drum Kits 2, Pianos, Abbey Road Keyboards, and Electric Bass Bundle
Product Code 44625
Retail Price
$1115
Sale Price!
$499.00
Buy Today and Save $616.00 (55% from Retail)

This Item Ships FREE!
Click for Details
Click Here For Shipping Options
---
Reason Premium Edition gives you the award-winning Reason version 4 together with the four Hypersampled ReFills. All at a great price. Reason Premium Edition includes seven DVDs. All four ReFills come in both 16 and 24 bit versions.

The Reason Drum Kits 2 ReFill is an extensive DVD-ROM library of life-like, multisampled drum kits for Reason's extraordinary Combinator device. Drum Kits 2 is more than just a set of professionally recorded drum kits mapped out across your MIDI keyboard - it's a live drum recording session in a Refill. Reason Drum Kits 2 captures every aspect of the included kits: the drums themselves, the room surrounding them, the drummer, the unique sound of the mics and outboard used in the recording, the works. Reason Drum Kits features 58 unique Combinator kits styled for Vintage Soul, Indie-type Pop and Hard Rock, plus 96 additional ReDrum sets and an insane amount of inspirational MIDI files, effect patches and style templates.

Reason Pianos is the perfect piano package: 3 stunning sounding, highly realistic pianos for Reason's Combinator. Reason Pianos were recorded from multiple angles, using 6 different sets of microphones. Why Because there's no one way to record a piano.

The Reason Pianos ReFill gives you three amazing-sounding Hypersampled acoustic pianos with the kind of presence and playability you normally wouldn't associate with sampled pianos. Until now. Where other piano libraries leave you with a fixed piano sound that may or may not suit your project, Reason Pianos does just the opposite: these pianos were recorded using multiple microphones, leaving the mixing and shaping of your piano sound to you. You create piano sounds that suit your mix, not the other way around. A large selection of Combinator presets ranging from basic microphone setups to wide multi-mic patches guarantees you absolute sonic control. There's no one way to record a piano. And, there's no one way to mix one.

The Propellerhead Reason Electric Bass ReFill puts eight fully playable electric bass guitars into your Reason rack. Featuring selectable basses and bass rigs plus a wide selection of music style patches, this ReFill lets you add dynamic, natural sounding bass lines to your productions. All instruments in the Reason Electric Basses ReFill were recorded using multiple microphones and dedicated bass amp setups, giving you full control of your overall bass sound. Based on note for note Hypersampling, these basses come complete with bends, glissandos and fret noises, making them very responsive, and very much alive.

The Abbey Road Keyboards ReFill brings the sound of legendary Abbey Road Studios into your Reason rack. Recorded on location using Abbey Road's recording rooms and vintage equpiment, this ReFill gives you access to seven time-honored Abbey Road instruments - these are the keyboards heard on all those immortal Abbey Road recordings.

The Abbey Road Keyboards were recorded using the original mics, outboard and vintage mixing desk from Abbey Road's Studio Two, recreating not only the sound of the instruments themselves, but the very signal paths, technology and recording techniques that is the Abbey Road sound. Each instrument was captured using multiple microphones placed at different locations in Studio Two's beautiful sounding recording space, allowing for full ambience control in Reason.
0
0
System Requirements

Windows
- Windows XP or Vista
- Processor: Intel P4 / AMD Athlon XP or better
- Memory: 512 MB RAM minimum, 1 GB recommended
- Screen resolution: 1024x768
- 2 GB free hard disk space
- DVD drive
- 16-bit windows compatible audio card, preferably with DirectX or ASIO drivers
- Recommended: MIDI keyboard with built-in MIDI interface, or MIDI keyboard and MIDI interface

Mac OS
- Mac OS X 10.4 or later
- Processor: G4 1GHz and up or Intel Mac
- Memory: 512 MB RAM minimum, 1 GB recommended
- Screen resolution: 1024x768
- 2 GB free hard disk space
- DVD drive
- Recommended: MIDI keyboard with built-in MIDI interface, or MIDI keyboard and MIDI interface
---
Propellerhead
Reason Premium Edition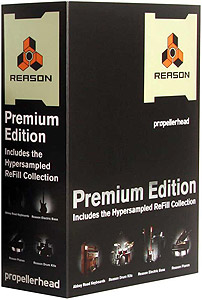 Reason Drum Kits 2, Pianos, Abbey Road Keyboards, and Electric Bass Bundle
MPN #:
UPC #:
Regular price: $1115 $499.0000 Available from: 8th Street Music Condition: New Available to Order