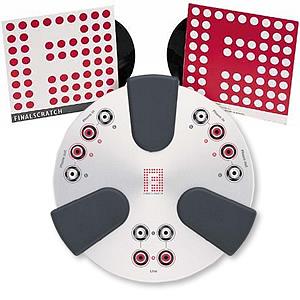 Digital/Vinyl Control Interface V1.5
Product Code 6463
Retail Price
$595.00
Sale Price!
$499.00
Buy Today and Save $96.00 (16% from Retail)

We're sorry, this product is no longer available.
---
Stanton's FinalScratch v1.5 brings a host of exciting features to Stanton's award-winning digital DJ system. FinalScatch lets users play digital music files from analog turntables or CD players. Powered by Traktor FS, this version is the first to run natively on Windows XP (no Linux required) and Mac OS 10.3 "Panther." Both versions offer the special key correction function, which maintains the pitch when changing tempo. Version 1.5 also offers resizing of the user interface and improved overall performance. For Mac users, the improvements mean that you can import all your iTunes and the system can support external hard drives and CD-ROMs.

Imagine having an endless supply of records to spin all night long... You can even needle drop MP3 files until your hands go numb! For all of those DJs who have stayed true to their roots with their love of vinyl, now you can look into the future of digital DJ-ing without fear. Finally you can cut, spin, scratch and even needle drop MP3s (and other audio files such as .WAV) without losing total control.

Final Scratch works the same way any DJ traditionally uses vinyl records... because it is vinyl. Final Scratch is the only system on the market that allows needle dropping and total manipulation of your audio source and we mean TOTAL CONTROL. No extra controller needed and no extra steps to take. Just click to change audio files instead of changing actual records, then cue and play as normal. Using any standard turntable and cartridge. Final Scratch will work with any 2-channel mixer that has phono/line inputs. There's nothing extra you have to buy or do in order to have an endless supply of music to spin. All you need is your own PC or a Mac and the Final Scratch package.

Version 1.5 of makes the revolutionary digital DJ system finally compatible with Windows XP, while at the same time adding lots of functionality over the previous Linux version. A major new feature is the "Key Correct" function, which allows DJs to change tempo while preserving the original pitch of the track.
0
0
Version 1.5 Features:

Runs natively on Windows XP or Mac OS 10.3 "Panther"

High quality key correction function, which allows DJs to change the tempo of tracks without affecting pitch

Three types of master tempo modes are provided - low, medium and high quality - allowing users to select a mode suitable to the resources of their computer

High quality realtime time stretching algorithms are the same used in Native Instruments' full version of Traktor and have won high acclaim with the press for their sound quality

Resize the user interface-complete with a choice of four font sizes

PC users can run Traktor FS on Windows XP without using Linux

Record lead-in graphics and needle display position in wave display

Larger sound stripes; stripe preview in browser deck

Flashing stripe warns when track reaches end zone

Low-latency ScratchAmp drivers optimized for XP and Panther

Standard Features:

Use turntables and vinyl records to control digital audio files

FS CD Adaptor Kit enables use of any CD player as controller

Plays MP3, WAV, AIFF and audio CD files

Assign the same file to both decks simultaneously

Waveform display give accurate representation of the music

Dual color waveform indicates peaks and density of sound

Track mixing and track organization integrated in one application

Dynamic playlist (automatically saves all played tracks in a playlist)

Integrated BPM detection

Play counter and play time information for each track

Pitch readout showing current speed of time code record

Enhanced sound quality with the support of Traktor FS audio engine

De-emphasis modeling for authentic scratching sounds



Automatic gain adjustment (plays all files at same volume)

Time code release function (continues to play at same pitch without time code)

Single controller mode (control both software decks with a single turntable or CD player)

Improved search function (search 10,000 tracks within seconds)

Shows waveform in realtime for audio CDs

Variable font size

Adjustable output level

User customizable keyboard shortcuts

Mix between FS and analog records or CDs

Play audio CDs from your computer's CD-ROM drive

Plays two tracks from one CD simultaneously

Import iTunes library and playlists

Preview Deck (preview a track using the built-in soundcard)

Full Drag & Drop capabilities

Supports multiple CD-ROM drives and HDs connected to the computer

* Any cartridge may be used with these special records.

Hardware Requirements:

2 turntables DJ mixer with 2 or more channels (with phono/line select)

Computer Requirements:

Minimum: Mac computer with OS 10.1.5, G3 500MHz or G4 400MHz, 256MB RAM; Recommended: Mac OS 10.2.3, G4 733MHz, 512MB RAM PC with 500MHz or faster, 128MB RAM 2.5GB or more hard disk space USB port CD ROM player boot enabled


IOY
---
Stanton
Final Scratch FS10K v1.5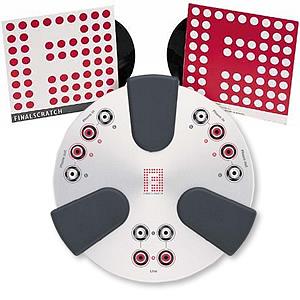 Digital/Vinyl Control Interface V1.5
MPN #:
UPC #:
Regular price: $595.00 $499.0000 Available from: 8th Street Music Condition: New Out of Stock