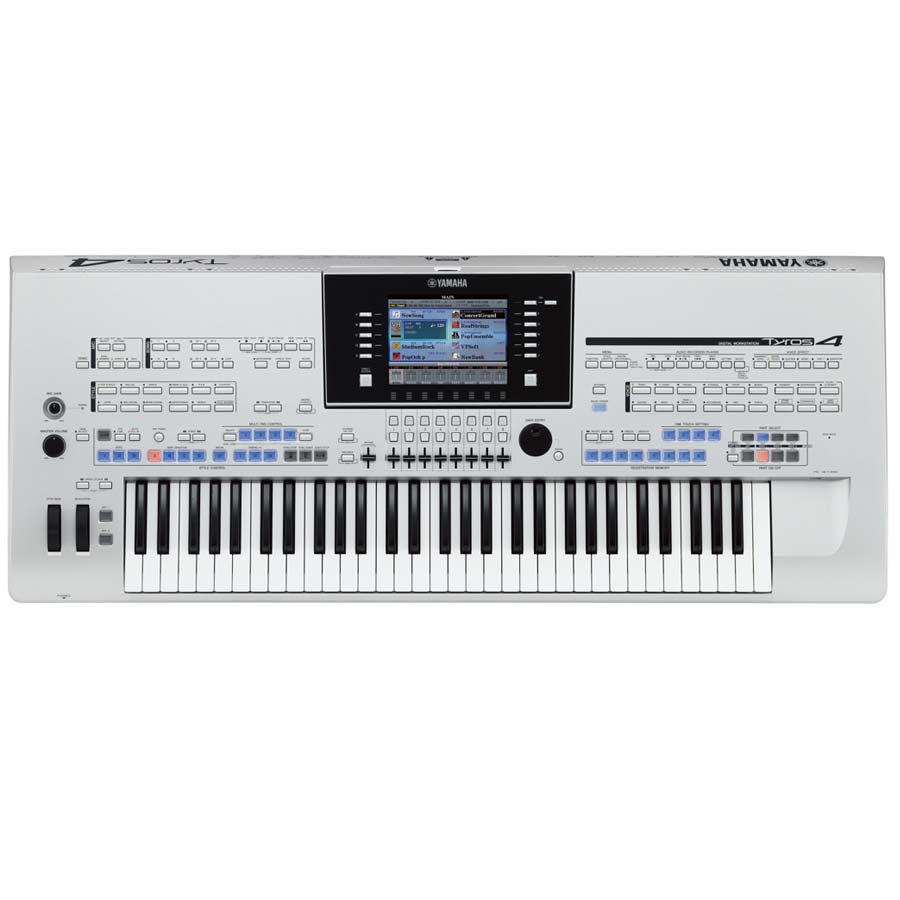 61-Key Flagship Arranger Keyboard
Product Code 64713
Retail Price
$6299.00
Sale Price!
$5,299.99
Buy Today and Save $999.01 (16% from Retail)

We're sorry, this product is no longer available.
---
Now in its fourth generation, the Yamaha Tyros4 retains its ease of use, ergonomic panel layout and playability, and augments it with an even greater and wider variety of Voices, Styles, and sophisticated features.

The sound
Better than ever. More natural, more authentic, and exceptionally expressive. It's a difference you can instantly hear, one that inspires you to new creative heights and lets you play your dream.

Play to your hearts content
Powered by the latest sound technologies, including Super Articulation, the Tyros4 has a wealth of amazingly authentic and naturally expressive Voices. The sound is so real, right down to the performance techniques, it truly makes your playing come alive.

Extraordinarily expressive, realistic sound
Super Articulation Voices give you a level of expressive realism you've never experienced before in a keyboard. The Choir Voices sound remarkably human and respond expressively to your control, while wind and brass instruments feature natural legato and staccato expression and let you easily use performance effects such as vibrato, pitch bend and glissando.

Wealth of voices and effects
The Tyros4 provides 993 dynamic, realistic Voices, giving you instant access to virtually every instrument in the real world. In addition to the Super Articulation Voices, Live!, Cool! and Sweet! Voice categories feature exceptionally realistic acoustic and electronic instrument sounds. Special Mega Voices deliver enhanced realism and expression in Song data and MIDI recording applications. Moreover, there's an Organ Flutes section that lets you use the nine panel sliders to instantly adjust the individual flute footages. And for the final touch, a comprehensive set of Digital Signal Processing (DSP) effects let you enhance the sound in a variety of ways (with reverb, chorus or EQ).

Powerful, pro-quality accompaniment
With the huge set of 500 built-in dynamic Styles, the Tyros4 puts a full professional-sounding backing band at your disposal. The Styles of the Tyros4 have been vastly enhanced with new Super Articulation Voices, and made even more powerful with DSP effect processing. Guitar parts respond accurately to your chord changes with remarkable realism, and human voice sounds can also be played with unprecedented expressiveness.

There are many other performance tools and features to inspire your creativity as well. Multi Pads let you play in real time a wide selection one-shot phrases and special loops, which can automatically sync to the Styles. The convenient Music Finder feature lets you call up ideal Style and Voice setups for the particular type of music you want to play. Moreover, One Touch Setting presets with four specially programmed settings for each Style let you reconfigure the Tyros4 with the proper Voices and effects, for playing in that style of music, while the Registration Memory feature gives you eight pads for instant, total recall of your favorite panel settings.

Voices
You'll hear something different as soon as you play Tyros4's classical choir Voices: the sound is incredibly natural thanks to Ambient Sampling. For sampling, microphones are normally positioned close to the instrument to capture a direct sound which includes very little of the room's ambiance. For Tyros4's new classical choirs, the microphone positions were carefully adjusted to capture not only the sound of the choir but also the ambiance of the room, resulting in unprecedented clarity and realism of sound.

Together with technologies such as Super Articulation, Tyros4's pop vocals use Yamaha's latest voicing technology, Wave Cycling, to bring hugely versatile vocal creativity to your performances. Tyros4 is packed with different vocal articulations such as Aah, Bah, Bee, Doh etc., and Wave Cycling varies the articulation of the Voice as you play. This means that you can now play incredibly realistic "shoo-bee-doo-bah" and scat vocals with remarkable ease.

Styles
The Tyros4 features a variety of accompaniment and rhythmic backing patterns (called "Styles") in a variety of different musical genres including pop, jazz, and many others. The Style features Auto Accompaniment, letting you produce automatic accompaniment playback simply by playing "chords" with your left hand. This lets you automatically recreate the sound of a full band or orchestra—even if you're playing by yourself.

Vocal Harmony 2
With Vocal Harmony you can sing along with your own virtual backing vocalists, and Tyros4's Vocal Harmony feature is such a step forward, Yamaha has given it a new name—VH2. You'll notice the quality from the moment you plug your microphone into the balanced XLR/Jack combination input. With dedicated DSP effect power, a new preamp and signal processing under the hood, VH2 delivers great sounding Vocal Harmony. Adding up to three harmony vocalists in addition to your own voice and with new pitch recognition and stability controls, you're sure to deliver a dazzling performance. A convenient real-time Mic Level indicator is included in the main display, and a new intuitive graphic user interface makes it easy to experiment with your own mic settings, effects and harmony types. To get you started Tyros4 includes 44 exciting Vocal Harmony presets, including male, female and SFX settings.

In addition to Vocal Harmony, VH2 features a new Synth Vocoder. This real-time vocal processor uses one of 10 carrier voices together with the microphone signal to create a talking synthesizer effect. Simply sing or talk into the microphone and hear your voice instantly synthesized. A range of versatile presets with effect settings are provided, and you can make detailed parameter adjustments using the new graphic user interface to find your own sound.

Music Finder
Ever wondered which Style to use for a particular Song? Or which songs are good with a certain Style? Or just enjoy browsing for great Songs to play? Then the Music Finder was made for you.

Music Finder is a database of song titles that are linked to suitable Styles and Registrations. You can browse through song titles sorted alphabetically, by Style, by Time Signature or Tempo. Just select the Song Title and you're ready to play.
You can also search for a specific song by entering search words using a mobile phone style keypad, and create your own Favorites list. In addition, when you select a Style, just press the Repertoire button in the bottom right of the screen and a list of suggested Songs for that style will appear.

There's a huge range of additional Music Finder titles available online with Yamaha's Music Finder+ Internet Direct Connection service.

Music Production
Create Your Own Songs
The built-in 16-track MIDI sequencer allows you to easily record your keyboard performance in real time or use the Step Record feature to enter each note individually. The sequencer also has fine controls for separately entering chord progressions and pattern variations, as well as automatically tightening the timing of your recorded parts.

Create Your Own Styles
With the versatile Style Creator feature, you can make your own accompaniment Styles—changing the content of existing Styles, creating completely new ones from scratch, or combining various parts from different styles for unusual "hybrid" accompaniments.

Create Your Own Voices
Voice Creator and Voice Set are two powerful features that let you craft your own Voices. With Voice Creator, you can import original audio samples and waveforms, and assign them to the keys—letting you build completely new Voices and Drum Kits with your own sounds.

Make Your Own Audio Recordings
No need for separate recording hardware—you can record your keyboard performance as well as your own singing or the sound of other instruments directly to the Tyros4. The audio is captured to the built-in hard disk drive as digital audio data—with absolutely noise-free audio quality. With computer and audio editing software, you can also edit the sound file as needed, and then re-import it to the Tyros4. Since the created audio data is saved in WAV file format, you can easily share your performances over the Internet or burn your own original CD. The instrument also supports MP3 data, allowing you to play back files in that popular format.

Ease of Use
One Touch Setting
One Touch Setting (OTS) provides 4 different professionally created registrations for each Style, setting the appropriate voices and effects for playing in that style of music. Simply select a style, then a One Touch Setting and you're ready to sound great. You can check in advance what's set in each OTS by selecting 'OTS Info' from the Style Select page. With OTS Link selected, OTS changes automatically matching the style section, helping you to create a polished sounding arrangement.

Sliders
9 physical sliders are positioned in the center of the instrument. The sliders have a 30mm track and have a carefully crafted shape to ensure smooth, positive and accurate operation.

Great for controlling organ flutes, each slider corresponds to one of the 9 individual organ flute footages, recreating the dynamic excitement of a vintage tonewheel organ.

The 8 sliders directly beneath the TFT display can be used to control any setting that appears in the screen as either a knob or slider shape, providing easy adjustment of volume, pan, eq, effects, tuning etc. The remaining slider can be assigned a special function - from song, style, and harmony volume to microphone reverb depth and vocal harmony balance which means you can always instantly adjust your chosen setting.

Score Display
Tyros4 displays the score of the melody track in its extra large high quality TFT screen, and provides features to help you read it like changing the score size, adding the note name, or coloring the different pitches. Even page turns are done automatically. You can do this with almost any Standard Midi File (SMF) song.
0
0
MPN: TRYOS4

61 keys FSX keyboard and 128-note polyphony

Accompaniment styles powered by SA2 and Mega voices (Total 500 accompaniment styles)

Super Articulation 2 Voices for ultimate realism

Audio Recorder / Player with MP3 playback integrated with Hard Disk Recorder

Large TFT Color Display with RGB/Video output

Includes SFF GE Styles for super realistic Guitar phrases

Extraordinarily expressive and realistic Voices

Powerful, professional Auto Accompaniment Styles

Dynamic and Versatile Vocal Harmony feature—with Synth Vocoder

Voice expandability

Convenient, easy-to-use Music Finder function

Enhanced features for directly connecting to the Internet

Control Interface

Keyboard

Number of Keys: 61

Type: FSX

Aftertouch: Yes

Touch Response: Yes

Other Controllers

Pitch Bend: Yes

Modulation: Yes

Multi Pads: Yes

Display

Type: Full Dot TFT LCD

Size: 640 x 480 dots

Color: Color

Score Display Function: Yes

Lyrics Display Function: Yes

Wallpaper Customization: Main/Lyrics

Language: English, German, French, Spanish, Italian Panel

Language: English

Voices

Tone Generation

Tone Generating Technology: AWM Stereo Sampling

Polyphony

Number of Polyphony (Max.): 128

Preset

Number of Voices: 993 Voices + 30 Organ Flutes + 480 XG
Voices + 256 GM2 Voices + 44 Drum/SFX Kits (And GS Voices for GS Song playback)

Featured Voices: 15 S.Articulation2! Voices (AEM technology), 164 S.Articulation Voices, 43 MegaVoices, 30 Sweet! Voices, 101 Live! Voices, 44Drums (including SFX Kits), 71 Cool! Voices, 30 Presets Organ Flutes!

Compatibility

XG: Yes

XF: Yes

GS: Yes

GM: Yes

GM2: Yes

Custom

Optional Wave Capacity: 4MB (Pre-installed) / MAX 1,024MB (Optional)

Sampling: Custom Voice

Voice Edit: Yes

Sound Creator/Voice Set: Yes

Effects

Types

Reverb: 44 + 3 User

Chorus: 106 + 3 User

DSP: DSP1–7 : 285 Presets, DSP8–9 : 285 Presets (for Style)

Master Compressor: 5 Presets + 5 User

Master EQ: 5 Bands : 5 Preset + 2 User

Others: Mic effects: Noise Gate x 1, Compressor x 1, 3Band EQ x 1

Part EQ: 2 Bands: 29 Parts (R1, R2, R3, Left, MultiPad, Style x 8, Song x 16)

Functions

Dual/Layers: Voice layer (RIGHT 1-3)

Split: Separete split points for Chord and Voice (LEFT)

Panel Sustain: Yes

Mono/Poly: Yes

Accompany Style Related

Vocal Harmony: VH2: 44Preset + 10 User

Accompaniment Styles
Preset

Number of Preset Styles: 500

Featured Styles: 403 Pro Styles, 47 Session Styles with
MegaVoices (used by preset styles)

Fingering: Single Finger, Fingered, Fingered On Bass, Multi Finger, AI Fingered, Full Keyboard, AI Full Keyboard

Style Control: INTRO x 3, MAIN VARIATION x 4, FILL x 4, BREAK, ENDING x 3

Custom

User Styles: Yes

Style Creator: Yes

Other Features

Music Finder: Yes

One Touch Setting (OTS): 4 for each style

Songs

Recording

Number of Songs: Unlimited (depending on the storage media's capacity)

Number of Tracks: 16

Data Capacity: approx. 300KB

Recording Function: Quick Recording, Multi Recording, Step
Recording, Song Editing

Compatible Data Format

Playback: SMF (Format 0 & 1), ESEQ, XF, Style File

Recording: SMF (Format 0)

Other Features

Hard Disk Recording: Yes (Play: 2 stereo tracks, Rec: 1 stereo track)

Functions

Registration

Number of Buttons: 8 x unlimited banks (depending on the storage media's capacity)

Control: Bank +/-, Regist Sequence, Freeze

Lesson/Guide

Lesson/Guide: Follow Lights, Any Key, Karao-Key, Vocal
CueTIME

Performance Assistant Technology (PAT): Yes

Demo/Help

Demonstration: Yes

Overall Controls

Metronome: Yes

Tempo Range: 5 - 500, Tap Tempo

Transpose: Yes

Tuning: Yes

Octave Button: Yes

Scale Type: 9 presets

Miscellaneous

Direct Access: Yes

Storage and Connectivity

Storage

Internal Memory: 6MB

Hard Disk Drive: 250GB or more

External Drives: Optional USB Flash Memory, USB Hard Disk Drive, etc. (via USB to DEVICE)

Optional Memory: Flash Memory Expansion Module
FL1024M/FL512M x 1 (MAX1024M)

Connectivity

Headphones: x 1

Microphone: Mic./Line in Stereo

MIDI: MIDI A (IN/OUT), MIDI B (IN/OUT)

AUX IN: L/L+R, R(LEVEL FIXED) or LOOP RETURN L/L+R, R

AUX OUT: L/L+R, R(LEVEL FIXED) or LOOP SEND L/L+R, R (Selectable)

AUX Pedal: (optional) Switch or Volume x 3

LINE OUT: MAIN OUT (L/L+R, R), Sub Output 1, 2

VIDEO OUT: RGB Out, NTSC / PAL

Loop Return: Yes

USB TO DEVICE: USB 2.0 HighSpeed x 2 (Front /Back)

USB TO HOST: USB 2.0 HighSpeed x 1

External Speaker: To Satellite Speaker (L/R), To Sub Woofer (L/R)

Amplifiers and Speakers

Amplifiers: Optional Speaker (TRS-MS04)

Speakers: Optional Speaker (TRS-MS04)

Power Supply

Power Supply: AC Inlet

Specifications

Included Accessories: Music Rest, CD-ROM, Power Cable, Manuals

Songs

Preset

Number of Preset Songs: 5

Control Interface

Display

Text Viewer Function: Yes

Storage and Connectivity

Connectivity

LAN: Yes

Service

Internet Direct Connection ( IDC ): Yes

Storage and Connectivity

ConnectivityRGB OUT: Yes

Control Interface

Other Controllers

Sliders: 9 (including 1 assignable)

Art. Switches: 2

Display

OTS Viewer: Yes

Voice Information: Yes

Functions

USB Audio Recorde

Playback: .wav, .mp3

Recording: .wav

Dimensions

Width: 1,140mm

Height: 143mm

Depth:450mm

Weight: 14.5kg
---
Yamaha
Tyros4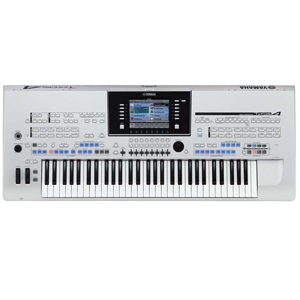 61-Key Flagship Arranger Keyboard
MPN #: TRYOS4
UPC #:
Regular price: $6299.00 $5299.9900 Available from: 8th Street Music Condition: New Out of Stock